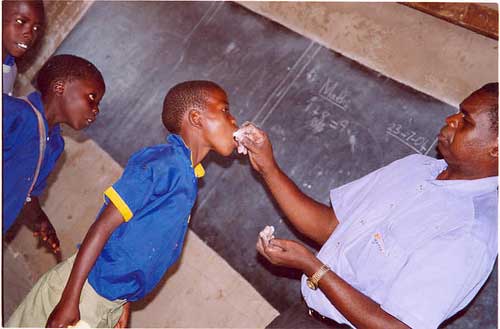 The government is targeting to administer medicines to some 7.8 million school-age children who are at risk of infection with intestinal parasitic worms in 28 counties where the worms are common.
Ministry of Education in partnership with the Ministry of Health and development partners is undertaking mass administration of Soil Transmitted Helminth (STH) and Schistosomiasis control drugs to children aged between two and 14 years, usinfg the schools' infrastructure, Principal Secretary for Education, D Belio Kipsang has said.
He said this in a speech read on his behalf by the Director for Primary Education, Mr Hobart Abdi at Mwatate Primary School in Taita Taveta County, yesterday.
Dr  Kipsang said the treatment is targeted at all school aged children whether enrolled in school or not, in 28 areas where such intestinal parasitic worms are widespread.
See Also: Why Equity Bank closed these seven branches
He said intestinal parasitic worms led to poor attendance and concentration in school and consequently increase school dropout rates therefore eroding the aspired education outcomes.
He said studies had shown that deworming children helps reduce school absenteeism by about 25%, and that adult who were dewormed as children earn wages about 20% higher than their counterparts.
He said Ministry of Education was committed to breaking transmission of STH and Schistosomiasis in Kenya.
Some of areas where the infections is widespread include Garissa, Machakos
Trans Nzoia, Kitui, Kilifi, Kisumu, Siaya, Bungoma, Busia, Makueni, Taita Taveta, Kakamega, Kisii, Kwale, Kericho, Wajir, Baringo, Vihiga, Mandera among others.
Do you believe studies quoted by the Ministry that deworming increase one's earning capacity? Scroll down and share your thoughts in comments section.
NEXT: Residents reject tarmac road that 'eats' their shoes
[crp]