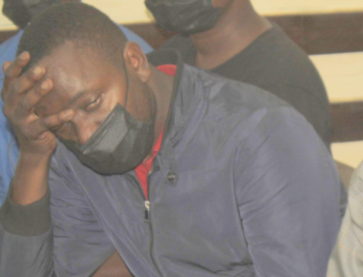 A Nairobi-based businessman has been ordered to pay Ksh10,000 or serve three months in jail for 's******g' fuel from a petrol station. Evans Kwoko Mwendwa pleaded g****y to s******g petrol worth Ksh5,000 from Ola Kilimani petrol station in Yaya Center, but asked the court for leniency given that he is taking care of a young family.
According to documents presented in court Kwoko drove into the petrol station on October 11th, 2021 at 10pm, in a black Toyota land cruiser V8, fueled and drove off without paying. Mwendwa reportedly asked for the fuel station's till number ad pretended to pay. The station attendant then informed him the money transfer was not successful but he ignited his car and drove off.
The station's manager reported the matter to seniors and after reviewing the CCTV footage they were able to identify the number plate. The matter was reported to police who also visited the scene, reviewed the CCTV footage that captured Mwendwa pretending to be paying the bill after fueling.
While it may sound stranger than fiction, it goes to show the hard economic times Kenyans are faced with. Fuel prices have been on the increase over the past few months, forcing motorists to dig deeper into their pockets.
---
Related Articles
>> Five Most Fuel Efficient Cars In Kenya
>> Simple Ways To Save Money On Car Expenses
>> Five Things You Should Know When Driving Automatic Car
In its September review, the Energy Petroleum and Regulatory Authority (EPRA) raised pump prices by a Ksh9.5 shillings on average with the prices for super petrol, diesel and kerosene subsequently going up by Ksh7.58, Ksh7.94, and Ksh12.97 per litre respectively in Nairobi.
At this rate, fuelling cars, especially fuel-guzzlers can be a strain on finances. It is not clear whether Mwendwa's decision was driven due to lack of finances or just a n*****y act, but he would later be a******d after police retrieved CCTV footage from the station. He was presented in court where he pleaded g****y to the offence.