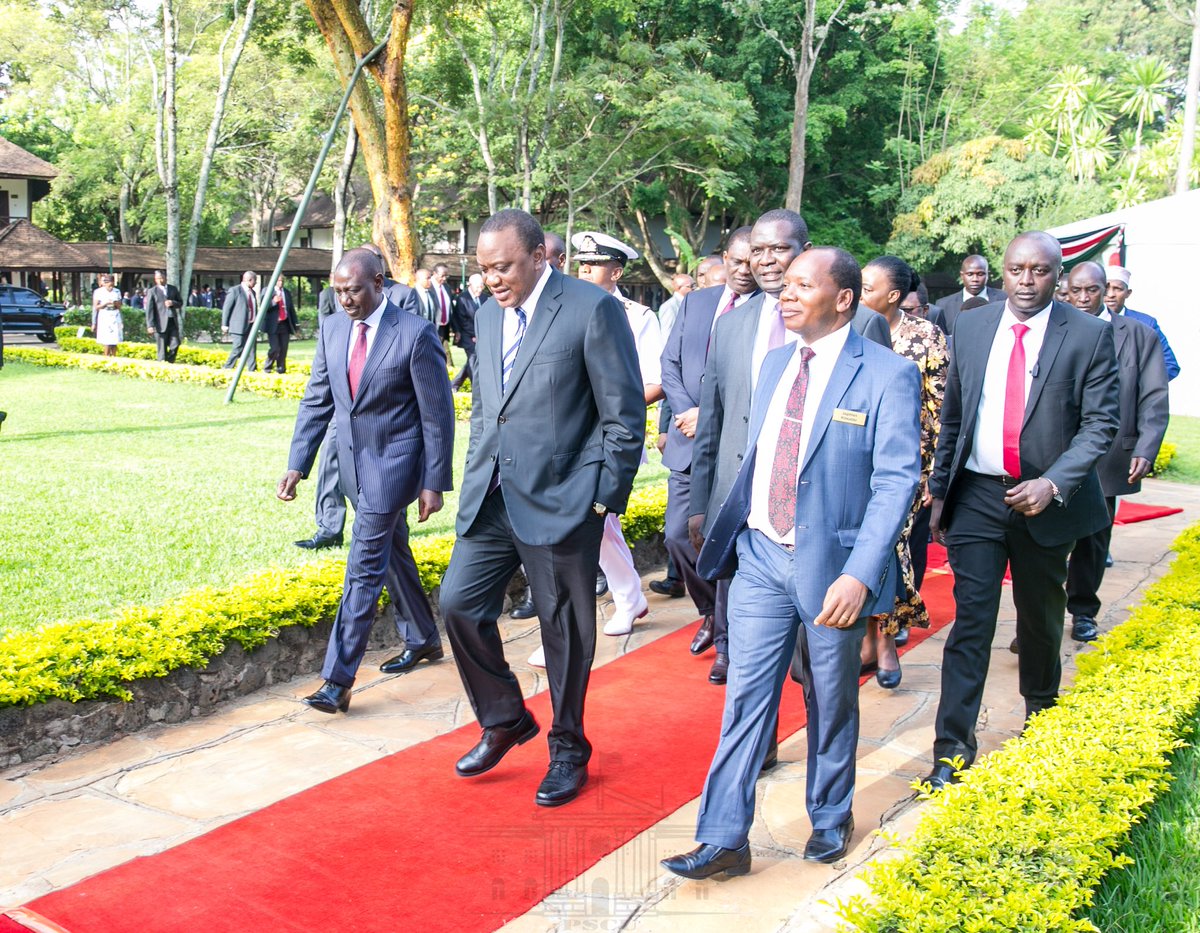 The 17th annual National Prayer Breakfast was characterised with a bit of political banter involving President Uhuru Kenyatta and his deputy William Ruto.
The stage was initiated by the guest speaker, Lord Michael Hastings from the United Kingdom requested for a prime minister for his nation following the impending resignation of Theresa May over the Brexit deadlock.
Hastings is the Global Head of Corporate Citizenship at KPMG International. He has also worked as BBC's Head of Public Affairs and then the first Head of Corporate Responsibility. He is currently the second Chancellor of Regent's University in London.
"I have two requests from my country back home. You might have noticed we have a little political turbulence at the moment and we are just wondering if you have a spare prime minister around you could give us," Hastings joked before commencing his speech at the Safari Park Hotel.
Ruto was first to reply, mentioning that Kenya has a retired Prime Minister (Rt Hon Raila Odinga).
"Because you have been good to us, concerning your request for a Prime Minister; We have a retired one in Kenya and since the Constitution has abolished the position of Prime Minister in Kenya, he may not have it any time soon. We can send you his CV and maybe you can consider him," the DP humorously told the guest speaker to laughter from those in attendance.
In reply to Ruto's offer to Lord Hastings, Uhuru, on his part, offered to give him more people he can consider to propose to the Queen Elizabeth for the Prime Minister. He was also sure to note that giving away these people will give him peace for the remaining years of his presidential tenure.
"You have just been given an offer of one. I have a couple more I would like to donate to you. At least for the next three years, it will give me peace," the President said jokingly.
Uhuru did not clarify who he wanted to offer to the UK but given the premature 2022 electioneering period, it could be interpreted to mean he is willing to donate members of Ruto's Tanga Tanga team.
The DP also took the opportunity to defend his church donations as he narrated his humble background.
He said he was herding his father's cattle when Mzee Jomo Kenyatta passed on in 1978, how his father bought him his first pair of shoes in 1981 and his rise to the top of the political latter that has now placed him on the same table with President Uhuru, Jomo's son.
"We beg that you understand us, when on Sunday we go to church, raise our hands to Praise God, shed tears sometimes and give our donations. Some of us have more to thank God for than some of you," he said.
NEXT: Separating real VIPs from pretenders to the throne