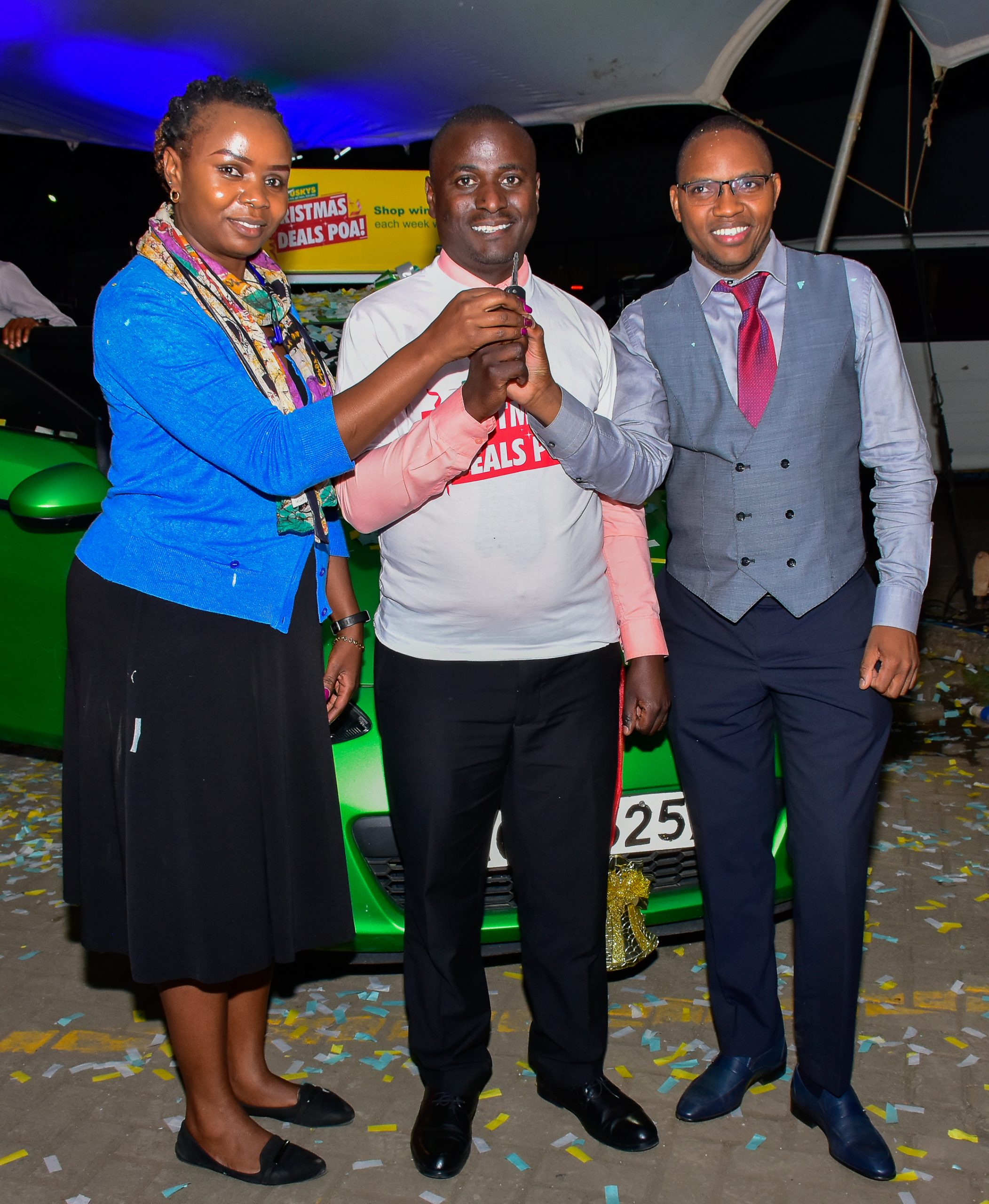 An ongoing Christmas festive season customer reward programme by Tuskys has raised the use M-Pesa at Tuskys stores countrywide, the retailer has disclosed.
Tuskys says that the use of Lipa Na M-Pesa at Tuskys tills has in less than a week shot from an average daily application rate of 17% to 22% of daily sales collection.
A sales assessment by the firm now confirms that Lipa na M-Pesa daily sales, have hit the Kshs 27 million mark and are still growing.
The retailer says the allure of winning one of the 38 cars up for grabs in the Tuskys Christmas Deals Poa sales promotion has been irresistible for shoppers who are now opting to pay via the mobile money platform.
Speaking at Tuskys Embakasi when he presented two cars to the first winners in the ongoing campaign, Tuskys Group CEO, Dan Githua, said the use of mobile payment solutions had traditionally represented just about 17% of overall sales with debit and credit cards registering 15% and cash still strong at more than 60% of the daily sales.
Retailers, Githua noted, are keen to support cash-lite options, which provide better operating efficiencies by reducing the cost of cash holding including insurance premiums, cash in transit costs among other overheads.
"With more than 150,000 transactions at the tills per day, the use of Lipa na M-PESA in the past week has been growing significantly as the preferred mode of payment edging out plastic cards by a good margin. Cash is still king but all indicators are that the adoption of mobile payment options is poised to be a game changer in the local retail market and could soon hit the 25% mark," Githua said.
READ: TUSKYS PREDICTS 30% FESTIVE SEASON GROWTH THIS YEAR
During the prize presentation, parliament staffer, Godfrey Lumanyi who shopped at Tuskys United Mall last Friday and Nairobi businessman Charles Njogu, who shopped at Tuskys Pioneer, Nairobi on Saturday won the first two cars.
Other prizes presented at the weekly handover event included: 10 fridges, 25 electric kettles, 35 microwaves, one sofa set and 10 Televisions.
This festive season, Tuskys, is projecting a 30% festive season sales growth attributed to growing consumer confidence and renewed marketing energy from leading brands.
Customers at Tuskys Supermarkets and Mavazi Lifestyle Clothing stores, are also enjoying an eight-week festive season courtesy of the Christmas Deals Poa campaign.
The campaign unveiled in conjunction with Safaricom Limited, Coca-Cola Company among 54 other leading suppliers to the firm will also feature more Kshs 50million customer rewards with 38 vehicles to be won after shopping from Tuskys outlets across the country.
SEE ALSO: TUSKYS RAISES THE RED FLAG OVER JOBS SCAM
The Christmas Deals Poa campaign is set to run up to January 2019. Throughout the campaign customers will be rewarded with gift vouchers worth up to Ksh 4 million while over 100 40-inch TVs, fridges, sofa sets, microwaves and kettles are up for grabs.
Customers will be able to enter the draw if they spend Ksh 3,000 in a Tuskys store and make their payment using the Safaricom Lipa na M-PESA payment option.