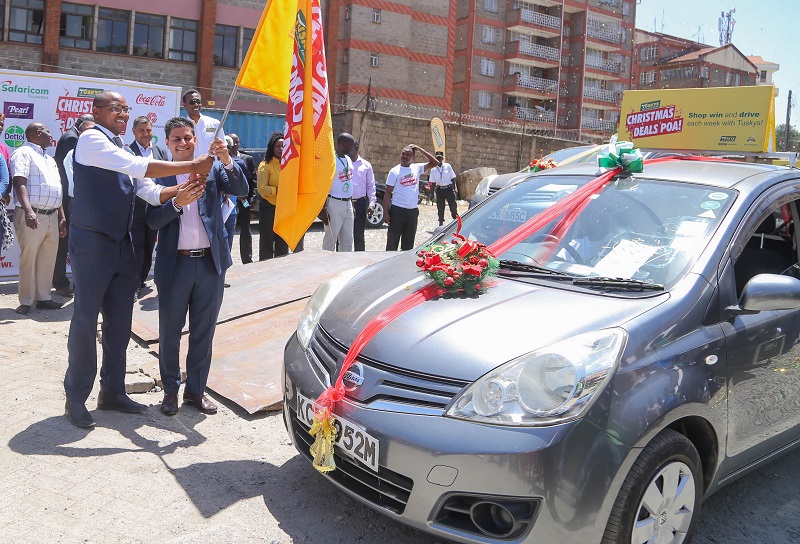 Tusker Mattresses is predicting a 30% festive season sales growth this year, attributed to growing consumer confidence and renewed marketing energy from leading brands.
To further accelerate the anticipated growth, Tusker Mattresses – the retail chain that operates Tuskys Supermarkets and Mavazi Lifestyle Clothing stores – has unveiled a 10-week festive season customer reward programme dubbed the Tuskys Christmas Deals Poa campaign.
The campaign unveiled in conjunction with Safaricom Limited, the Coca-Cola Company among 44 other leading suppliers to the firm will feature a more Ksh 50 million customer rewards basket with 38 vehicles to be won across the Tusker Mattresses network in Kenya.
Speaking at the launch of the festive season campaign last Friday, Tusker Mattresses Group Managing Director Dan Githua said the renewed confidence among customers has ignited a positive response from retail suppliers.
Local manufacturers and suppliers to the retail sector, Githua noted, have more than doubled their market deliveries as retail players begin to enjoy better sales at the shop floor level compared to a similar pre-festive season last year.
Compared to their multinational counterparts, local manufacturers and entrepreneurs, Githua said, have now taken pride of place as the leading suppliers to the retail sector. Such local manufacturers, he noted have successfully managed to edge out their international counterparts by delivering value filled, quality products to the market.
Adoption of technology based payment solutions, such as Safaricom's Lipa na Mpesa, Debit and Credit cards, Githua disclosed, has also grown significantly with more than 45% of sales transactions now powered by such solutions.
"This year, we have seen some commendable growth across different categories particularly the non-food departments such as household electronics and furnishings. All indicators are that this growth will be sustained through the festive season and into the New Year," Githua said adding that, "The adoption of mobile payment systems, such as Lipa Na Mpesa, has had a positive impact on our corporate cash lite adoption efforts to boost our overall efficiency."
The firm's network expansion efforts, including the recent opening of Tuskys Biioto Supermarket in Nairobi's Karen suburb, he said had also served to accelerate the firm's growth and that of its partnering suppliers.
"At Tuskys, we are acutely aware of the need to facilitate mutual value creation for all our partners including suppliers, staff, landlords and customers among others, as part of our shared prosperity pillar," Githua assured.
This year, leading retail suppliers joining hands with Tusker Mattresses for the Tuskys Christmas Deals Poa campaign, include: Menengai Industries, Chandaria Industries, Dettol, Unga Limited, West Kenya Sugar Company, L'Oreal, Nairobi Bottlers, Capwel Industries, KAPA, Britannia, Spice World, Slumberland, S.C. Johnson and Peptang. Other suppliers include Good brands, Hasbah, Towfiq, Digrio, Jetlak, Skyfoods, Razco, Smart Brands, BDF, Airo, Opalnet, Nabico, Oshwal, Hotpoint Appliances among others.
At the 15 Tuskys Hypermarkets countrywide, the firm, has created convenient "Deals Poa"  section to enable customers easily identify merchandise on offer.
A recent report by Nielsen  on retail consumer confidence in Kenya in 2017 predicted that in the future, retailers/ traders will have to ride on innovation to fulfil the need for convenience by consumers. The report further indicated that a quarter of Kenyans use social media to find out about brands- despite the almost non-existent nature of the online FMCG.
With this gap in mind, Tuskys has worked tirelessly to tap into the 'digital shoppers' market through the introduction of their e-commerce platform "Tuskys.com" that offers customers the convenience they seek.
The Tuskys 'Christmas Deals Poa' campaign is set to run up to January 2019, and throughout the campaign customers will be rewarded with gift vouchers worth Ksh 4 million, over 100 40-inch TVs, fridges, sofa sets, microwaves and kettles. The customers will be able to enter the draw if they spend Ksh 3,000 in a Tuskys store and make their payment using the Safaricom Lipa na Mpesa payment option.