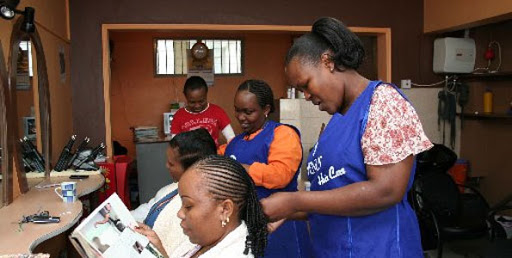 The hair and beauty industry has become a huge business in Kenya over the years, with salons, cosmetic shops and hair and beauty institutions being rolled out every other day.
The Industry has evolved over the years becoming financially bigger by the day. Back in the day, Kenyatta market was quite a hit for hair business as it was considered quite affordable and time resourceful since two or three people could handle one client at a go.
The fact that ladies could get the services within a short time rubbished the stereotype of women taking forever at the salon. A man could accompany his significant other to the salon and not complain about the time taken.  
Kenyatta market is still very convenient for the student and the woman on the go. Those who don't fancy spending a lot of money and time in one place. One can equally the same quality of service as a lady who opts for costly salons.
Big Money Business 
An average Kenyan lady spends an estimate of Ksh 1500- Ksh 3000 per month. On the higher side, one would spend Ksh 3000- Ksh 7000 per month. However, with the wig business in play, hair expenditures have also been on the rise as wig prices range between Ksh5,000-80,000.
The inception of wigs into the industry made it a booming industry. More ladies are continuing to buy into the idea of wigs hence expanding the industry. High quality wigs are imported from overseas and are usually expensive.
The diversity in this business has gradually come up with luxurious high-end salons that not only offer hair services but also extend other services making it a complete self-care package.
In today's world, a lady who visits the salon might not necessarily be looking for hair products. Other services incorporated into the modern salon include; massage and Spa treatments, Body waxing, Body art (Tattoos/Heena), facials, manicures, and pedicures.
The risks
Despite being a big-money business, the beauty industry is not an automatically profitable industry to invest in. The hair industry is seen to pick up well but there are challenges that come with it.
Investing in a salon requires large capital. You will need to spend money on marketing and advertising in attempts to deal with competition. Getting high-performance staff is also difficult. There are institutions that have beauty classes but getting a trained professional who has studied the art is expensive.
However, a skilled entrepreneur can conquer all these risks to run a successful salon. Most entrepreneurs opt to use social media to market the business and eliminate a competitor who does not market online.
Some salons also offer a variety of snacks and beverages for every client. These are entrepreneurs who have mastered public relations and are aware that good customer service attracts and sustains clients.
With the craze of many women also embracing keeping short hair, these entrepreneurs have further started uni-sex salons that offer services to both men, women, and children, that not only deal with plaiting hair but also handle barbering services.
Investing in the beauty industry still remains a good venture despite the fact that it pays after a period of time. With good services, good marketing, and affordable charges, it is possible to sustain and make a profit off of this business.