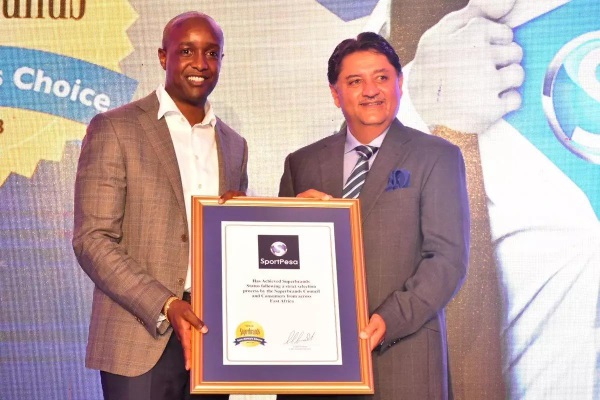 Leading sports betting company Sportpesa has beaten Google, Facebook and other established local brands tin this year's Superbrand ranking, barely three years after it was launched. The betting giant was ranked for the first time this year.
SportPesa came 13th in the survey of top brands in Kenya, overtaking big brands such as Tuskys and Brookside. Receiving the Superbrands certificate from the Superbrands East Africa's project director Jawad Jaffer, Sportpesa CEO Ronald Karauri thanked his employees for the hard work that has propelled the company to the prestigious league.
"A great brand is built by its people. Let us ensure we not only remain one of the top brands in the region but that we are also recognized for great and positive transformation in the society," said Mr Karauri.
Superbrand is the world's largest independent arbiter of branding. It defines and pays tribute to exceptional brands by recognizing, rewarding and reinforcing leading brands from all over the world, and has presence in over 88 countries.
The survey is done by marketing experts and over 1,000 Kenyan consumers on behalf of Superbrands East Africa, in a process which is managed by London-based firm, The Centre Brand Analysis. The ranking entails a survey of thousands of brands locally and in the wider East African Region.
Releasing the list of names of the 2017 Superbrands, The Centre for Brands Analysis CEO Stephen Cheliotis said a lot of local brands were consolidating to maintain their top spots among the brand elite, noting that this year's ranking was well balanced.
"The top 20 overall is a balanced blend of global brands such as the Coca-cola and Dettol, and local brands, such as Nakumatt, Tuskys and fast growing betting brand Sportpesa," said Cheliotis.
In the survey, Mobile payment brand M-PESA has again been voted Kenya's leading Superbrand, ahead of parent company Safaricom. The latter swapped positions with the Kenya Red Cross, which came in third.
13 brands retained a top 20 position from the previous survey. New entries into the top 20 however included oil giant Total, which jumped an impressive 18 places to seventh. Other entrants included KENTANK, Radio Citizen, which re-entered the top twenty while Citizen TV remained in the leading group.
[crp]