Youtube sensation and lifestyle connoisseur Sonal Maherali continues to captivate Kenyans and spellbind many with her effortlessly stylish lifestyle riddled with all the finest things the World can offer – and more.
And yet, Sonal is not your average Instagram-hungry tramp out to fish for a few vain likes. Sonal is a business in herself and a brand so thick, a force so potent, she's unignorable.
After months of following her lifestyle escapes, keeping tabs on her flashy Youtube videos and sitting – for hours – on the couch listening to her speak on fashion and style, we have decided what makes Sonal tick – and it's a lot.
Here are 10 things that make Sonal Maherali East Africa's number one Fashionista!
1.She is a relatable mum who has handled parenting and Vlogging with the flair of a Queen
Sonal isn't some 22-year old damsel flirting her life away on a photo-sharing App. She's actually a mother of four –oh yes! – and a proud wife to a man she's known and being with for over two decades. And yet, even with all that, the gorgeous damsel still finds time to wow the masses and remind them that marriage is not a death knell- It's an invitation to a fabulous world of Womanhood.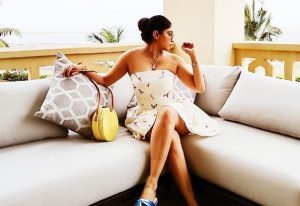 She is one of the few fashionista's who actually spend a fortune on genuine luxury items
Unlike your everyday so-called Fashionistas, who shamelessly brandish designer knock-offs on Instagram, and even shamelessly share stolen photos of travel destinations to gullible followers, Sonal keeps it real. And shops at the highest of the high-end stores. Sonal keeps it original. Keeps her designer brands authentic. And actually travels to the places she says she's been to.
Her relationship with her husband is the perfect Cinderella-Prince love story that keeps her follower glued to her channel.
There is a whole YouTube video on how she met and fell in love with Mr Ali Maherali.
https://youtu.be/U4Vgj9Hcl3g
She travels far and wide and speaks Fashion and its history as if it was her first language
Sonal travels. And that's a fact, Baby. And no, not just to Dubai. Or to Masaai Mara. Sonal goes far and wide. From Paris to Rome to Milan to Santorini to London and more. She's seen more City lights globally than your favorite local singer. And girl is not done. Not while planes are still operational. Yikes!
Her rise to an International Celebrity is a story of hope and hussle; a perfect rise from grass to grace tale
Sonal's story reads like the pages of a Marie-Catherine d'Aulnoy classic. It's a story of sheer perseverance, sheer luck and hard-work that has seen a humble girl rise so high, shine so bright, it's stupefying.
Also See: Kenyans Win Big At 2018 Africa Magic Viewers'Choice Awards
6.Despite all her wealth, fame and a life of opulence she has remained the girl next-door, still down to earth.
Despite the millions she swims in, despite the endless collection of all the top brands in town, despite having met and dined with top global designers, Sonal has remained the most humble, polite and approachable girl you will ever meet. 
 She has created a good rapport with the leading world luxury brands of the world
Designers don't hear of her. Or watch her on YouTube like we all do. They actually know her. And sell their stuff directly to her – complete with their priceless autograph. Don't believe me? Well, you might wanna call Christian Louboutin to confirm. But you need his number first. Something you may never get.
She juggles between exotic travel, luxury blogging and vlogging and still manages to churn out content on a weekly basis
Think you're busy? Well, Sonal is busier. Imagine juggling a marriage, four kids, some of whom are really young, keeping your home grounded, dealing with a post-teen son and still, finding time to be so glamorous, so gorgeous and travel so far. And still, find time for Youtube, all on a weekly goddam basis.
Also See: Kikuyu Poetry Meets Modern Art In Sh1 Million Auction
She is one of the few Vloggers who have hit the 40k subscribers mark on their own without local celebrity endorsements
Sonal is self-made. No, not the Kylie Jenner style of self made. No. Like, really self-made. No celebrity endorsements, no wealthy background, no connections to the powers-that-be and no sleeping her way to the top. Just  a girl with a solid dream. And a staggering 40,000 plus Youtube minions worshiping the ground she puts her dainty feet on. 
Diversity
Other than dishing out fashion knowledge, Sonal Maherali's Youtube channel is rich in life, love and marriage