Safaricom lost 765,038 subscribers between October and December 2019 but still remains the dominant player in the telecommunications sector commanding 64.8% of the market share, data posted by the Communications Authority of Kenya (CA) shows.
Airtel gained slightly more than a million subscribers to boost its market share to 25.9% while Telkom lost 167, 297 subscribers during the period under review to settle for 6.2% of the market while Equitel commanded 3.1% of the market at the end of December 2019.
This is the kind of dominance that Airtel and Telkom were looking to counter when they agreed to enter into a merger only for the Competition Authority of Kenya (CAK) to impose conditions analysts believe gave Safaricom the upper hand in the telecommunications business.
CAK barred Airtel- Telkom from entering any other sale transactions in the next five years except only when the merged entity declares being a distressed entity as provided by the regulator's guidelines. Airtel & Telkom have since filed an appeal against the conditions terming them unfair.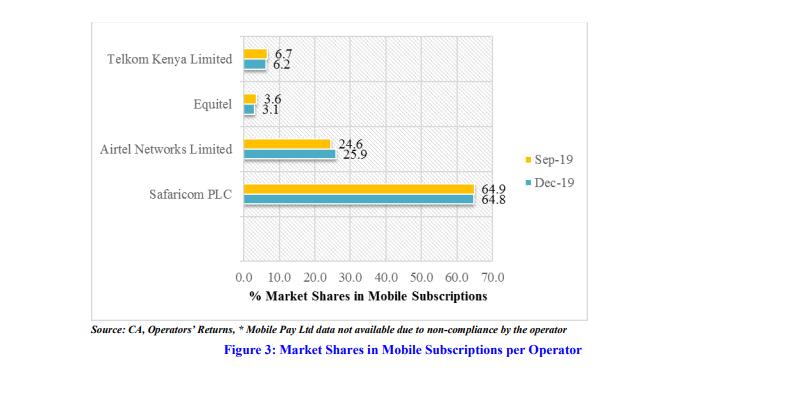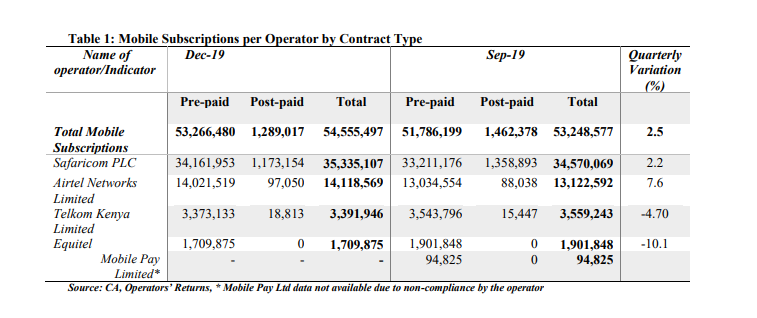 As reported by Business Today, M-PESA is the dominant player in the mobile money transfer industry commanding 98.8 of the market share blowing the other service providers out of the water.
Voice Traffic
The total local mobile voice traffic originating from Safaricom decreased to 10.048 billion minutes during the period under review, from 10.084 billion minutes recorded in the previous quarter.
Despite this, its voice traffic market share increased by 10.7 percentage points to stand at 67.1 percent.
Local mobile voice traffic for Airtel dropped to 4.3 billion minutes during the period under review, from 7.2 billion minutes registered in the preceding quarter.
The huge decline in on-net traffic was occasioned by revision made by the telco, which resulted in a reduction on its on-net voice numbers by almost half, that of the last quarter.

Consequently, Airtel's voice market share dropped by 11.1 percentage points to stand at 29.2 percent during the period under review.
Telkom registered a total of 515.3 million minutes originating from its mobile network down from 552.8 million minutes recorded during previous quarter pushing its voice market shares increased from 3.1 to 3.4 percentage points.