REPORTER'S DIARY: When I marked birthday as 'guest of the state'
For those who care to know, I was born on the Good Friday of 1966. At the height of the crusade for multi-partyism in Kenya in the early 1990s, it was just one day to my 26th birthday when the then authoritarian Kanu regime of now retired President Daniel arap Moi struck and converted me into a reluctant, uninvited Guest of the State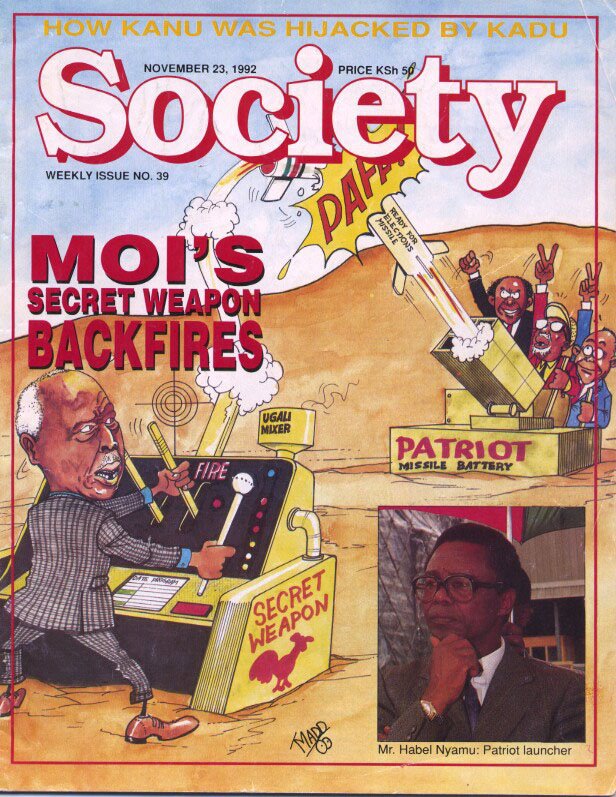 Long gone are the days when journalists were a bold lot of courageous men and women driven by facts, consistency, principles and research as the irrefutable tenets that defined members of the Fourth Estate who relayed information as they saw and heard it.
 We now live in an era where comedians, hackers and tricksters have permeated and rebranded the once noble profession to give the trade a new identity and meaning.
 For those who care to know, I was born on the Good Friday of 1966. At the height of the crusade for multi-partyism in Kenya in the early 1990s, it was just one day to my 26th birthday when the then authoritarian Kanu regime of now retired President Daniel arap Moi struck and converted me into a reluctant, uninvited Guest of the State.
 As I headed to work on that Thursday morning in 1992, I was walking past the open parking lot between Kencom House and Tumaini House when I realised some mass of human bodies moving along with me towards our offices. I noticed that the open space was unusually congested with strange faces. I smelt a rat.
 I had just been arrested. This was the beginning of a chilling travail that saw me being held incommunicado over the entire Easter weekend at Ongata Rongai police post (now station), driven to Mombasa where I was charged with 11 counts of sedition together with Nyamora, his wife Loise, Njoka and Gitau and spent harrowing lengthy days and nights with hardcore criminals at Shimo La Tewa Prison after being denied bail by the Mombasa Chief Magistrate.
 I worked for the then fierce – some called it radical – Society Weekly political magazine where I was the News Editor and Pius Moseti Nyamora was the Publisher and Editor-in-Chief, Blamuel Njururi the Managing Editor and Samson Mwenda Njoka the Deputy Managing Editor.
 Mwangi Chege was the Deputy News Editor while Laban Gitau and Macharia Mugo were senior reporters. Fred Geke, George Obanyi and Mburu Mucoki completed the sub-editors' desk. Learning the ropes of the journalism trade was Tom Osanjo who had deserted a teaching job in north-eastern Kenya to try his hand as a scribe. I was accompanied by the mass of humanity through the stairs to the third floor of Tumaini House where our offices were located.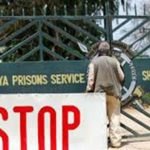 At the reception, the editorial secretary Janet Marende had barely greeted me after calling my name while asking: "Wewe hujachukuliwa?" when the stalkers pounced on me. The heavily built moustached men carried me shoulder-high through the corridors and stairs of Tumaini House. Outside the building, we found over 60 other crew-cut men in dark suits who joined the fray to push, shove and bundle me into a waiting white saloon car.
As we were being charged in Mombasa, tens of my family members who had travelled all the way from Kabras in Kakamega County to Nairobi were all groping in the dark in the capital city as they had no clue of our whereabouts.
 The stint at Shimo La Tewa were the most excruciating. Apart from the nauseating meals and horrifying stories from my fellow inmates – most of them capital offenders – we were forced to squat naked every morning on two lines – one for men and the other for women – for medical check-up. Mind you, Mrs Nyamora was much older than us and our boss as a co-director of the Nyamora Communications firm that had employed us.
 It was an unsavoury experience to watch our naked female boss squatting on the women's line, just two metres from ours. The purported medical examination entailed a warder pinching our private parts – the testicles – and if one writhed in pain they were declared fit. I have never come to know how women were being tested (obviously I could not ask my boss about it!) Yes, it was a demeaning experience for all of us.
 All these troubles were created by a cover story in our magazine titled "Kilonzo Go Home," which was an assault on then Police Commissioner Philip Kilonzo (father of immediate former Yatta MP Charles Kilonzo) whose brutal stewardship of the law enforcement agency had assumed unimaginable proportions.
Also in Reporter's Diary
 After spending several days in custody, Chief Magistrate Joseph Kanyi finally granted us bail. It was during the nascent days of the original Forum for the Restoration of Democracy (FORD). One of the so-called Ford Six Founder Members, the now late Ahmed Bahmariz mobilised Mombasa politicians and business people to stand guarantee for our bail. I was about to miss a guarantor when journalist Njuguna Mutonya (then the Mombasa Bureau Chief of the Nation Newspapers) stepped in at the nick of time and presented his car log-book to secure my release.
 We had the first decent meal at Splendid Hotel that evening and, together with members of the Release political Prisoners (RPP) lobby group who had travelled from Nairobi to show solidarity with us led by Njeri Kabeberi took the train back to Nairobi where we joined hunger-striking mothers of political prisoners at the Anglican Church's All Saints' Cathedral.
 One seamy element is that when I finally rejoined my family members, one of family older kin who was then a rabid Kanu supporter refused to greet me; his reason being that that I was an outlaw. It still puzzles and amazes me.
 Henceforth, we were to travel to Mombasa twice a month, for a period of three years for the mention of our case before then Attorney-General Amos Shitswila Wako entered a nolle prosequi to have the case dropped. Kenya's journalism has walked very intricate terrains.
It is so sad that nowadays the gains made so painfully by a few brave practitioners who sacrificed so much are now being eroded shamelessly so fast by a bunch of greedy Judases who are ever ready to flout every rule in the book and throw every tenet of the profession through the window for some few pieces of silvers.
---
 The author is a Revise Editor with People Daily newspaper. Email: [email protected]

Kenyan named World Bank chief for Zimbabwe
The World Bank has appointed a Kenyan as  the new World Bank Country Manager for Zimbabwe. In her new position, Ms Rosemary Mukami Kariuki's top priorities will be to provide strategic leadership for formulating programs that support the World Bank's twin goals and maintaining portfolio quality by working with internal and external partners for better results.
"With the support of the Multi-donor funded Zimbabwe Reconstruction Fund managed by the Bank, the Government of Zimbabwe is carrying out key reforms that aim to improve the fiscal, monetary and investment environment.  These reforms are intended to help the country achieve the broader goals of poverty reduction and shared prosperity and establish a sound foundation for re-engagement," said Ms Kariuki.
"Our cooperation also supports the Government's objective of restoring high levels of productivity through more inclusive, efficient and climate and environment-friendly approaches."
The World Bank is currently administering the Zimbabwe Reconstruction Fund (ZIMREF) that was established in 2014 to strengthen the country's systems for reconstruction and development. ZIMREF has eight projects that support the business environment, water and sanitation, health, education, public financial management, public procurement, climate change, state owned enterprises and poverty monitoring.
To date, ZIMREF has received financial commitments of US$40.4 million and will run until 2019. The Zimbabwe portfolio also includes the Health Sector Development Project, Kariba Dam Rehabilitation Project and the Hwange Sanyati Biological Corridor Project.
Ms. Kariuki joined the World Bank in 1988 as a Research Analyst and has worked in various countries across the globe, including field postings in the Africa Region and East Asia.  Her recent assignments in the Urban Development and Water and Sanitation sectors include Sector Manager, Practice Manager, Global Lead Specialist and Lead Specialist.
She also worked as Sector Leader for Sustainable Development sectors including urban development, energy, mining, agriculture, water and sanitation, transport, environment and social development. (Source: worldbank.org)
IEBC set to file electoral forms with Supreme Court
On its official Twitter handle, the electoral agency said they will file 109 volumes and 54,400 folios of election results declaration forms at 2.30pm Tuesday
The Independent Electoral and Boundaries Commission (IEBC) will submit all election forms to the Supreme Court ahead of the hearing of National Super Alliance (Nasa)'s petition.
On its official Twitter handle, the electoral agency said they will file 109 volumes and 54,400 folios of election results declaration forms at 2.30pm Tuesday.
"We will submit all statutory forms used to declare results this afternoon to the Supreme Court – the forms 34As, 34Bs and 34C," IEBC said.
The opposition coalition went to the Supreme Court last week to challenge the results of a presidential election which it says was rigged.
Election authorities said President Uhuru Kenyatta won the August 8 election by 1.4 million votes but presidential candidate Raila Odinga said the results are false.
A statement by Nasa gave details of the petition, saying votes for the opposition had been removed from the some of the totals. The statement also accused election officials of faking documentation.
The paper forms, which should have been signed by an agent for each part supervising the polling station, were designed to be an additional check against the possibility of rigging.
The electoral commission had been slow to publish scanned copies of papers detailing results from each of the country's 40,883 polling stations.
On August 15, the National Super Alliance claimed IEBC planned to falsify presidential results on forms 34B, while Thirdway Alliance leader Ekuru Aukot has reported anomalies in the results.
Aukot applied on Monday to be enjoined to the case.
NASA's Musalia Mudavadi claims in a statement that the electoral agency has "failed or refused" to share the forms from returning officers in 290 constituencies to eight presidential candidates and their agents.
In plastic bags ban, Kenyans lose a faithful servant
Juala is a necessary evil in many households, and Kenyans will learn how to live without an item that has made life easier for them for years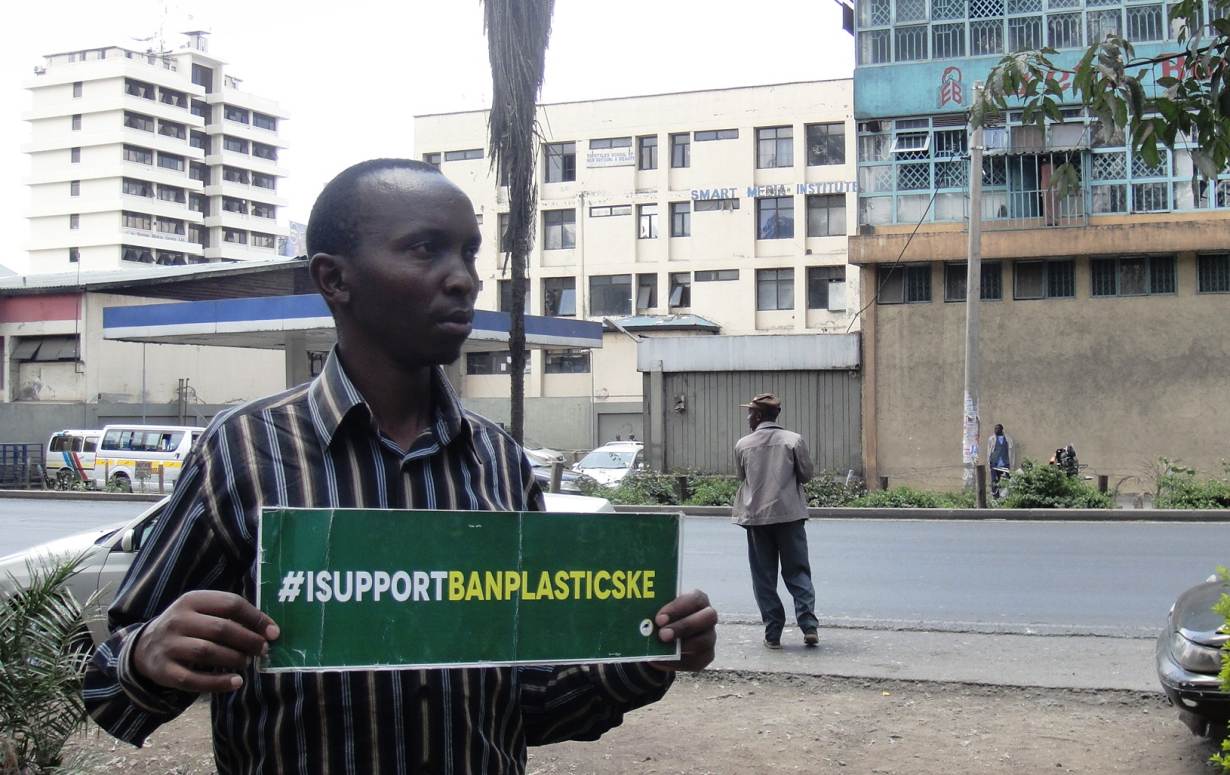 Time has come for it to die, because of its stubbornness to the environment. Though perceived to be hazardous, it has become the darling of many hence it might not vanish easily. Statistics show that supermarkets and retail outlets produce at least 100 million plastic bags annually. It has become part and parcel of lives of all Kenyans over the years and no one can imagine a life without it.
The polythene carrier bags are set to exit the stage by next month to reduce environmental pollution following a ban by Environment and Natural Resources Cabinet Secretary Judy Wakhungu in February this year. However, how  effective the order will be is still uncertain since a similar directive by the National Environmental Management Authority (NEMA) to ban the manufacture and importation of the plastic bags in 2011 fell on deaf ears.
Commonly known as paper bags, the polythene bags are found almost everywhere, be it in cars, offices, at home, in the market, in people's pockets or even dumpsites. This shows how much it is treasured across all divides of life, from the poor to the rich.
What would life look like without a plastic bag to carry sukuma wiki from that mama mboga? It is one of the many uses plastic bags are known for as Kenyans brace for their exit in a week's time. Most people who use them for shopping will have to look for alternative ways to carry their goods from the market place and shops.
They will be required to buy reusable bags, a move that will save supermarkets the expenses they have been incurring in providing polythene papers free of charge for shoppers.
The century old product has also been used as a storage bag for most people. After doing shopping, most people reuse the plastic bags to store household stuff. This might still continue, provided they are not used publicly since government officers might not be forced to comb your house for plastic bags, hence you remain safe.
Plastic bags, being trash in most cases have also been used to collect all kind of trash bearing in mind they are less reactive to chemicals and corrosion, hence can contain any kind of reactive substances. With the eradication of the bags, reusable plastic containers will take their place. They will, however, be missed for their simplicity and mobility to dumpsites.
Also, they have been used as carrier bags. The small scale retailers rarely offer these bags for free; hence you have to buy a new one every time you go shopping in the grassroots.
Children will also not be left out. Who has grown in the rural areas and never made a ball out of plastic bags? In fact, the future generation might be amazed to hear that plastic bags were once used to make balls.
Lastly is employment. There are over 176 plastic manufacturing companies in the country, which is 3.4% of all the manufacturers combined with an estimated cost value of the sector at Ksh 88 billion. However, they might not become purely extinct, the reduced market will see many lose their daily source of income, both directly and indirectly.
Nema's decision to exempt certain types of polythene bags under strict guidelines, however, means a continued existence for some.