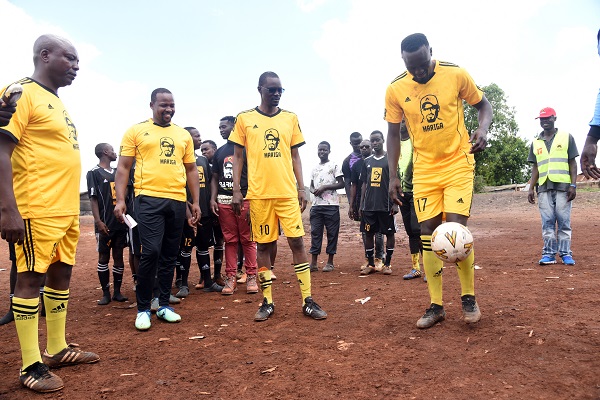 Kenya's next general elections are over two years away but the political scene is as active as it has always been for over a decade now.
While it is clear that Kenyans love politics, the politicians also love playing the game. In the game of politics, promises are made but not fully kept. Some politicians will keep the promises they made after being elected into office but others don't. Actually, many don't.
It is difficult to come up with a promise that you can easily ignore. This is why in Kenyan politics, we often hear about promises o improve Sports conditions. Making a promise about building or renovating a Sports facility seems easy to go back on.
Kibra aspirant McDonald Mariga has joined the pool of Sports development political promises. The former Harambee Stars player has promised to upgrade  Woodley Ground to a multi Sports Ultra-modern Stadium. It is now up to the residents of Kibra to find if his promise will be empty or one that he'll actually deliver.
Being a former Sportsman, Mariga's promise is more believable because he identifies with the problems that athletes go through. However, he is currently a politician and might find himself deeply immersed in politics to remember the promises he made.
The Jubilee government, in general, has been on the spot for unfulfilled promises in the Sports sector. Before being elected into office in 2013, President Uhuru Kenyatta and his deputy William Ruto promised Kenyans 5 world-class stadia. It was the most discussed promise during the 2019 general elections campaign.
Part of their manifesto in 2013 was to build five stadiums in different counties including Nairobi, Kisumu, and Eldoret before 2017. When campaigning for the 2017 general elections, no new stadium had been built. but promises of more stadiums were flowing in.
President Kenyatta and his deputy said that in their second term they will build 11 stadiums which is an upgrade from the 5 they had promised. This would mean good news if Kenyans had seen at least one of the initial five promised stadia built.
Speaking at an Interview with K24 earlier in the year, deputy president William Ruto said that the building of 11 stadia is a promise that the government is still planning to fulfill.
"Our commitment to deliver on the stadia is solid. We had a time frame. Of course unfortunately as fate would have it, we went into a second election and spent about Sh13 billion part of which was supposed to be deployed to do some of those things," he explained.
"These stadia and you can confirm with the Ministry of Sports will be completed either by the end of this year or the first quarter of next year. All the 11 stadia including the refurbishment of Nyayo stadium," he submitted.
Despite the promises to improve the Sports condition in the country, sportsmen and women do not see any changes in the sector. For a better part of 2019, the sports scene has been characterised by athletes complaining about under-appreciation and/or lack of motivation.
The government and the various sports governing bodies have told Kenyans and the athletes that there is no money so they will have to work with what's available. The athletes suffer the most while the politicians maintain their good images with empty promises.