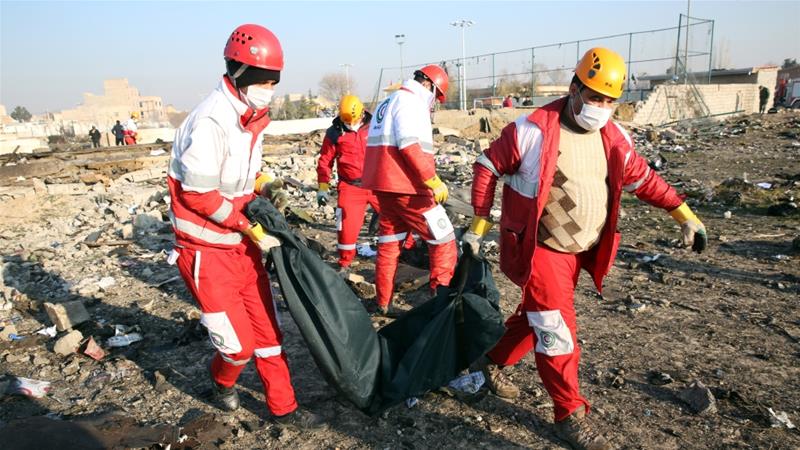 A Boeing 737 passenger plane operated by a Ukranian airline c*****d on Wednesday shortly after takeoff from Tehran, Iran k*****g everyone on board eleven months after 157 people flying in a plane manufactured by the same company lost their lives in the Ethiopia Air T*****y.
Interestingly, Iran which is at w*r with the US currently over the k*****g of the Late General Qasem Suloimani by US authorities will not give the black box of the airliner to planemaker Boeing.
Reuters says the head of Tehran's civil aviation organization, Ali Abedzadeh, said it was not clear which country Iran would send the box to.
In such instances, airlines send the i*l-fated planes' black boxes to the manufacturer so that its data can be analyzed.
Reports indicate that 167 passengers and nine crew members were onboard the Ukraine International Airlines Flight 752. The Boeing 737-800 was en route to Kiev from Tehran's Imam Khomeini International Airport.
According to an Iranian Transport Ministry Spokesperson, the plane had taken off from the airport when a f**e struck one of its engines.
The pilot then l**********l of the plane, sending it c******g into the ground, the spokesperson said in a statement released by the state-run IRNA news agency.
Ukranian Prime Minister Oleksiy Honcharuk confirmed in a statement that there were no survivors.
Different media outlets have published photos of e*******y workers combing through the w******e in the outskirts of Tehran in an attempt to retrieve the d**d bodies scattered over the farmlands.
According to Flighradar24 flight tracker, flight 752 was slated to take off at 5:15am Tehran time (01:45 GMT) for Kiev but was delayed by almost an hour as it took off at 6:12 am (02:42 GMT).
"An investigation team from the national aviation department was dispatched to the location after the news was announced. We will give more reports in upcoming bulletins," Reza Jafarzadeh, a spokesman of the Iranian Aviation Organisation told reporters in Tehran.
The 737-800 is not a 737 Max, the type that regulators grounded worldwide in March after two f***l c*****s in a span of five months exposing Boeing to scrutiny floodgates after a flurry of countries grounded the Boeing 737 Max pending investigations into the Ethiopian c***h.
According to Flightradar24, Ukraine International Airlines received the 737-800 plane in 2016 which stopped transmitting data two minutes into the flight.
The cause of the c***h was not immediately known and could take months to determine while the airline is yet to comment on the t*****y.
Ukraine International has 42 planes in its fleet and operates 1,110 flights a week.
"We are aware of the media reports of out Iran and we are gathering more information," Boeing said in a statement.
This article features quotes from AlJazeera and CNBC