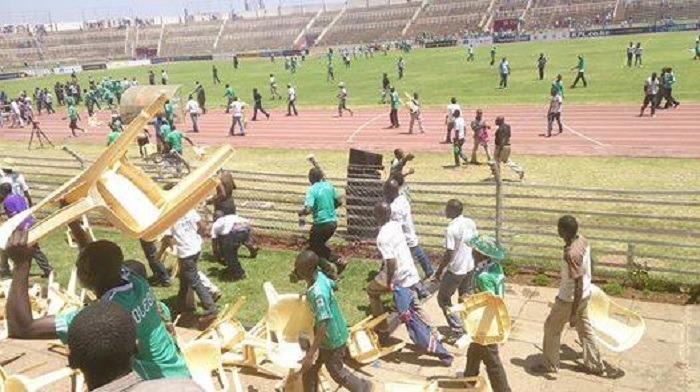 Sunday's Kenyan Premier League (KPL) edition saw hooliganism rear its ugly head back to Kenyan football as fans disrupted the match at the 89th minute on claims that the assistant referee was biased..
While Kenya's football governing body, Federation of Kenya Football (FKF), is on its toes to see that hooliganism ends in the country, bitter fans who never accept defeat will always find a reason to cause h***c in attempts to disrupt matches.
Defending champions Gor Mahia's fans and their AFC Leopards counterparts are best known for hooliganism in the country. In Gor's Sunday 1-0 loss against KCB, for instance, fans hurled objects on the pitch on 89th minute after first assistant referee Gilbert Cheruiyot awarded KCB a throw that infuriated an already irritated section of Gor Mahia fans. The police were forced to lob teargas canisters to disperse the K'Ogalo fans.
Hooliganism has even developed that not only the fans are involved but also club officials. Recently, AFC Leopards club organising secretary Timothy Lilumbi and a member of the Leopards committee Ian Mukhobi were suspended by the club following hooliganism a*********s. Mr Lilumbi was videotaped assaulting the referee that officiated their match against Nzoia Sugar on claims that he had awarded a goal that had not legally scored.
FKF President Nick Mwendwa's follow up on Leopards' case saw both Lilumbi and Mukhobi suspended. He has also spoken following sunday's case in the Gor Mahia vs KCB match.
"Just like Leopards, IDCC will move fast on this one too. We have to remove such fellows from the game," Mwendwa tweeted.
Punishing the culprits involved has proven not to be helpful in curbing these cases as it is hard to get the specific fan who threw a stone let alone punish. In Leopards' case, the p********t was effective as it was the club officials who were punished.
P********t directed to clubs is more effective because the fans are passionate about them and wouldn't want to jeopardise their teams in any way.
On the other hand, officiating of local matches has to improve in terms of fairness. Most of these cases of hooliganism are as a result of poor officiating. Referees ought to be fair in their officiating to avoid displeasing the fans.
Fans should also understand that referees make mistakes sometimes and that there are legal procedures of following up poor officiating rather than resulting to v******e.
Football is the most popular sport in the country and should be used to unite Kenyans rather than divide them