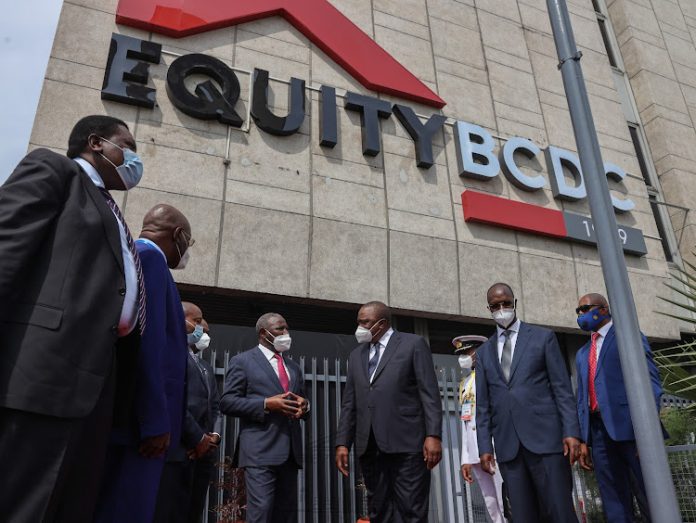 The Democratic Republic of Congo (DRC) is fast becoming the go-to destination for established Kenyan companies looking to further expand their regional presence.
The biggest, and most impactful in that regard so far has been Equity Group, but dozens of firms are now following suit. Among them is Equity's biggest local rival, KCB Group which is plotting an entry into the market.
Both Equity and KCB already operate in several other East African markets including Uganda, Tanzania and Rwanda. The two institutions are also the only Kenyan banks with asset bases worth over a Trillion shillings ($10 Billion).
In March, KCB Group CEO Joshua Oigara announced the bank's historic 74% increase in net profit for the full year which hit Ksh34.2 billlion in 2021. He also confirmed ongoing consultations on a potential DRC entry.
In February 2021, Equity unveiled its new brand identity in DRC, Equity Banque Commercial du Congo (Equity BCDC) following the merger of Equity Bank Congo (EBC) and Banque Commerciale du Congo (BCDC), to form Equity BCDC. Just over a year later, DRC officially became the newest member of the East African Community (EAC) – expanding the trade bloc's population by 89.5 million overnight.
At a trade dinner this week hosted by Equity Bank and attended by DRC President Felix Tshisekedi, CEO James Mwangi announced that 26 Kenyan companies had committed to making investments in DRC worth over Ksh184 Billion ($1.6 Billion).  The firms were part of Kenya's delegation in an Equity-led trade mission to DRC last year.
Among them are property firm Optiven Ltd, household goods giant Bidco, solar equipment supplier Greenlight Planet, consultancy firm Geomaps, high-end real estate architects Nyanja Associates, B2B financial services firm Rentco Africa and mattress manufacturer Jumbo Foam Limited.
And with their existing regional subsidiaries contributing more and more to their balance sheets every year, the financial big boys in particular are bullish on expansion into DRC.
The entry of DRC into the East African Community (EAC) has only served to further boost business confidence – with talk of increased intra-East African trade and integration dominating the discourse. Tshisekedi has promised investors from Kenya the conditions to thrive, and during the trade dinner highlighted various efforts being undertaken by his administration.
He highlighted his plan to have DRC offer a conducive investment climate, with focus on of legal and security investment, improvement of tax systems to allow flow of goods in and out of DRC and access to loans for economic partners. He has also created an agency in charge of improvement of business climate to act as a link and boost both local and foreign investments.
Mwangi in 2021 stated that he expects DRC to overtake Kenya as the group's biggest market – describing it as 'a juggler pipe that will change this group forever'.
"DRC business will fundamentally change Equity Group. DRC at the moment contributes 27 percent of the group balance sheet and is growing at about 60 percent annually and may overtake Kenya between the third and fifth year."
"Even in profitability, DRC will start rivalling Kenya and rise above on profits and balance sheet size eventually. DRC has quickly made us a market leader in financial services both in balance sheet and profitability as well as customer base," he analyzed.