The Media Council of Kenya (MCK) has rolled up its sleeves in a bid to ensure the country's media scene gets it right in upholding journalism ethics.
The regulator has launched a weekly publication to tame loose tongues on radio and television, warning that journalists whose practice will be in breach of set guidelines will be held personally responsible.
The Media Observer, previously a periodical publication, has been transformed into a weekly project monitoring the media and weighs content against principles stipulated in the Media Act 2013 while calling out on shortfalls in the industry.
Kodi Barth, the MCK project team leader for fake news and hate speech, says fake news avenues will be closely watched and that journalists doing less of what ethics requires of them will be pointed out.
"To start with, we (MCK) declare war on fake news and hate speech anywhere in Kenya. Next, the microphone is a powerful tool. Folks, anyone with a mic at a radio or a TV station should know what they are doing and how to do it. Be warned, those who show otherwise will be called out," stated Barth, a former Public Editor at The Star newspaper, in the publication's second issue, which went out Monday evening.
In their first issue, the project team got into the ring bare knuckled. The first issue that found many by surprise sent shivers to newsrooms on January 8 this year. Sky FM, a vernacular radio station, NTV, KTN, K24 and the The Standard Newspaper reporters and presenters were thumped for a job poorly done.
SKY FM presenters had failed to ensure content aired was free of incitement, hate speech and had aired unverified sentiments during the electioneering period. The station broadcasts in Dholuo and the council noted it had aired a jingle it deems as a war cry when the country had sunk in political tense.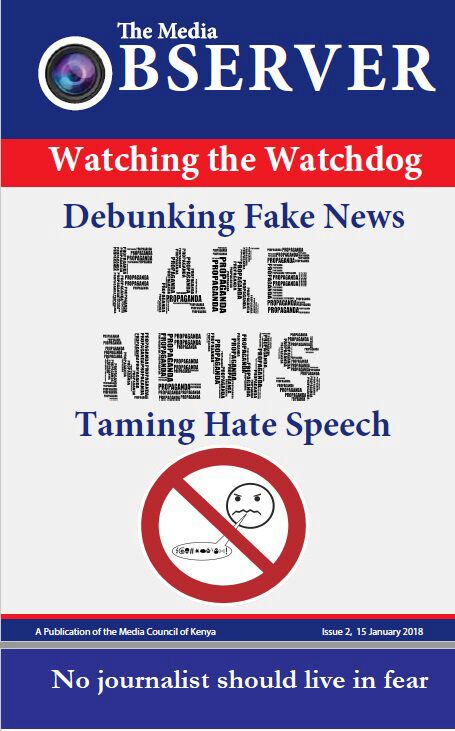 The Media Observer, whose tagline is Watching the Watchdog, critiqued most of the journalists' work for failure to do exhaustive, well informed stories on both TV and print Media. It cited a story on a landlord who allegedly hired goons to poor sewage at an apartment he owns so as to flash out tenants who declined to take up a Sh.5000 rent hike. Journalist failed to focus on the health bit and none had reached out to those implicated, including the police, for fair comment.
In the first issue, the council castigated Deputy President William Ruto's spokesman David Mugonyi for issuing a sacking threat to Justus Wanga, a Daily Nation journalist over a story he had written about an alleged rift between President Uhuru Kenyatta and his Deputy William Ruto over Cabinet appointments. It also questioned the arrest of NASA strategist and Saturday Nation columnist David Ndii, saying the act was reminiscent of the Nyayo era.
Through the publication, MCK has also raised alarm over how most journalists falling prey to stage-managed news making occurrences.  NTV had covered live proceeds of a police crackdown on motorists along the Nairobi- Nakuru highway and in a separate incident, a dramatic arrest of a senior police officer at the Coast. The station had live footage showing the Ethics and Anti-Corruption Commission (EACC) detectives arrest the officer.
"Did NTV journalists just happen on the scene?  We hope so. But we live in strange times when a person pursuing a thief invites reporters to record the chase as news. We have seen such staged stories before."
The project by the council aims at helping citizens get accurate and reliable information from the media as a way to help them govern themselves and shape the future.
The Media Observer will also highlight issues relating to safety of journalists and press freedom, among others. It is edited by Henry Makori.