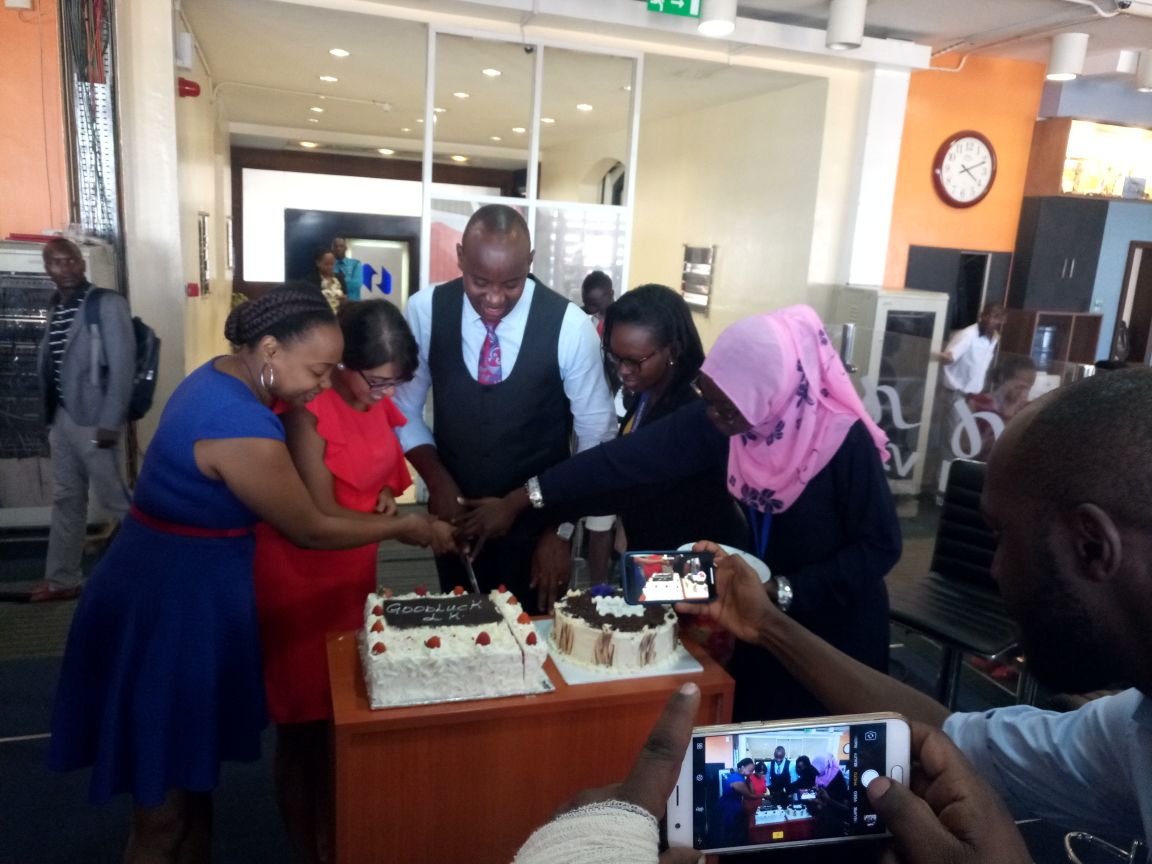 NTV General Manager Linus Kaikai formally left Nation Centre on Wednesday afternoon bringing to a dramatic close his tenure at the helm of the station, which spans about nine years.
In an address to staff from the broadcasting division in the NTV Newsroom on the 5th Floor, Kaikai did not indicate circumstances under which he was departing but instead dwelt on his stay at Nation Media Group (NMG). Top managers at the meeting did not speak.
His departure, however, comes a day after Business Today reported that he had been fired nearly a month after he defied Editor-in-Chief Tom Mshindi and proceeded to live stream proceedings at the NASA mock swearing-in of its leader Raila Odinga on January 30.
The action saw NTV shut down alongside three other stations, and it took intense negotiations for the TV channel and KTN News, which is owned by the Standard Group, to be allowed back on air after one week.
Citizen TV and Inooro TV were only allowed back three days later after Royal Media Services founder SK Macharia agreed to play ball and withdraw a suit he had filed at the High Court seeking, among others, compensation for losses incurred during the period the stations were over.
While Nation Media Group never came out to state what it was doing to resume normal operations under a cloud of threats to revoke operating licences of the TV stations, Standard Group issued a statement assuring staff it was doing everything possible to address the situation.
Controversial TV journalist Larry Madowo, however, in an article published by CNN revealed media managers generally opted to negotiate.
It is likely that in the course of the negotiations, a deal could have been struck to terminate Kaikai's services, which came to pass last Friday.
Fortunately, the award-winning journalist had already struck a deal with SK Macharia to take over as RMS Chief Operations Officer following Farida Karoney's appointment as Lands Cabinet Secretary by President Uhuru Kenyatta.
While bidding Kaikai farewell, Madowo described him as "the best boss a journalist can ever ask for."
"I owe my whole broadcast career to @LinusKaikai; the best boss a journalist can ever ask for. I'm gutted to see him leave @ntvkenya today. It's the end of an era here. It will never be the same again. Goodbye and good luck!" he tweeted.
Kaikai, Madowo and fellow anchor Ken Mijungu (pictured above) were the ones on duty when NTV was shut down and had to spend the night in the newsroom for fear of arrest.
Following his departure, Mijungu also tweeted: " It's been real boss. @LinusKaikai will miss your guidance and great attitude."
Investigative journalist John-Allan Namu tweeted: "COURAGE @LinusKaikai. In words that the legend Joe Kadhi often liked to repeat " Publish and be damned "."
KTN news anchor Lindah Oguttu tweeted: "I remember writing my first script and he literally changed the entire thing…did not even look like my script when he was done ….Almost took it back to say it was not mine …

."
Catholic priest Gabriel Dolan expressed his displeasure at Kaikai's departure.
"What a tragedy to see the brilliant @LinusKaikai leave/exited from NTV. Another huge loss to @NationMediaGrp The hemorrhage/purge is raging. @Maina_Kiai @hakimorara @ItsGeorgeKegoro @kwamchetsi @makaumutua @Maskani254."
NTV anchor Mark Maasai, who hosts the #PressPass programme, tweeted: "To be an editor, you must have spine…you must have a backbone in your body" – @LinusKaikai . You sir, have shown that. Thank you for the stand you have for Journalism. This is not the last we are seeing of you. Ni kwaheri ya kuonana….Ole sere."
"In a country where compromising news sources, media houses & journalists is the order of the day, we must appreciate the likes of @LinusKaikai. He has stood up to NMG dictatorship led by Tom Mshindi. He has also remained adamant,notwithstanding Jubilee threats. All the best Linus," one @Bob_Odhiambo tweeted.
"Linus Kaikai is an apex journalist and a fine breed in his class. Quite humorous and generous with the truth. I'm sure international media are itching to get a hold of his rich experience. We keep pushing our best out and only claim them when they excel," tweeted Fred Asira.