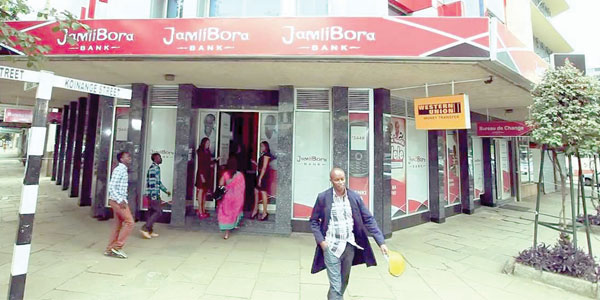 Commercial Bank of Africa (CBA)'s cash buy-out offer of Ksh 1.4 billion to Jamii Bora Bank last week could have been influenced by the possibility of an additional capital injection by CBA due to Jamii Bora's negative liquidity position as well as the high Non Performing Loans (NPL) ratio of 22.4% as at first quarter of 2018, with gross NPLs of Ksh 2.2 billion.
"We are of the view that the huge discount to the equity value in the offer, may be due to (i) the possibility of an additional capital injection by CBA, with Jamii Bora operating at a negative liquidity position, and (ii) the high Non Performing Loans ratio (NPL) of 22.4% as at Q1'2018, with gross NPLs of Kshs 2.2 bn," analysts at Cytton Investments say.
According to sources, most of the NPLs were channeled to insiders including top managers and shareholders.
Business Today has also learnt that the bank has been hunting for a strategic partner for the last one year but most of those interested were put off by its financial situation.
CBA's offer coincided with the early retirement of Jamii Bora Bank's chief executive officer Samuel Kimani after seven years of services at the tier III lender.
The Ksh 1.4 billion buyout by CBA, which is associated with the Kenyatta family, represents a steep discount from the Ksh 3.4 billion book value as at first quarter 2018, which  "essentially implies the transaction, if the offer is accepted and no further injections made, would happen at a Price to Book ratio (P/Bv) of 0.4x, significantly lower than the average P/B ratio of 1.6x of recent transactions in the banking sector."
Jamii Bora had a deposit base of Ksh 5.0 billion, and a net loan book of Ksh 7.9 billion. The bank had a relatively solid capital base, with a total capital to risk-weighted assets ratio of 19.3%, exceeding the 14.5% statutory requirement by 4.8% points.
"The bank's financial performance has been deteriorating since Q1'2017, possibly caused by the implementation of the Banking (Amendment) Act 2015, which capped interest chargeable on loans at 4.0% above the Central Bank Rate (CBR), with the bank's loan book declining to Ksh 8.3 billion as at FY'2017, from Ksh 10.5 billion in FY'2016, in the first full year of the interest rate cap implementation. The declining loan book consequently saw the interest income decline by 36.2% to Ksh 1.4 bilion in FY 2017, from Ksh 2.2 billion as at FY'2016," Cytton says.
Consequently, operating income declined 57.8% to Ksh 0.5 billion from Ksh 1.3 billion in FY'2016. With the decline in operating income faster than the decline in total operating expenses of 28.0% to Ksh 1.3 billion from Ksh 1.8 billion, the bank consequently recorded losses, and the loss-making trend continued to Q1'2018.
"We are of the view that the bank's acquisition presents the best-case scenario, to navigate the relatively tougher and competitive operating environment, amid expectation that Mshwari under CBA may be spun off and operate under Jamii Bora, with possibly the intention of sharping management's focus on the corporate and Small and Medium Enterprise (SME) banking in the merged entity after the NIC-CBA merger," analysts at Cytton add.
READ: MILELE FM PRESENTERS SUSPENDED FOR FIGHTING IN STUDIO
Following CBA's Jamii Bora offer, which followed another bid for NIC Bank, Cytton notes that the pace of consolidation activity especially in the banking sector has picked up, and its analysts expect this to continue, as banks merge to form strategic partnerships, or are acquired, especially those that do not serve a niche, and are struggling to operate in the current environment.
"We also expect acquisition transactions to take place at significantly cheaper multiples, going forward," it adds.