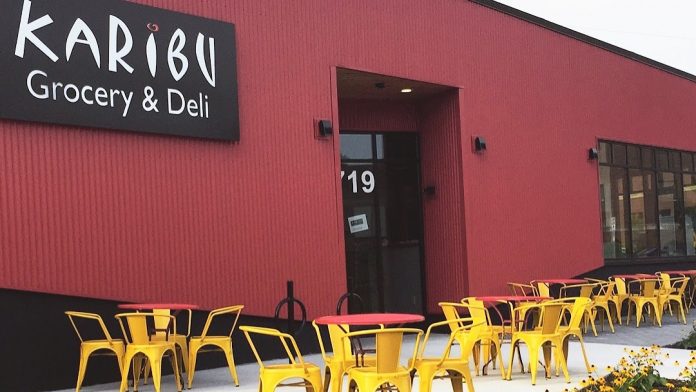 A grocery and deli in St. Paul, the capital of US state Minnesota, is exciting residents with its unique East African delights earning loyal customers, rave reviews and online fame.
Karibu Grocery and Deli is owned by the Ali family who first moved to Minnesota in the late 90's. It was opened in October 2018 by three siblings – Abdiwali, Ikram and Mohammed who came up with the idea of an East Africa themed store and restaurant in the heart of the city's East Side. It employs as many as six members of the larger Ali family.
Karibu is Swahili for welcome. The grocery and deli stands out thanks to uniquely Kenyan and African decor including cultural artefacts. Halal meats, groceries and mouth-watering East African dishes are sold alongside regular American food such as fries and burgers. Among other things, they also sell coffee shipped from Kenya.
Its founders had to jump several hurdles to get the operation up and running – including securing financing under difficult circumstances as well as getting the required permits.
They turned to an advocacy group, the African Development Center of Minnesota (ADC). Minnesota is home to a large Somali-American population, as well as many Kenyans and migrants from other African nations. ADC recommended the Alis to the Community Reinvestment Fund, USA (CRF), a nonprofit which works with people living in economically disadvantaged communities.
They were able to put together a combination of loans, forgivable loans and grants from the City of St. Paul that allowed the business to open.
It has since become a preferred j***t for many residents if the Yelp reviews and viral Tik Tok videos are anything to go by. Many who frequent the place enjoy the diverse menu options it offers.
On its website, CRF highlights the Ali family's commitment as a strong pointer of Karibu's continued growth.
"Karibu is well-positioned for success, and the Ali family's commitment and determination will help ensure the restaurant is a beacon for neighborhood pride and community development for years to come," it notes.
Mohammed, who has worked as a senior administrator in the Minnesota Public School system since 2015, told news outlet OMG in 2018 that he hopes the grocery and deli will still be open in 20 years.
"If you need to make change, you need to start in your own backyards. A lot of people live in certain areas but invest somewhere else, it doesn't make sense to me. Especially working at a school, if you want to change something you want to be a part of that change."
Watch a widely-shared Tik Tok video of Karibu Grocery & Deli by chef and food influencer Hoodie Cooks
There's a Kenyan family in the states selling Vimto. Okay and Kenyan coffee among other products but the vimto nini was cool. pic.twitter.com/A1q916NCy4

— Kimmie 2 Times (@trackmann2) October 16, 2021