A staff recruitment advertisement under Kenya Wildlife Service letterhead being circulated in various media platforms is fake.
The advert announces a nationwide recruitment for 22 different positions at Kenya Wildlife Service, giving 26th January 2022 as the recruitment date in all the counties. The positions advertised include legal officers, security officers, internal auditors, cooperate service men and women, accountants, communication officers, drivers, cooks, conservations officers as well as wildlife managers, rescue centre managers and wildlife coordinators, among others.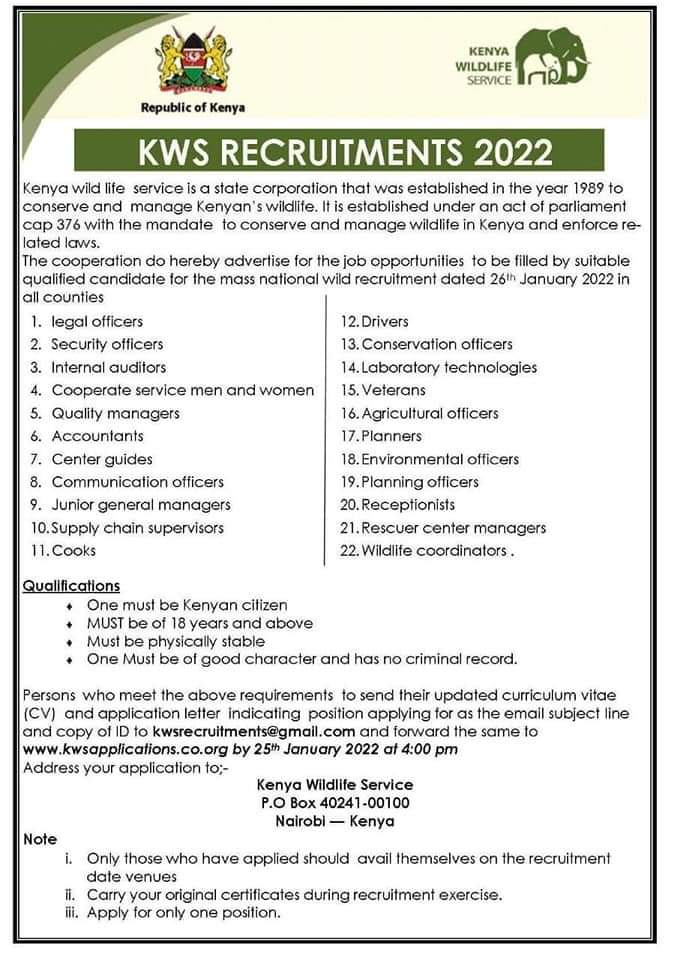 The advert urges those who qualify to apply for the advertised positions and avail themselves at recruitment centres across the country with their original certificates.
A fact-check on the document, however, reveals that it is fake. The first giveaway is the [email protected] email address used in the advertisement. KWS uses its official @kws.go.ke email to receive job applications.
The advert asks the applicants to also forward their documents to www.kwsapplications.co.org. It's worth noting that this website doesn't exist and, even if it did, wouldn't receive emails in that format. Email uses the @ sign to link the username with a destination server to enable message delivery. 
Also, there is no information regarding massive recruitment on the KWS website's careers section or its Facebook and Twitter platforms.
See Also >> Israel Tycoon Gifted DP William Ruto Helicopter For Campaigns?
Meanwhile, on 9th January, 2022, KWS issued a public notice identifying the jobs post as fake and describing it as the work of fraudsters. "Kenya Wildlife Service management's attention has been drawn to actions of fraudsters who are inviting job seekers for KWS recruitment," KWS said through its corporate communications department. "The advert is fake and deceitful."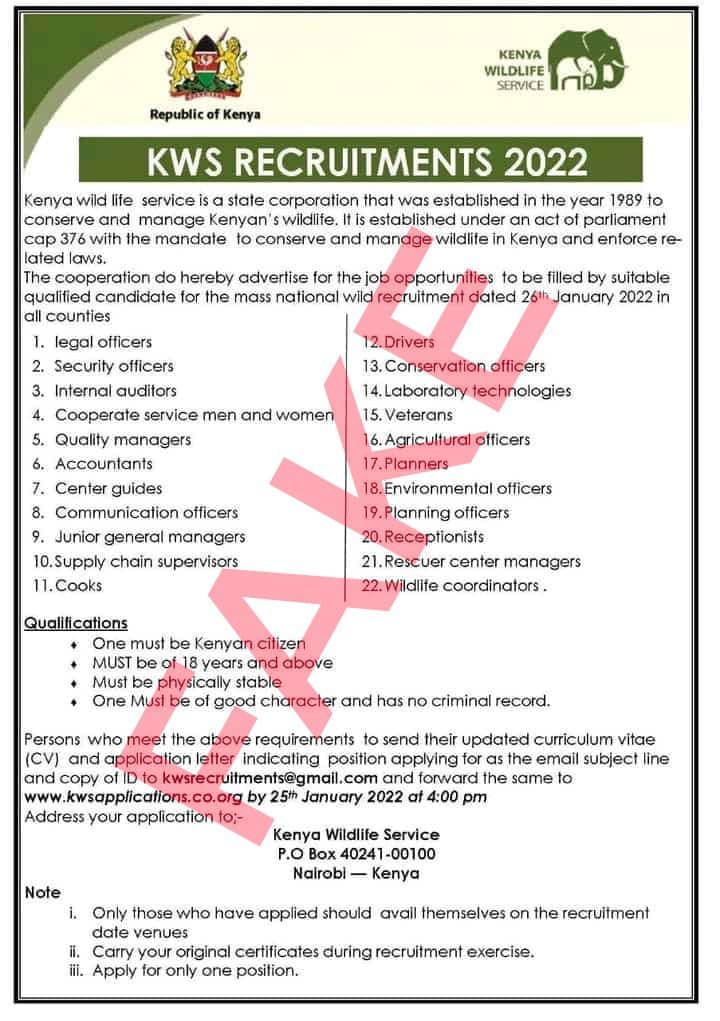 Kenya Wildlife Service management said no such recruitment has been scheduled, and urged the public to ignore the advert. It said KWS publishes all job  adverts in the mainstream  media and  on its website www.kws.go.ke .
"KWS wishes to advise the general public to verify any advertisements they see on WhatsApp and Social Media sites by checking out the official service website, www.kws.go.ke," it added.
VERDICT: The advert for KWS recruitment 2022 is fake as it has been disowned by Kenya Wildlife Service which says it is the work of fraudsters.
[This story was produced by Business Today in partnership with Code for Africa's iLAB data journalism programme, with support from Deutsche Welle Akademie ]