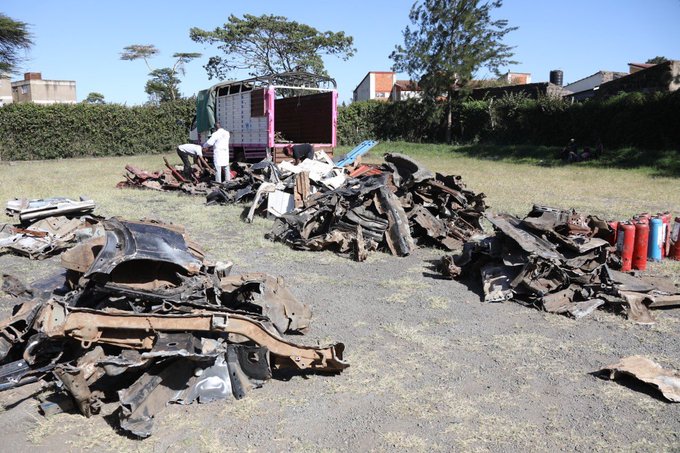 President Uhuru Kenyatta on Wednesday, January 19 announced a moratorium on scrap metal trade in Kenya, bringing a multi-million shilling business to a screeching halt. He cited vandalism of public assets such as rail tracks and power infrastructure.
Much has been made of the announcement which he made during a passing out parade at the National Police College (NPC) in Kiganjo. While some Kenyans welcomed the move highlighting dysfunctional streetlights and other vandalism-related challenges, others warned that it could kill off the vibrant Jua Kali sector and other industrial operations.
But what exactly did the President say? First of all, he noted that the moratorium was essentially a temporary ban to give the State time to develop effective regulatory measures.
The moratorium may face a legal challenge from stakeholders. For now, however, it remains a blanket ban on the trade of scrap metal in Kenya.
"As of today, we will no longer allow, and we have put a moratorium on the export or the buying or selling of any scrap material until we have put in place proper guidelines that will ensure that material is not coming from the hard-won investments that the Kenyan people have made," he stated.
Uhuru reiterated his stance that public infrastructure needed to be protected. He highlighted an incident in Naivasha which affected power transmission.
His statement came against the backdrop of widespread blackouts last week which Kenya Power blamed on infrastructural breakdowns.  The Directorate of Criminal Investigations (DCI) had to be brought in for an investigation after the collapse of  high voltage transmission towers along Mombasa road.
Sleuths found that the basement of the angle towers of high voltage power lines in Embakasi were vandalised and the cross beams unbolted and removed leading to the towers' collapse.
Several Kenya Electricity Transmission Company (Ketraco) managers were arrested for alleged sabotage following the blackouts. They were responsible for securing of the high voltage lines.
"We have seen vandalism of different sign boards and towers of our transmission lines. We have also seen clear cases of sabotage as was the case in Naivasha where people intentionally unbolted some of our transmission lines and masts to create chaos and havoc,"  Uhuru asserted.