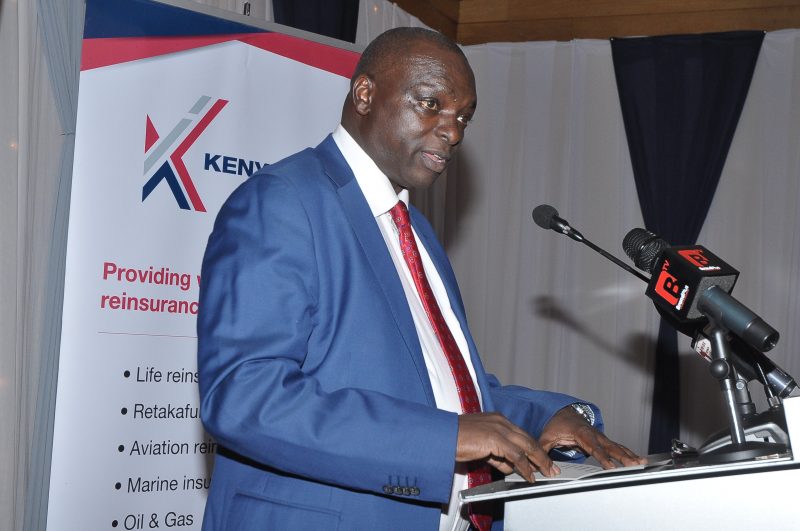 Kenya Reinsurance (Kenya Re) Friday announced a 24 percent profit after tax reduction for the first half financial period ended June 30, 2018.
The underwriter's after tax profit for the half period ended June 30, 2018 dropped to sh1.23 billion compared to Sh1.622 billion registered in June 2017.
During an investors briefing at a Nairobi hotel, Kenya Re Managing Director Jadiah Mwarania said the company's profit before tax dropped by 23 percent to Sh1.756 billion in June 2018 from Sh2.294 billion recorded the same period last year.
Following the drop in profits, Mwarania said the same affected gross premiums which dropped by 16 percent from Sh7.504 billion as at June 30, 2017 to Sh6.332 billion during the review period.
The Corporation attributed the profits drop to an increase of new industry entrants in Kenya that has increased competition and caused a drop in premium growth rates in the market.
READ : HIGHEST PAID CEOS IN KENYA IN 2017
"We further experienced foreign exchange losses in jurisdictions as well as slow payment of due premiums by insurance markets resulting to outstanding debts that directly affected the reinsurer," said Mr. Mwarania.
"Our Investment income grew by 14 percent from Sh1.716 billion in June 2017 to Sh1.940 billion in June 2018. Our asset base grew by 2 percent to stand at Sh43.614 compared to Sh42.741billion over the same period in 2017," he said.
Shareholders' funds, he added, also increased from Sh27.20 billion in December 2017 to Sh28.14 billion in June 2018, representing 3 percent growth.
He stated that the 2018 showed indicative growth improvement for Kenya Re and the Corporation has been able to record notable profit in investment income, the Corporation's asset base and shareholders' funds.
Chairman Mr. David K. Kemei said that even though the reinsurer faced challenges that led to profits drops, far reaching strategies would be fast tracked in the second half with a view to recouping the loss so far experienced.
Kemei underscored the corporations' focus to embrace change by investing in new technology and products development that is responsive to the customers' needs.
"We will focus on product development,  increase our operations by opening new offices to deal with competition while closely following up on all outstanding returns to address the challenges identified with a view to closing the year 2018 stronger than we did in 2017," said Kemei.
The corporation has commenced the adoption of ISO 9001:2015 and ISO 27001 in a bid to improve quality management processes and enhance customer service experiences.
Kenya Re has also unveiled its plans to strengthen its flagship CSR project, dubbed "Niko Fiti na Kenya Re campaign' benefiting more than 5, 300 persons living with disability since its inception in 2011.
Moreover, its partnership with Kenya Institute of Special Education will see Kenya re-adopt a block in their new State of the Art National Assessment Centre that will cater for persons living with physical disabilities.
SEE ALSO : KENYA TO HOST FREIGHT FORWARDING AND LOGISITICS SUMMIT
The block hosts a hydrotherapy pool, a rehabilitation gymnasium and treatment rooms complete with observation/learning rooms to serve persons living with disability from Kenya and beyond.
The insurance corporation promises to continue providing reinsurance service to clients in their chosen markets in Africa, Middle East and Asia