Despite competing favorably against the traditional African economic powerhouses, Kenya is the only country in the top 5 wealthiest countries list that doesn't boast of having a USD billionaire within its ranks.
While South Africa (5), Egypt (6), Nigeria (4) and Morocco (3) can point to a couple of its people who are worth USD1 billion or more, Kenya can only throw the centi-millionaires  (USD100 million) tag while sitting at the table of men.
This is captured in The AfrAsia Bank Wealth Report 2019 which reveals that sixteen people in Kenya are worth USD100 million or more.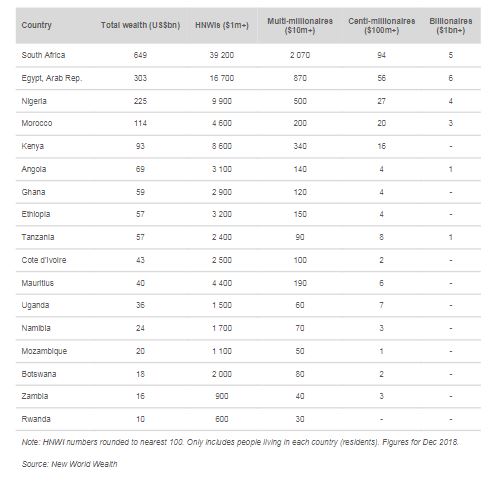 Conversely, 340 Kenyans are worth USD10 million or more while 8,600 people can stake claim to USD1 million.
This brings the country's total wealth to USD93 billion (Ksh9.5 trillion). Total wealth refers to the private wealth held by individuals living in a country excluding government funds.
AfrAsia Bank's report also ranks Kenya as the most resilient market in the continent on account of its steady 10-year wealth growth at a time the International Monetary Fund (IMF) has cut the country's projected economic growth to 5.6% in September from the 5.8% issued in April.
Read: Forget the Dim Economic Outlooks, Kenyans Buying Porsches and Bentleys for Fun
The report describes Kenya's economy as the most capable of withstanding any difficulties including prolonged election cycles and hails its 64% growth between 2008 and 2018.
"Kenya had a difficult 2018 when wealth was down by around 10% during the year as the stock market lost significant value. However if one looks over the long term, the trend is still quite positive. This shows that Kenya is still probably the most resilient market in Africa among the traditional Big 5," reads the report. 
During the period under review, South Africa's economy grew 13% while Morocco's economy recorded a 5% growth rate.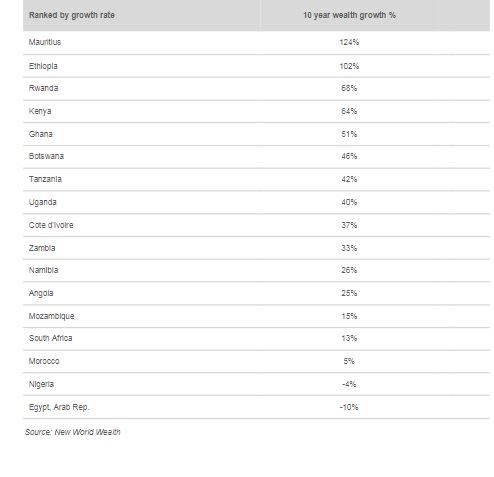 Nigeria (-4%) and Egypt (-10%) both recorded negative growth rates which is an indicator that while Kenyans are concerned about the state of the economy, investors are still not hesitating to put their money in the country.
AfrAsia Bank's report further ranks Kenya ninth in the list of Africa's wealthiest countries per capita at 1870USD (Ksh193,432). Wealth per capita refers to national income divided by population size.
See also: The Rich Get Richer as 125 Kenyans Worth Sh30 Billion
Nairobi is ranked the sixth wealthiest capital in the continent by total wealth.