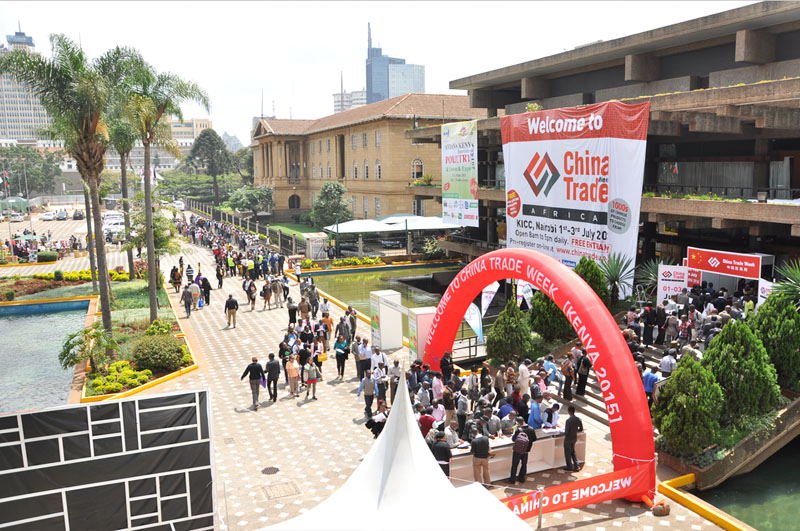 Kenya is hosting the 4th consecutive edition of the Chinese trade show, 'China Trade Week', at the Kenyatta International Convention Centre (KICC).
The China Trade Week (CTW) is a business-to-business matching trade show featuring Chinese manufacturing companies looking to connect with the local and regional sourcing and purchasing professionals. With 500 exhibitors, the fourth edition of China Trade Week Kenya is billed to be bigger and better.  The exhibition will showcase more high-end Chinese manufacturers seeking to develop long term relations with local buyers.
For the first time, this year's edition will split industries across two phases, with sectors including building material, HVAC, lighting, construction material, water & environmental treatment, furniture & interior, textiles and PPP (private public partnerships) for Phase 1 on 13th-15th June, and consumer goods, automobile & auto parts, electrical & IT and agriculture for Phase 2 on 18th-20th June.
China Trade Week is organised by MIE Events, the leading organiser of Chinese trade fairs in Dubai and China. The event has already had successes in the United Arab Emirates, Iran and Kenya, and last year successfully added Ethiopia, South Africa, Morocco and Ghana to the CTW portfolio.  China Trade Week Kenya is a comprehensive China-focused trade event to be hosted in the country, showcasing high-quality Chinese products from a variety of industries.
In the last decade, China has become Kenya's largest source of Foreign Direct Investment (FDI) and since 2015 has been the biggest exporter to Kenya.  According to the Kenya National Bureau of Statistics (KNBS), the value of imports from China in 2017 reached Ksh390 billion, a 20% jump from Ksh337 billion in 2016.
"Kenya is the most developed economy in Eastern Africa and also the economic, commercial, and logistical hub of the entire region," says MIE Events Managing Director David Wang. "The China-Kenya economic cooperation and trade in various fields has gained momentum over the years, and it is the very reason why we are holding the China Trade Week in Nairobi for the fourth time."
As a business event, CTW Kenya is looking for professional buyers in retail, wholesale, distribution and import/export, as well as entrepreneurs who have been thinking about starting trade relations with China. The goal is to bring together Chinese market players with those from the Kenyan market to create partnerships and trade exchange.
For visitors who have not had any experience working with China before and don't know where to start, a conference has been developed over the three days to give visitors background information about China and how to effectively trade with China.
China Trade Week 2018 will take place at Kenyatta International Convention from 13th -15th June 2018 for phase 1 and from 18th-20th June 2018 for phase 2.  During the exhibition visitors will have a daily chance to win a Huawei tablet just for registering and visiting.