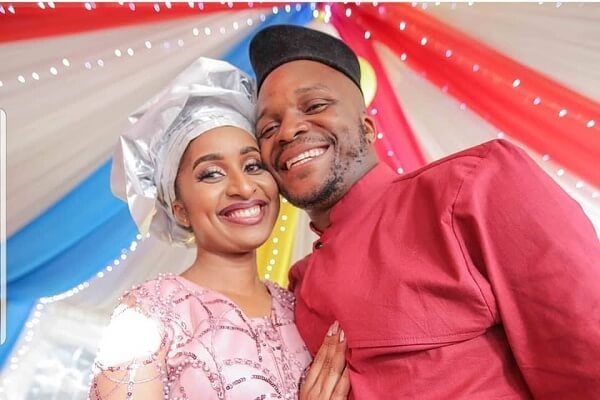 News of popular radio host Felix 'Jalango' Odwuor's private wedding stormed into social media on Saturday, 26th October.
The news attracted contrasting opinions from shocked Kenyans who were never aware that Jalang'o was engaged.
Jalango's fans were quick to send him congratulatory messages after seeing the news of his marriage with his longtime girlfriend, Amina Chao. The comedian and radio host was successful in keeping his relationship with Amina a secret but just could not keep the wedding a secret. However, it was an invite-only event.
Among other things, Jalango was keeping his relationship secrets to avoid Kenyans who are obsessed with stereotypes to air comments about his personal life. Despite all that, those behind stereotypes were quick to air their views on the marriage.
Some people gave credit to Jalango's co-host Alex Mwakideu who hails from the same county as Amina. These Kenyans were suggesting that Mwakideu was the one who introduced Jalang'o to Amina. Well, that might or might not be the case.
Ladies from Nyanza were not left behind as they expressed their frustrations from their male counterparts who marry from other regions of the country. To these ladies, Jalango's marriage is a clear indication that Men from the lakeside region are no longer interested in marrying ladies from Nyanza.
Generally, Jalango's marriage has showcased how different marriage has become. It has shown how people marry because of economical reasons and not emotional feelings between couples.
Marriage has grown to become an important stage in one's life and people marry for different reasons. The difference, of course, comes from what one looks to gain from the marriage.
Over the years, ladies from Nyanza have been stereotyped to be too demanding in marriages and this has been linked to the fact that most of them are unmarried. Jalango's marriage kickstarted a debate on social media about how and why Nyanza ladies mostly fail to get a significant other.
In what seemed to be a message to his countrymen and women, Jalango posted a photo of his wife on social media with the caption 'jaber is jaber'. The term jaber is luo for a beautiful lady. As it seems, the radio presenter was basically saying that it does not matter about the tribe for a beautiful girl is a beautiful girl.
However, to his Nyanza originators and dwellers, Jalango meant that he does not rate Luo women as he does those from other tribes. Following the post, a heated debate arose in the comment section as people tabled different stereotypes about luo women and why most of them struggle to find a husband.
The debate dug out quite a number of luo prominent men who married outside the tribe. Among the prominent Luo men quoted to have married from outside Luo tribe or had relationships include Embakasi East MP Paul Ongili aka Babu Owino, Radio Maisha presenter Nick Odhiambo, Late Fidel Odinga, Jalang'o, Erick Omondi among others.