[dropcap]E[/dropcap]very time her seven-year old son arrives home in the evening from school, Charity Mboje meets him at the gate a***d with a can full of water and a wet cloth.
Painstakingly, she wipes away a thick layer of dust, coating his face, head and ears with the wet cloth before allowing him into their three-roomed house. This is a habit Ms Mboje, a farmer at Kishushe village in Wundanyi Sub-County of Taita-Taveta County has developed as her daily ritual since April this year.
Ms Mboje's son is among thousands of pupils in five schools in Kishushe area that are facing potentially devastating health complications over massive dust pollution caused by the re-opening of Kishushe mining ore after six years of closure.
On a clear day, Kishushe and its environs is covered in a brown cloud of dust visible from kilometres away. "I do this daily and hope it helps. He is learning and living in a sea of dust. I am very worried about his health," Ms Mboje admits.
The dust is raised by hundreds of deafening trailers, ferrying tonnes of unprocessed iron ore from Kishushe mines to Mombasa port for export. The 22-wheelers rumble along the dry-weather roads in a 24-hour operation that has become a health nightmare for locals in the region.
The mining operations are so robust that a trailer leaves or enters the mine after every five minutes.
Mr Charles Kale, a retired teacher, said the dust and noise were making life unbearable to the residents. He particularly says learners in schools along the roads ware at the greatest risk. "We are courting d******r. This level of pollution must be stopped for the sake of the children," he said.
On April this year, Kishushe Iron Ore Mines resumed its operations after a four-year closure in 2014 over a protracted boundary dispute between Wanjala Mining Company and members of Kishushe Ranch and Cooperative Society. There was also a row over the amount of revenue the county government was collecting from the mining company.
The reopening of the mines under Samrudha Resources Kenya Limited, a new management, was met with jubilation and excitement from thousands of excited locals from Kishushe area.
The roar of the drilling machines signified the resumption of mining operations on the 68.4 square kilometre land parcel and meant more job opportunities, improved roads, upgrading of schools and other benefits that come along with having a multi-billion shilling project. The county government was also expected to reap millions of shillings in revenue from the deal.
The residents now concede they may have celebrated too soon because three months down the lane, the cries of joy have transformed into wails of a***y as they come face to face with extensive dust and noise pollution of industrial scale.
Located at the heart of this pollution are five public schools situated along the dry-weather road leading to the mines.
The primary schools – Mbulia, Mlilo, Ngongondinyi and Kishushe – have a learner population of over 1000 pupils while David Kayanda Secondary School is also struggling with dust pollution.
County Director of E*******n Philip Wambua says the dust pollution needed to be contained by all means necessary.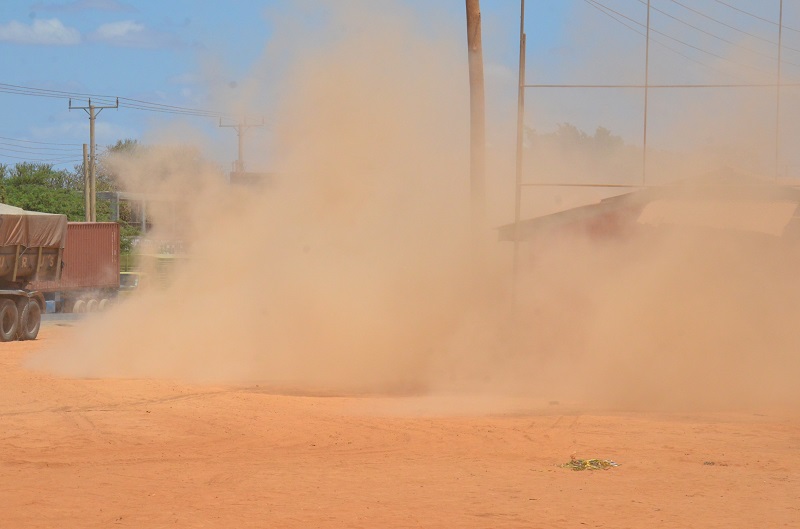 After touring the school a week ago, the official expressed shock over the pollution and said his office would hold an urgent consultative meeting with relevant agencies to resolve the matter. "The place is terrible. Schools are in the middle of all this as trailers use the dusty roads," he said.
The National Environment Management Authority County boss Ms Edith Kalo said her office was aware of the dust threat and had held two meetings with the management of the mines to mitigate the environmental impact.
RELATED: KAKAMEGA GOLD RUSH LURES YOUNG MEN AND WOMEN
She said the meeting brought together local administration, county government and public health officials. "We agreed that the company must procure more water bowsers to sprinkle water on the roads along sensitive institutions like schools and hospitals," she said.
There are also plans to install speed bumps along the road to slow down the trailers and reduce dust blown up.
A 2018 World Health Organization (WHO) report titled Public Health and Environment estimates that 9 out of 10 people breathe polluted air. As a result of this pollution, an estimated 7 million people d*e annually globally from air-pollution related complications. WHO recommended standards for dust pollution stand at 10 micrograms of dust per every cubic meter of air.
However, some highly polluted regions like Beijing City report as high as 700 micrograms per cubic meter.
NEMA officials contacted couldn't estimate the pollution level at the region but admitted it was well above WHO standards.
Human right groups in the region have demanded an environmental-impact mitigation report from the mining company to be made public to allow for scrutiny.
Mr. Hajji Mwakio, chair of Taita-Taveta Human Rights Watch, said Wanjala Mining must be held accountable for the large-scale pollution and any resultant health problems for learners in the school. He stated that before operations, the firm must have issued a report on what it would do to contain the pollution. "The company must be held accountable for the pollution. No economic activity is worth the lives of our children," he said.
In April, residents of Maungu in Voi held demonstrations over dust pollution at the shopping center demanding for NEMA to act on trailers that were driving across the center. (By WAGEMA MWANGI / KNA)