For the first time in seven years, Samsung and Apple are not the two most popular smartphone brands after Huawei split the tech firms to rank second in global smartphone sales.
Research firm Counterpoint revealed earlier this week that the Chinese tech company has overtaken Apple in terms of sales despite the fact that the iPhone 7 remains the most popular handset in the global market.
READ : WHATSAPP LAUNCHES NEW GROUP VIDEO CHAT FEATURE
More impressive for Huawei is the fact it has been frozen from the US market due to security concerns with America suspecting its software could be used by the Chinese to gather intelligence. Huawei has denied these suspicions.
Huawei's shipment of 54.2 million units during the second quarter of the year was more than the 41.3 million units that the iPhone managed. World leader Samsung sold 71.6 million units.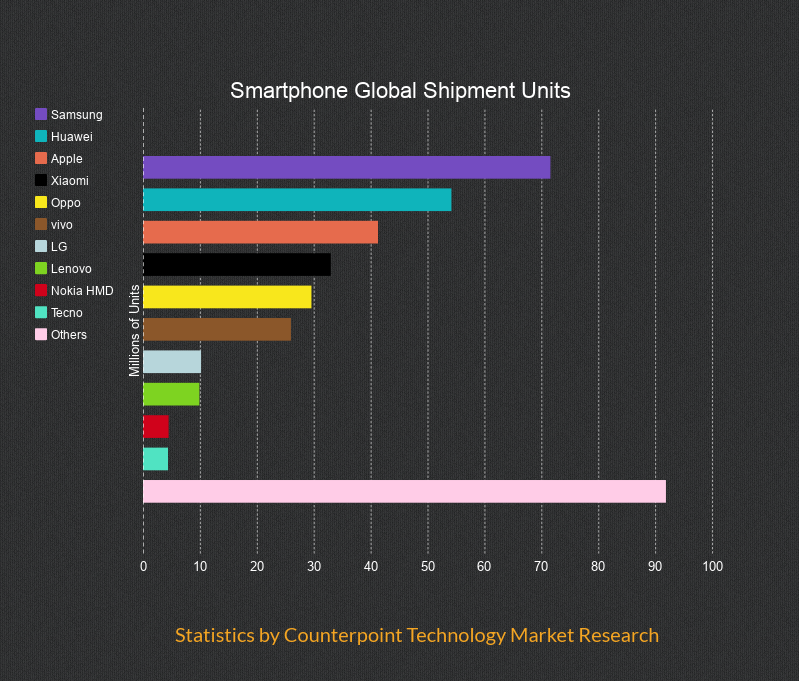 Huawei's popularity has been attributed to its ability to sell cheaper phones with an emphasis on designs with large displays and advanced camera functions. Tarun Pathak, Associate Director at Counterpoint Research said, "Huawei had a good second quarter in 2018 as it shipped more smartphones than Apple to capture the second spot in the global smartphone rankings, after seven years of Apple-Samsung dominance. Huawei achieved this by launching smartphones in the premium segment and capturing the mid-tier segment"
READ : ARE KENYANS WITHDRAWING FROM SPORTPESA 
The numbers show a trend that could see the gap on Samsung's dominance close. Huawei's sales could remain steady and ahead of the iPhone in August. However, with three new handsets set to be released in September, Apple is on course to regain its second place spot.
Worryingly for Samsung is that the 71.6 million units it sold in the second quarter of 2018 saw an 11% decline in sales from the same period last year.
Ironically though for Huawei, none of its phones made it to the top 10 list of global smartphone sales by handset model.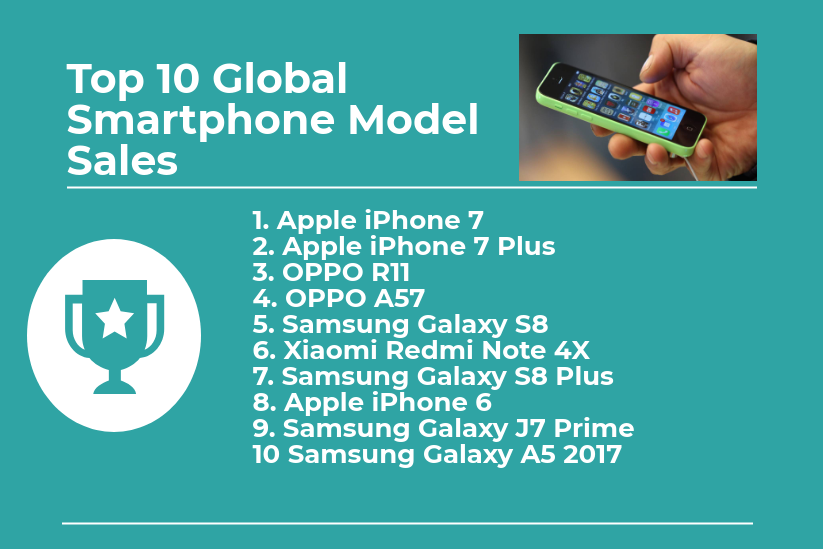 The list comprises the iPhone 7 and the iPhone 7 Plus taking the top two spots, with models by OPPO, Samsung and Xiaomi also making the top 10 ranking.
SEE ALSO : MARIJUANA WORTH KSH680,000 NABBED BY KRA
OPPO and Xiaomi also hail from China showing that the US market is not a certain prerequisite for success in the smartphone business.