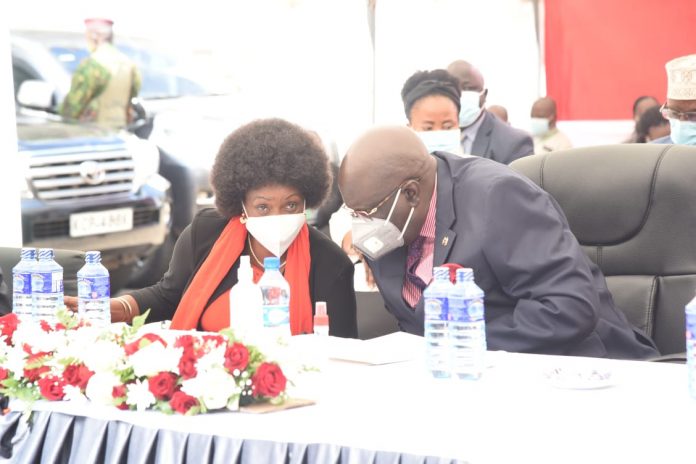 Results for the 2020 KCPE exam have been officially released with the top candidate, Mumo Faith Kawee scoring 433 marks out of the possible 500.
Announcing the results on Thursday,15th April 2021, Education Cabinet Secretary Prof. George Magoha commended the 2020 candidates, noting that they registered commendable performance considering they wrote the test during the pandemic which disrupted learning for several months.
It had been earlier predicted that candidates of the 2020 KCPE Examination would perform dismally. The performance of candidates however is commendable and has shown no remarkable difference from the performance of the past years.
Magoha thanked the government of President Uhuru Kenyatta for working with development partners to avail the Ministry a Sh1.1 billion COVID-19 recovery fund part of which enabled KNEC to conduct an entry assessment as soon as the candidates reopened.
The CS also announced that schools are scheduled to reopen for third term on May 10, 2021 for all classes except Grade Four and Form One.
READ>>>>>TSC to Hire 35,000 Teachers Ahead of Double Transition in Schools
"We are hopeful that we will open as scheduled although we continue monitoring the country's COVID-19 situation and the schools' preparedness to adhere to all Ministry of Health guidelines of managing the virus," he stated.
Magoha also said that the Ministry of Education will immediately start preparations to mount the 2021 KCPE and KCSE examinations, which will be administered early next year," said Prof. Magoha.
CS Magoha further stated that the Form One selection exercise for all categories of schools will take place from May 28, 2021.
The CS noted that all the 1,179,192 candidates who sat the exam had qualified for admission to secondary school.
"As I have noted, we are today releasing results for 1,179,192 candidates who sat the examination in 28,460 centers across the country. All these candidates have qualified to be admitted to secondary schools. I congratulate them for this success," added Magoha
The top three K.C.P.E candidates were girls.
READ>>>>>TSC Announces 1,550 Vacancies Across Kenya, Here's How to Apply
Here is the list of the top 15 candidates:
Mumo Faith Kawee – Karimwailu (433 marks)
Wesonga Yvette — Nanzala Chogoria Girls (432 marks)
Muriithi Angel Gakenia — Maseno Girls Boarding(432 marks)
Wanyonyi Samuel Makhanu — Nzoia Sugar Co. (431 marks)
Castro Williams — Crystal Hill Academy (431 marks)
Tarus Chepkemboi Laureen – St Mathew's Septonok (431 marks)
Kipkirui Abiud — Lessos Hills Adventist (430 marks)
Mwangi Margaret Waruguru – Karatina D.E.B (429 marks)
Bernice Checed Omondi — Nairobi Primary (429 marks)
Kiogora Joy Nkatha — Chogoria Girls (429 marks)
Daniel Chris Mboya – Crystal Hill Academy (428 marks)
Njenga Lowell Mwagambo — Emmanuel Springs Academy (428 marks)
Jeff Mutugi — Fred's Academy (428 marks)
Polycup Kiyondi Ombongi — Ober Boys (428 marks)
Debrah Zawadi — Emmanuel Springs Academy (428 marks)
KCPE candidates are to get their results by sending index numbers to SMS code 20076 and start message with 'KCPE'.
READ>>>>>KCPE Exams Kick Off Countrywide