The Teachers Service Commission (TSC) has plans to hire 35,000 teachers in the next financial year to help with the double transition in secondary schools.
Of the 35,000 teachers, 25,000 will be employed on a permanent basis while 12,000 will be on internship. The recruitment is considered necessary to ensure a smooth running of the Competency-Based Curriculum (CBC).
The current Grade Four and Standard Six pupils will transit to Junior Secondary and Form One respectively, in 2023. This will lead to higher enrollment which will call for additional teachers.
The commission indicated that there is currently a shortage of 49,750 teachers in secondary schools.
Macharia also highlighted the need to train the teachers to enable them to specialize in teaching at senior secondary schools. The commission said it would need Ksh1 billion to actualize it.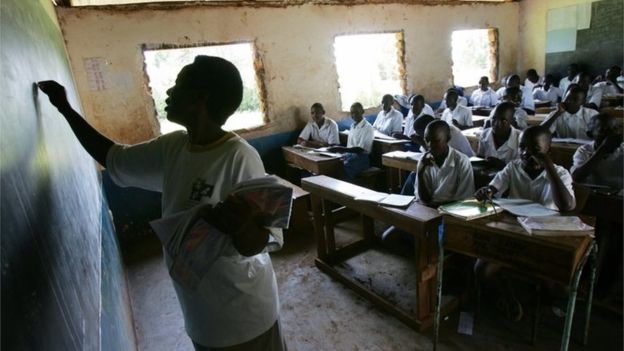 READ ALSO>>>>>TSC Announces 1,550 Vacancies Across Kenya, Here's How to Apply
A total of 25,000 teachers would also be trained on the School-Based Teacher Support System (SBTSS) under the Secondary Education Quality Improvement (SEQIP) Project.
The commission, led by CEO Nancy Macharia, submitted a policy statement to the National Assembly's Committee indicating that their budget will range at around Ksh13.15 billion. Ksh10.75 billion will be used to recruit permanent teachers while Ksh2.4 billion will be used to hire interns.
Meanwhile, TSC has dismissed reports that it was planning the mass transfer of teachers countrywide.
TSC was forced to clarify following reports that the commission was collecting field data on staffing for schools for the purpose of transfer targeting 30,000 teachers.
Macharia clarified that the commission would not consider such action owing to the challenges arising from Covid-19.
"The Commission, therefore, wishes to assure teachers that it does not plan to effect any mass transfers as alleged in a newspaper story," Macharia stated.
She noted that teachers must be left to continue conducting their normal teaching duties and conduct national examinations without any interference and urged the media to always report accurately.
Early in February the Kenya National Union of Teachers (KNUT) treasurer John Matiang'i asked the Teachers Service Commission (TSC) to stop intimidating and frustrating teachers.
He said the Constitution gives all workers the right to join any union that they choose and asked the employer to give them that right of joining any union of their choice.
Matiang'i said if teachers were denied their rights then they would not be motivated to do their jobs as expected of them. He called on the TSC to follow the law and the government guidelines in employing and promoting teachers.
In a statement on Tuesday, January 26, the Teachers Service Commission (TSC) announced 1,000 job vacancies for teachers. The commission invited applicants for suitably qualified candidates to fill the posts in line with the career progression guidelines for teachers.
TSC noted that it was an equal-opportunity employer and persons with disabilities (PWDs) are encouraged to apply.
READ>>>>>TSC Advertises 1,000 Vacancies for Teachers