[dropcap]T[/dropcap]he future is at the behest of those who dare, dream and do. It is enclaved in the minds of those who turn sci-fi fantasies into reality. For the world, think Elon Musk. For Africa, look no further than Morris Mbetsa.
The Kenyan innovator is no stranger to pushing the limits with imaginative inventions. He has been at it once more with the development of air travel prototype which he says will be the solution to troublesome traffic woes, the unbearable state of roads in Africa and the unabated time wasted in transport.
His flying taxis are still in development stage, but when fully formed will usher in tomorrow, today. Computer controlled, fully electric powered and running on batteries, the first tested prototype can carry one passenger at a time. The average flying time is 25 minutes at a height of up to 10-30feet (3-9metres) which is reached after direct vertical propulsion from the ground a la helicopters. The speed, 120km/h.
This means that in theory, one trip can see one cover 50km in the space of less than half an hour. This, when actualised, should be a welcome relief in the snail-paced congested city traffic and the unreachable quarters of some areas within the expanse of this country where roads are impassable.
How it works
For such an endeavour, a question of safety is bound to arise and for Mbetsa's air-taxis, there are safeguards beyond safeguards. The batteries come in threes, with two serving as back ups.
The travelling interface is also linked to the charge of the batteries so that when you key in your destination, it quickly calibrates how much charge is in the batteries. If the charge is insufficient, the flying taxi will not take off. At the same time, if the batteries do run out of juice mid-air, Mbetsa assures that the carrier will not crash land, but that it will look to slowly and smoothly land.
READ: Young CEO who skipped college classes to build a soap factory
Still in the works for this invention is an air traffic control system that will allow for communication to occur between different flying taxis, presumably to avoid criss-crossing each other's paths mid-flight.
Mbetsa, however, still requires additional funding to make the innovation work more efficiently. In May, he told Tuko that he has already used Ksh8 million already on the project, but that he would like to also establish helipads in strategic locations for the flying taxis so as to make taking off and landing more effective.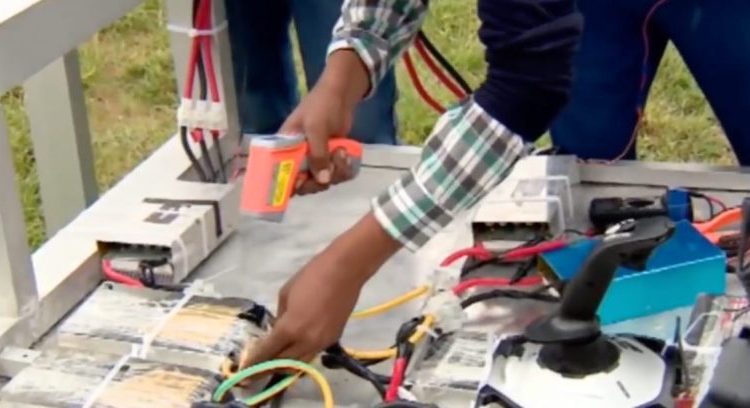 Besides funding, one of the greatest challenges the Mombasa-born innovator has faced is how potential investors in his projects shun his gargantuan ideas. Like all geniuses, he faces a mob who tell him it's not possible; who shun his thought and call him a madman.
Inventing the future
From as early as 2009, Mbetsa has been developing innovations. He has developed a system where one can track their car using a mobile phone app while still being able to give commands to the vehicle such as to lock windows and doors as well as to stop the engine. He has also been at the forefront of a database that can track Kenyan citizens' health records as well as their legal past.
SEE: Five books that have inspired entrepreneurs
He has also developed a tablet to be used by students and a device to tap kinetic energy to power them. This device has been run in schools in areas where there is no electricity.
The self-taught tech innovator was nominated for the Mandela Washington Fellowship academic institute, leading to a three-month scholarship at the University of Notre Dame in Indiana, US. He has also been to China to learn about manufacturing.
Ever the man to want to create the future rather than to assist others in shaping it, he has in the past resigned from jobs at American multinational tech companies IBM and Microsoft. On both occasions, he felt as if he was underutilized and considered his job requirements as a small role.
READ: Meet the Kenyan who made a helicopter
He is the founder and CEO of Mbetsa Innovations Ltd, an electronics designing company in Kenya that deals with software,firmware, pcb design and fabrication of devices such as home automation systems, car security devices, tablets and home security. The company also seeks to form a supportive atmosphere that can assist young innovators to turn ideas into products and services.