Successful people read far and wide. I have interviewed many entrepreneurs and many of them say their source of inspiration is books. Reading stimulates the mind to jumpstart an idea.
Below are some of the common books aspiring entrepreneurs should consider reading:
How to Make Friends and Influence People – Dale Carnegie
Brenda Katwesigye, the CEO Wazi Vision, recalls how Dale Carnegie book inspired her when she decided to solve the high cost of reading glasses in her home town.
Though this book was first released in 1936, it has remained one of the best ever every young business mind craves for. The book sold over 15 million copies. In the book, Carnegie, a sales person turned public speaker, offers rock-solid advice that has moulded thousands of now famous entrepreneurs.
Carnegie talks about six ways to make people like you; 12 ways to win people in your way of thinking and nine ways to change people without arousing resentment.
Among the first beneficiaries of Dale Carnegi'es course is Warren Buffet who is today considered one of the most successful investors of the 20th century. He took the course at age 20.
According to Brenda, the book opened much more avenues for her in terms of networking, which she says is important for any business.
Rework – Jason Fried and David Heinemeier Hansson
Jason Fried and David Heinemeier Hansson are the brains behind 37 Signals – a development company responsible for the phenomenon that is the Basecamp project management tool, amongst other services.
In their book 'Rework' the overriding message is, Stop talking and start working. The book also advices on how to be productive and, most importantly, how to get projects finished. It also gives practical pointers for the small business owner on how they can out-manoeuvre the big corporates.
Genii games developer Adebayo Ibidapo says his App would have not seen the light of the day were it not for the guidance from the book. With smiles, he recommends the same to anyone who wants to try a hand in software development, online business and such like ventures.
Where Good Ideas Come From – Steven Jonson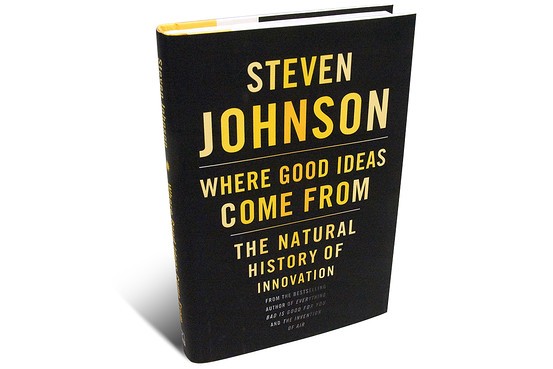 Who owns ideas, where are they found and what sparks the flash of brilliance? These are the same thoughts Jonson had in mind and decided to offer answers by identifying seven key patterns behind genuine innovation, and traces them across time and disciplines from the Darwin and Freud to the halls of Google and Apple.
From the book, Johnson suggests that sparks of brilliance aren't the dominion of the solitary genius but are within the grasp of us all. He says that good ideas are the result of the right place and the right time of chance and failure and asks readers to rethink where they place innovation.
Like The Tipping Point and Freakonomics it goes beyond the traditional 'big think' guides that promise to teach how to get ahead or why things went so wrong; instead, it explores what makes us tick, and as a result might actually have an impact far beyond the boardroom.
Focus on Impact – Wendy Lipton-Dibner
In the book, Wendy a faculty member of CEO Space points out lack of clarity as opposed to under-capitalization as the key factor that leads to failure among many young and up-coming entrepreneurs. She further argues that each and every individual has impact on the people they meet but most of them never stop to think about it. She says that most successful entrepreneurs focus on impact.
Related: City centre luggage store opens huge business for Nairobi lady
Out of her 40 years' experience in training young CEO's, Wendy in the book outlines, key ten steps to success which includes; definition, discovery, determination, designing, developing, differentiate, deliver, decision, diversification and daring.
According to Dr Moka H Latum a social entrepreneur and an Ashoka fellow, this book played an integral part in in accomplishing his micro-clinic technologies dream.
The Chris Guillebeau's '$100 
In the book, Chris Guillebeau illustrates how to lead a purposeful, adventurous and meaningful life that will earn you good living. At only 30, Chris had already traversed over 175 countries despite not having a real job or a regular salary. He developed a habit of turning ideas into real money to support his entire life.
Read: Being street smart beats education making it in life and business
After identifying  1,500 individuals who  build businesses earning $50,000 or more from a modest investment  and chose to focus  on the 50 most intriguing case studies, Chris deduced that people with no special skills discovered aspects of their personal passions that could be monetized, and were able to restructure their lives in ways that gave them greater freedom and fulfillment.
It's all about finding the intersection between your "expertise" – even if you don't consider it such — and what other people will pay for.
Among Chris's key principles is; if you're good at one thing, you're probably good at something else; never teach a man to fish – sell him the fish instead.