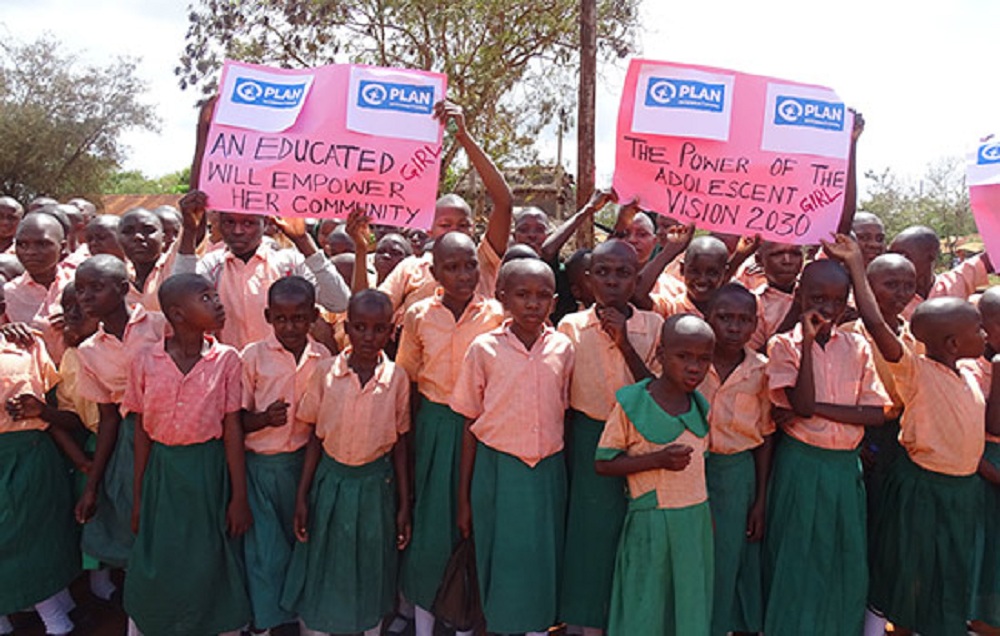 Since 2012, 11 October has been marked as the International Day of the Girl. The day aims to highlight and address the needs and challenges faced by girls, while promoting girls' empowerment and the fulfillment of their human rights. The world's 1.1 billion girls are a source of power, energy, and creativity – and the millions of girls in emergencies are no exception.
In Kenya, under the leadership of the Ministry of Public Service, Youth and Gender Affairs, the national theme for 2017 is: "Empower girls: Emergency response and resilience planning". This year's theme is focused on the fact that girls are affected and bear the brunt of conflict, violence and natural disasters. This reflects the weak protective mechanisms within families and communities, increasing vulnerability of girls to violence, abuse, exploitation and neglect.
This year's celebration at the Samburu Girls Foundation Center in Samburu County, Kenya, marked the launch of a yearlong effort to bring together multi-sectoral partners and stakeholders to advocate for, and draw attention and investments to the most pressing needs and opportunities for girls in emergencies and development settings.
"Adolescent girls in the developing world are a huge, untapped resource, but they need special attention in order to live up to their full potential. Discrimination, gender roles and reproductive health problems limit girls' dreams for the future and reduce the contributions they could make to their communities," said Dr Ademola Olajide, UNFPA, United Nations Population Fund Representative to Kenya.
There is need to enhance the call and commitment at both national and county levels to give girls a voice. It is important that girls are able to access information and services related to sexual and reproductive health, nutrition, menstrual hygiene as well as addressing gender based violence and other harmful cultural practices as FGM and child marriage through prevention, protection and response services. Access to education is also critical.
Stefano A. Dejak, EU Ambassador to Kenya said that "in practically every country the girl child still faces particular obstacles and threats to her progress in life.
Here in Kenya these can include physical abuse, early marriage, FGM, or lacking family support for her education just because she is a girl. It's our collective duty to protect the rights of the girl child to ensure her development, protection and participation in community development. The rights of children are a blessing for today and a promise for our future."
In the last two decades, Kenya has made tremendous strides in the empowerment of girls through legislative and policy formulation as well as programmatic interventions that address the pressing needs of girls. Enactment of laws such as the Marriage Act 2013 and the Prohibition of Female Genital Mutilation Act 2011 are just some of the measures put in place to safeguard the rights of girls.
For greater impact on the empowerment of girls and achievement of the national goal to end FGM and child marriage by 2030, innovative and community sensitive strategies are needed both at the national and county level. Regular and targeted investments and programmes that address the distinct needs for girls are required. Investing in the adolescent girl can have an enormous positive ripple effect enabling the country to realize and attain the Sustainable Development goals.
Gina Din, Founder and Executive Chair of the Gina Din Group and UNFPA Honorary Ambassador to Kenya, shared; "Girls and young women rarely have opportunities to act as leaders or as advocates."
"I am proud therefore that UNFPA encourages the participation and leadership of marginalised girls through a variety of programmes around the world that connects girls to resources and opportunities, and builds their agency, so that they can protect themselves," Gina Din added.
As part of activities to commemorate this year's International Day of the Girl Child, UNFPA is partnering with Health Games which offers a social gaming platform to improve health literacy and awareness. The first game is called Your Choice, Your Future! and targets youth to improve their knowledge on contraception and sexual and reproductive health. The goal is for youth to have fun playing the game but learning at the same time, so they can make informed choices for their health and their future. We encourage the youth to log on to the website and play the game.
Moreover, UNFPA partnered with Huawei to facilitate Matebooks, laptops and an internet router to the Samburu Girl Foundation center – the very first computers the center will have!  Adam Lane, Senior Director, Public Affairs commented at the ceremony:
"We recognize the transformational impact technology can have, especially on those who are most disadvantaged and lack opportunities and access to information. There is no doubt these girls need and deserve access to technology that can empower them, inspire them and bring them new opportunities that we hope will improve their lives and the future prospects. We applaud the Government of Kenya and our partners UNFPA and Safaricom Foundation for their leadership and support in helping Kenya's young people, in particular adolescent girls, to realize their full potential." Story Credit: UNFPA