Easy ways to cope if your candidate loses in election
Supporters of Raila Odinga (and others shocked by the victory of the president Uhuru Kenyatta) are undergoing a range of emotions, including shock, sadness, anger, confusion, anxiety, and fear. Many supporters of Raila might experience recurrences of these emotions.These feelings are all responses to loss, something that we experience not just when a loved one dies, but also in matters personal, professional, and political. And with loss comes grief. The same feelings are being felt at various levels including those who contested for governor, MP, Senator, MCA and their supporters.
Some of those grieving might be wondering exactly what "stage of grief" they're at right now, and whether that means they're closer to feeling better.
SEE: IEBC set to declare Uhuru Kenyatta winner of Kenya elections
As it turns out, thinking of grief as a five-stage process is inaccurate, but the stages included in that concept — denial, anger, bargaining, depression, and acceptance — are indeed valid components of coping with loss. And understanding this grieving process can help people move on.
Recovering from any loss is not necessarily easy and straightforward, and while some may feel ready to get back to work the next day, others may need more time (something that applies to any sort of grief, not just a political version).
First, it's important to accept that the mental and physical effects that people feel after political or emotional social moments are certainly real. That's why researchers think watching World Cup soccer is associated with a significant uptick in heart attacks (for those that argue that people shouldn't feel "grief" after election, I'd argue that even though the World Cup is far more fun, elections do have greater relevance to our lives).
After accepting that there is a real reason to grieve, psychologists offer a variety of tips for moving on.
Come to terms
Grief counselor R. Benyamin Cirlin told Marisa Kabas of Fusion that a series of three tasks could help: "coming to terms with reality," understanding and accepting the state of things; coping with feelings, understanding specifically what made you feel angry or upset (maybe you or your friends belong to a group you fear may be discriminated against); and finally, figuring out how this event changed you as you think about what's important to you as you move forward.
As my colleague Rafi Letzter has written, it's important to take care of your mental health, especially while first trying to process a loss.
And as psychologist Mary Alvord told USA Today, "disappointment can motivate us to action – ideally in a positive way."
Building resilience
People who have built up the psychological trait of resilience are quicker to bounce back from challenge or loss. They're able to cope with stress or tough situations that others succumb to, as psychologist Maria Konnikova has explained in the New Yorker. This process of accepting grief and then figuring out how to move on can help build this resilience.
As Konigsberg wrote in her book, "perhaps just the knowledge that our survival instinct is strong, and that a great many have not only endured terrible losses but have also thrived, can be a source of hope." And that's relevant to anyone coping with grief, whether it's from the loss of a friend or the loss of an election.
Kenyan named World Bank chief for Zimbabwe
The World Bank has appointed a Kenyan as  the new World Bank Country Manager for Zimbabwe. In her new position, Ms Rosemary Mukami Kariuki's top priorities will be to provide strategic leadership for formulating programs that support the World Bank's twin goals and maintaining portfolio quality by working with internal and external partners for better results.
"With the support of the Multi-donor funded Zimbabwe Reconstruction Fund managed by the Bank, the Government of Zimbabwe is carrying out key reforms that aim to improve the fiscal, monetary and investment environment.  These reforms are intended to help the country achieve the broader goals of poverty reduction and shared prosperity and establish a sound foundation for re-engagement," said Ms Kariuki.
"Our cooperation also supports the Government's objective of restoring high levels of productivity through more inclusive, efficient and climate and environment-friendly approaches."
The World Bank is currently administering the Zimbabwe Reconstruction Fund (ZIMREF) that was established in 2014 to strengthen the country's systems for reconstruction and development. ZIMREF has eight projects that support the business environment, water and sanitation, health, education, public financial management, public procurement, climate change, state owned enterprises and poverty monitoring.
To date, ZIMREF has received financial commitments of US$40.4 million and will run until 2019. The Zimbabwe portfolio also includes the Health Sector Development Project, Kariba Dam Rehabilitation Project and the Hwange Sanyati Biological Corridor Project.
Ms. Kariuki joined the World Bank in 1988 as a Research Analyst and has worked in various countries across the globe, including field postings in the Africa Region and East Asia.  Her recent assignments in the Urban Development and Water and Sanitation sectors include Sector Manager, Practice Manager, Global Lead Specialist and Lead Specialist.
She also worked as Sector Leader for Sustainable Development sectors including urban development, energy, mining, agriculture, water and sanitation, transport, environment and social development. (Source: worldbank.org)
IEBC set to file electoral forms with Supreme Court
On its official Twitter handle, the electoral agency said they will file 109 volumes and 54,400 folios of election results declaration forms at 2.30pm Tuesday
The Independent Electoral and Boundaries Commission (IEBC) will submit all election forms to the Supreme Court ahead of the hearing of National Super Alliance (Nasa)'s petition.
On its official Twitter handle, the electoral agency said they will file 109 volumes and 54,400 folios of election results declaration forms at 2.30pm Tuesday.
"We will submit all statutory forms used to declare results this afternoon to the Supreme Court – the forms 34As, 34Bs and 34C," IEBC said.
The opposition coalition went to the Supreme Court last week to challenge the results of a presidential election which it says was rigged.
Election authorities said President Uhuru Kenyatta won the August 8 election by 1.4 million votes but presidential candidate Raila Odinga said the results are false.
A statement by Nasa gave details of the petition, saying votes for the opposition had been removed from the some of the totals. The statement also accused election officials of faking documentation.
The paper forms, which should have been signed by an agent for each part supervising the polling station, were designed to be an additional check against the possibility of rigging.
The electoral commission had been slow to publish scanned copies of papers detailing results from each of the country's 40,883 polling stations.
On August 15, the National Super Alliance claimed IEBC planned to falsify presidential results on forms 34B, while Thirdway Alliance leader Ekuru Aukot has reported anomalies in the results.
Aukot applied on Monday to be enjoined to the case.
NASA's Musalia Mudavadi claims in a statement that the electoral agency has "failed or refused" to share the forms from returning officers in 290 constituencies to eight presidential candidates and their agents.
In plastic bags ban, Kenyans lose a faithful servant
Juala is a necessary evil in many households, and Kenyans will learn how to live without an item that has made life easier for them for years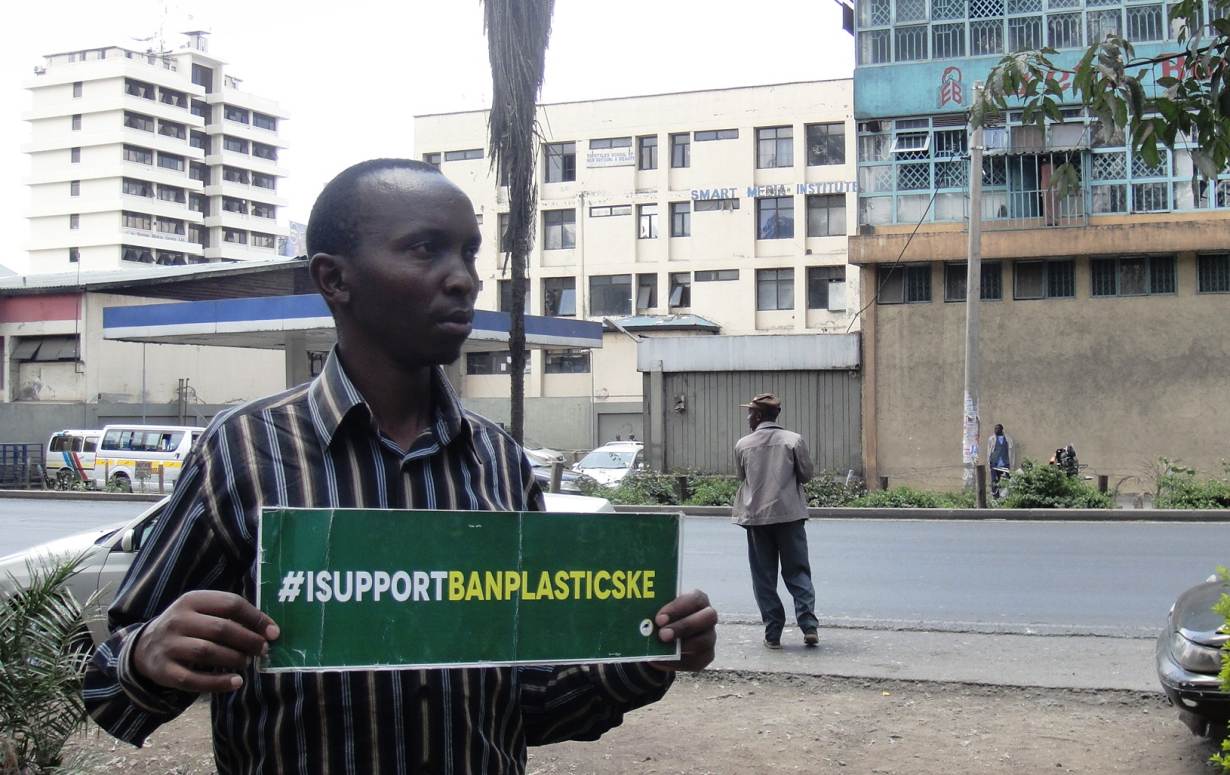 Time has come for it to die, because of its stubbornness to the environment. Though perceived to be hazardous, it has become the darling of many hence it might not vanish easily. Statistics show that supermarkets and retail outlets produce at least 100 million plastic bags annually. It has become part and parcel of lives of all Kenyans over the years and no one can imagine a life without it.
The polythene carrier bags are set to exit the stage by next month to reduce environmental pollution following a ban by Environment and Natural Resources Cabinet Secretary Judy Wakhungu in February this year. However, how  effective the order will be is still uncertain since a similar directive by the National Environmental Management Authority (NEMA) to ban the manufacture and importation of the plastic bags in 2011 fell on deaf ears.
Commonly known as paper bags, the polythene bags are found almost everywhere, be it in cars, offices, at home, in the market, in people's pockets or even dumpsites. This shows how much it is treasured across all divides of life, from the poor to the rich.
What would life look like without a plastic bag to carry sukuma wiki from that mama mboga? It is one of the many uses plastic bags are known for as Kenyans brace for their exit in a week's time. Most people who use them for shopping will have to look for alternative ways to carry their goods from the market place and shops.
They will be required to buy reusable bags, a move that will save supermarkets the expenses they have been incurring in providing polythene papers free of charge for shoppers.
The century old product has also been used as a storage bag for most people. After doing shopping, most people reuse the plastic bags to store household stuff. This might still continue, provided they are not used publicly since government officers might not be forced to comb your house for plastic bags, hence you remain safe.
Plastic bags, being trash in most cases have also been used to collect all kind of trash bearing in mind they are less reactive to chemicals and corrosion, hence can contain any kind of reactive substances. With the eradication of the bags, reusable plastic containers will take their place. They will, however, be missed for their simplicity and mobility to dumpsites.
Also, they have been used as carrier bags. The small scale retailers rarely offer these bags for free; hence you have to buy a new one every time you go shopping in the grassroots.
Children will also not be left out. Who has grown in the rural areas and never made a ball out of plastic bags? In fact, the future generation might be amazed to hear that plastic bags were once used to make balls.
Lastly is employment. There are over 176 plastic manufacturing companies in the country, which is 3.4% of all the manufacturers combined with an estimated cost value of the sector at Ksh 88 billion. However, they might not become purely extinct, the reduced market will see many lose their daily source of income, both directly and indirectly.
Nema's decision to exempt certain types of polythene bags under strict guidelines, however, means a continued existence for some.