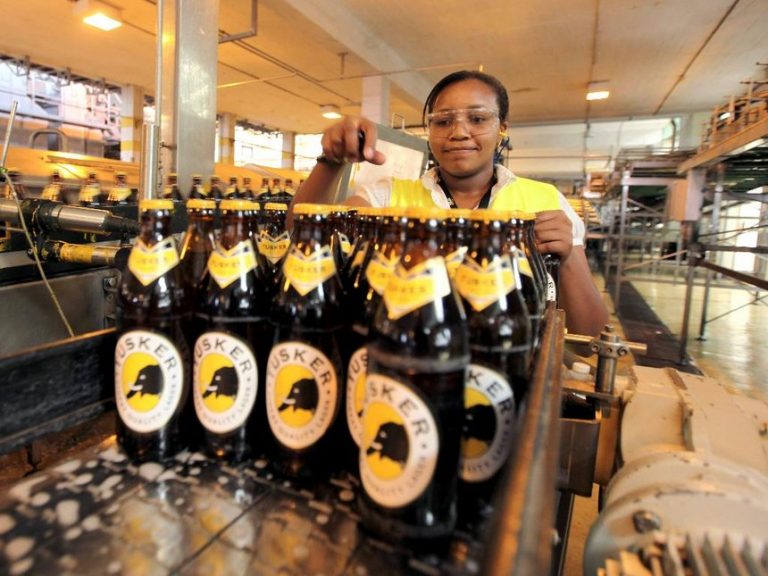 East African Breweries Limited (EABL) posted a 59% year on year rise in profit to Ksh11.5 billion for the year ended June 2019.
Last year, the company had recorded a FY profit of Ksh7.3 billion.
The beverage makers also reported a 12% growth in net revenue to Ksh82.5 billion.
In financial results released on July 26, the firm said that growth was supported by broad-based performance across markets and segments.
"Year-on-year performance in the first half benefited from lapping a weaker previous period, due to uncertainty resulting from two presidential elections in Kenya," the company said.
It added, "A combination of higher volumes in bottled beer and mix improvement across brands and categories delivered higher margins."
The Board of Directors recommended a final dividend of Ksh6.00 per share, resulting in a total dividend of Kshs 8.50 per share. This dividend payout increases from Ksh7.50 per share a year ago.
EABL's cash position also improved, delivering operating cash flow of Ksh22.6 billion compared to Ksh13.6 billion last year.
Net sales in bottled beer grew by 8% while Senator Keg sales were up 32%.
[Read: Poverty levels to remain above 20% by 2030 on current growth]
The Group's mainstream spirits performance expanded by 23%, with Scotch whisky up by 21% which EABL attributed to East Africa's growing segment of aspirational consumers.
EABL Group CEO, Andrew Cowan, said: "This performance is a result of a sharpened strategic focus in the financial year, which has helped us leverage a more positive external environment, compared to the previous period. The achievement of this growth should set us off on a sustainable trajectory to deliver a better, broad-based growth across categories and markets in East Africa, where we continue gain returns on our investments and generate shareholder value."
EABL regional performance
EABL's largest business, Kenya, posted a 13% rise in net sales buoyed by growth in mainstream spirits (+30% rise), Scotch( +28%) and Senator Keg (32%).
Bottled beer performance in the country recovered during the period, returning 3% growth. The market was also boosted by marketing campaigns such as Guinness Fanzone, Formula 1 with Johnnie Walker and Smirnoff's Battle of the Beats.
Uganda's net sales increased by 8%, largely driven by the double-digit growth in premium and mainstream beer, at 24% and 33% respectively.
Bell Lager and Pilsner delivered faster growth in Uganda throughout the year thus supporting overall increase in net sales.
Tanzania's performance inched higher for the second successive year with net sales up 20%. Serengeti, now Tanzania's biggest beer brand family, delivered 46% growth in the financial year.
"Serengeti's Lite with a Bite Promotion and activities around the National football team sponsorship were the key highlights of marketing and commercial e*******n in Tanzania," the firm said.
[See Also: Government freezes development projects as cash crunch bites]