[dropcap]D[/dropcap]r Moka Lantum the co-founder of MicroClinic Technologies, a Nairobi-based company commercialising  ZiDi, Africa's first enterprise health management solution for BoP (bottom of the pyramid) clinics/hospitals has created a hardware-software utility service through partnerships. 
He is also the brains behind the iSikCure app, which was developed with the support of Boehringer Ingelheim, one of the world's leading pharmaceutical companies. iSikCure is a subscription free integrated health app that aims at improving access levels to quality care and safe medicine across Kenya as well as offer convenience and choice with a range of benefits for the patients and providers from the comfort of their mobile phones. 
Through iSikCure, patients can connect and communicate with doctors, laboratories, pharmacies and wellness providers, and pay for the health services received from their mobile phones. 
Having over 20 years experience in health delivery and healthcare management with multiple executive roles in a Fortune 500 health-related manufacturing company, Dr Lantum remains  committed to creating youth employment opportunities in Health IT and improve last mile access to safe affordable drugs.
Dr Lantum talks about what it takes to emerge as a  globally decorated and recognised social entrepreneur:
Q: How did your journey as a social entrepreneur begin?
Dr LANTUM: My journey began the day I asked myself what value I  wanted to add to my profession as a doctor and the desire for social change.  My key motivation was to achieve social justice and equity in the society in terms of access to better health services.
Initially, I had planned to establish micro-clinics to help mothers deliver but my field research at Kasongo dispensary in Kisumu county changed my perspective considering the number of deliveries per day and the amount they paid. I felt like it would take me long to create equality since majority of women even preferred midwives for delivery. 
I came up with a campaign strategy to encourage women to attend hospitals for good delivery services.  I introduced after-delivery incentives where a mother would be given clothes and diapers after giving birth. With time, the number of deliveries  increased.
From this point, I started looking for a way on how such patients could get drugs and even meet their doctors at affordable rates. This is how iSikCure was born.
Q: What was your motivation?
Vast knowledge and focus and pretty distinct eye for an opportunity helped me succeed. I started low, I took my time to understand the game before I  made a step.
This is where most  entrepreneurs fail. They are always in a hurry once they get capital. Well, all entrepreneurs need capital but having this capital earlier is very dangerous because you are likely to lose the whole amount. 
To succeed, start small, learn, understand how people access value and in turn, change the value to money. Know the industry. For example, if you were to start a bar, try and get employed in a bar for sometime, know how the system runs, how police are dealt with, how purchases are done and then you can now move out and start your own bar.
Secondly, a good entrepreneur should always be focused. For example, if you are employed as a messenger at National Bank, avoid the mentality that you are there for pay.  Rather, think of how long it is likely to take you to be at the helm of management of the same bank then work towards that.
Q: What are some of the challenges you faced ?
It was never easy to come to terms with abandoning an idea I had been working on for over two years because I realised the project would not be able to build a product that would add value to the customer and create better opportunities at that time. So, I had to make a u-turn and start working on the iSikCure software.
Many startups don't test their ideas before going to market resulting in time and money spent on building an application, service or product that customers don't want or need. 
It is important for any entrepreneur to first understand that in the course of his/her journey, you are likely to encounter challenges both from internal and external sources and come up with a proper counter-measures.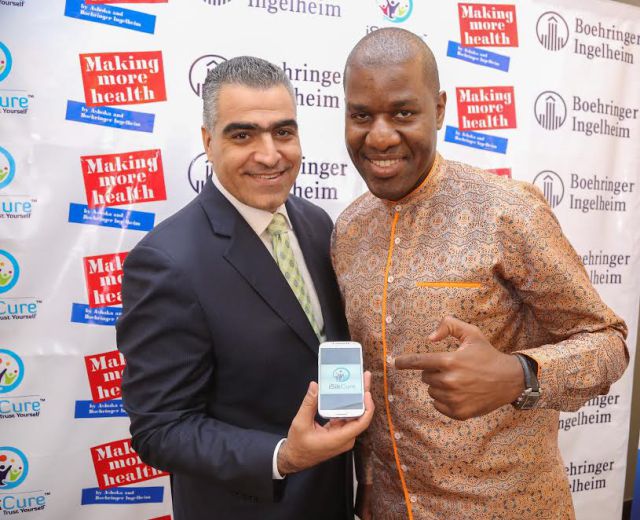 Like Mathematics, you are not likely to get it right in entrepreneurship if you jump a single step. To avoid unnecessary challenges, pick an industry, pick a product, understand how things work at the fundamental level, do thorough research and get feedback. 
Once this is done, learn to gain trust, position yourself, know when the opportunity will come, grab it and offer a good value one will be willing to pay for.
Q: Was there any point when you thought it was all over? 
When the 2010 Constitution was enacted, I felt like everything was over since health became a devolved function. I never saw this  coming and I did not have any plan for it.
No matter how successful you are, there are times when you'll feel like you're back to square one. But then again, anything that is worth pursuing in life has a risk of failure and sometimes; it is okay to fail but what matters is that you don't allow it to stop you from moving forward. 
Sometimes, if you have a conflicting instinct towards something, you are likely to fail but then failure is actually a fantastic teacher; it helps you to develop the perseverance and resistance to adversity you need to keep moving forward. 
Q: What is your best advice for social entrepreneurs?
Take your time, learn the game, start small, be tenacious and hit the ground running.