[dropcap]Y[/dropcap]ou have certainly come across some shaggy temporary polythene structures strategically erected along the roads with a group of women busy plaiting. For some reason, you might have asked yourself why such elegant women choose to work in such structures yet they offer very good salon services.
These 'vibanda' salons are emerged as real fortune makers to middle and lower class families.
I meet Ms Purity Mawia, a single mother of two who operates a "kibanda" salon in Kayole. It is only 9 am but Purity is already working on her second client of the day.
"This kibanda is my only source of income in Nairobi," she tells me. "This is my husband. It is here that I get food, pay rent, educate my two children and settle other bills."
The idea of starting her own salon came to my mind in 2014 after serving for close to a year as a hair stylist where she was paid on commission. It was difficult as a single mother to survive on a commission because sometimes, she would even go back home with Ksh50 or even empty handed on a bad day.
 "The burden was slowly piling. I could not raise my rent on time, pay school fees and sometimes, we would even sleep hungry." 
"Months later, I opened this salon with only Ksh 2,900. I just woke up one morning, looked for a space along the road and settled for this spot. Then I agreed with the owner that I would be paying him Ksh1,500 are rent. I bought two plastic chairs and erected this structure with the remaining amount and I was good to go."
"To be honest, my life started changing and this was influenced by the fact that all the clients I used to service at my former workplace followed me to my kibanda because of my god work. I started taking home at least Ksh 1,000 on a bad day and over Ksh2,000 on a good day."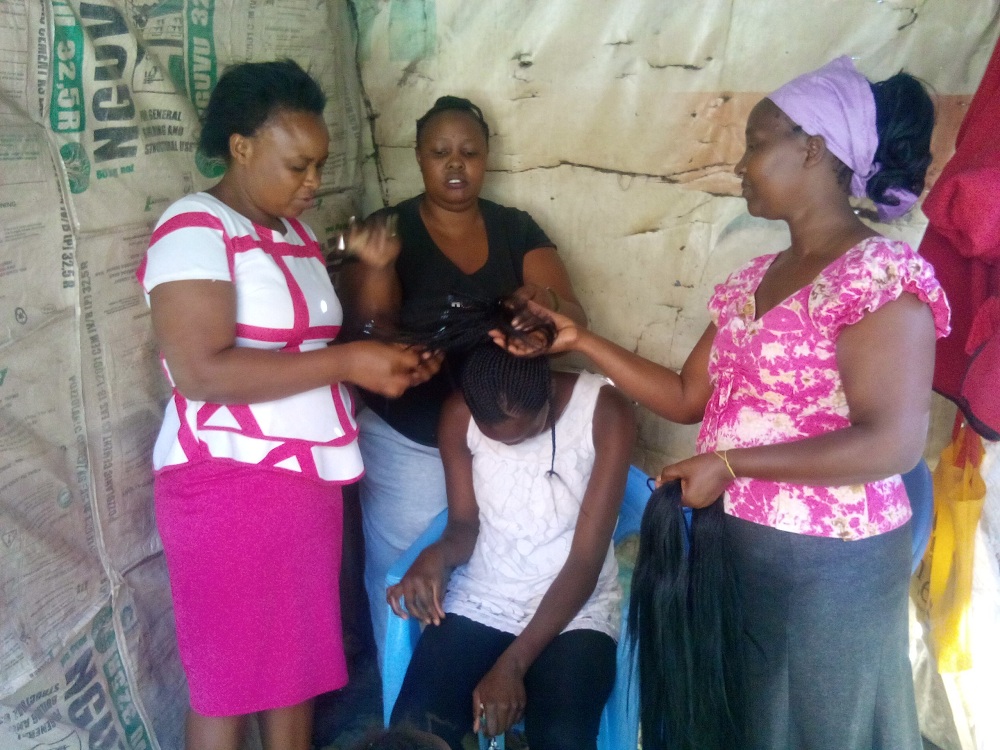 "My client  base increased steadily.  The good thing with a saloon is that when you do a good job, your client is likely to come back with a friend and another friend. This has seriously boosted me. Today, I employ other saloonists. I am also able to raise school fees for my two children one of whom is in secondary school and another one in a private boarding school. 
The story of Joy, Melvin and Eunice
About 50 meters away from her saloon, the story is the same. Here I meet a team of jovial young women who quickly ask me, sarcastically, if I would like my hair plaited. With a smile I tell them my mission and quickly Joy, Melvin and Eunice usher me in. What amazes me here is the level of courtesy in a "kibanda" structure.
 "The three of us once worked at the (Nairobi) CBD as beauticians but one day we resolved we could no longer live on a commission. We contributed Ksh1,500 each, rented this place, erected our structure and got to business," Melvin, the most talkative of the three, tells me.
"We are self employed here, sawa (right)? she says.  "We came here as an already established team with each having clients. The fact that we could now sit down and share profits at the end of the day was a key turning point in our lives since living on commissions was behind us."
"Four years since we started this business, trust me each of us has a story to tell.  For instance, I have managed to save enough cash to open my own M-Pesa shop, which also operates as an Equity Bank agency. Eunice has embarked on dairy farming starting off with four cows and in addition, she has bought a motor bike that operates as boda boda while Joy runs a poultry farm. We have achieved this with cash earned from this simple kibanda business!" she says.
Like in the case of Purity, the trio tell me that other than plaiting, they also offer extra services such as manicure, pedicure, lip cure and training upcoming saloonists.
"In fact, vibanda salons have made beauty training much easier and affordable since we train learners at cheaper costs," she tells me as she finishes with a client who has been enjoying our session and jumps. She is as good as being styled in the CBD.
The Four Sisters Salon
The trio bid me good bye but before I go far, I get attracted to another kibanda salon dubbed Four Sisters Salon. I meet Rebbeca Oyiela who shares with me a similar story.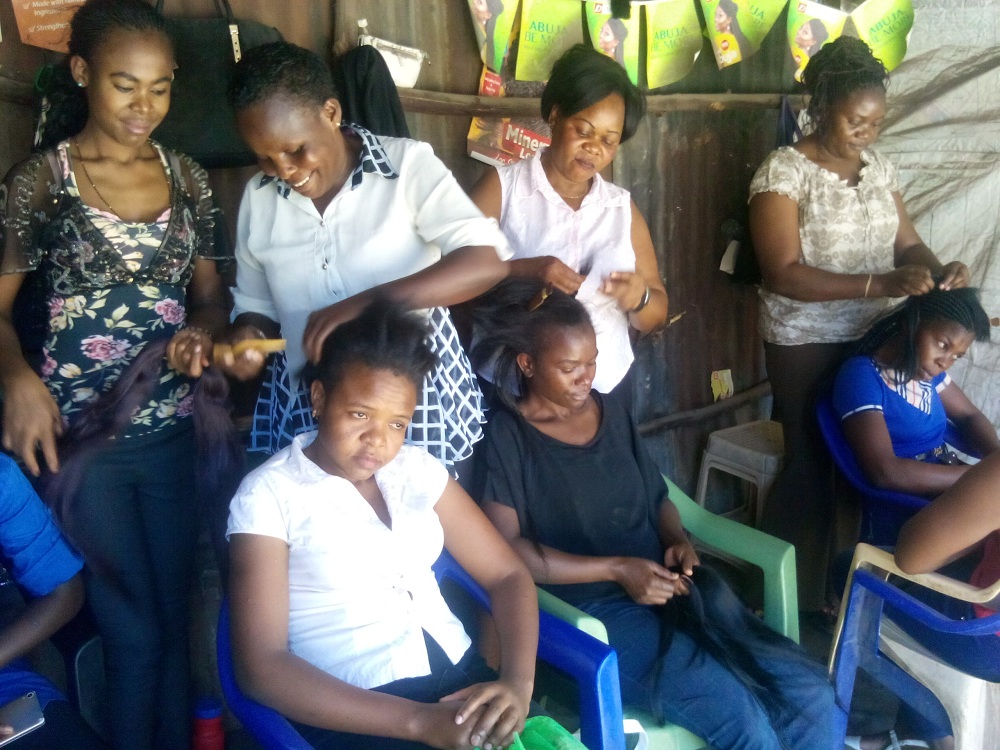 The only difference is that the 'sisters' started their salon with Ksh 3,000 and have been operating for the past 10 years. "Opening a kibanda saloon does not require much capital. What is important is the requisite knowledge to give your clients what they want. Once you can acquire this, be assured to have client after client," says Rebecca.
The key challenge that kibanda salon operators face is lack of a proper sewerage system that gets even worse during rainy seasons.  "During rainy seasons, we are adversely affected by flooding. This makes us lose clients since they are turned away by the smell that comes from sewer," says Purity.
According to Melvin, many people nowadays opt to visit vibanda salons because of their advanced but affordable services. "Most high-end saloons hire interns or freshers with little knowledge and no experience in plaiting and other services. This is a big advantage to us since many clients turn to vibanda salons for plaiting," Rebecca affirms.