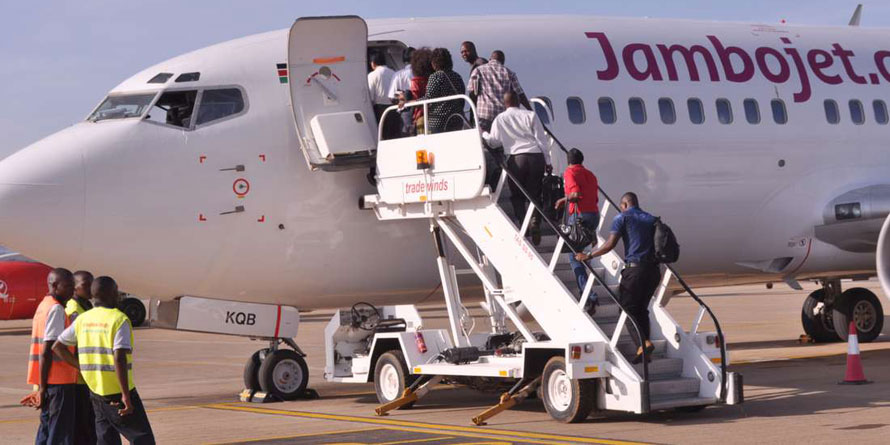 Kenyans travelling by air within the country paid the highest fares in years in the month of December when it rose by from Ksh 17, 926.06 during a similar period in 2017 to stand at an average of Ksh 21,230. 18 representing an increase of 18.43%. The average return fare in December was an increase of 7.44% compared to November when it stood at Ksh 19,760.87, according to latest figures from the Kenya National Bureau of Statistics (KNBS).
On the other hand, the return fare for international flights averaged Ksh 120,546.86, representing an increase of 8.92% compared to December 2017 when it stood at Ksh 110,674.11. The December fare also represented an increase of 0.63% compared to November when it averaged Ksh 119,791.45.
Country bus fares averaged Ksh 1,245.94 an increase of 17.59% compared to Ksh 1,059.56 in December 2017. It was also higher than in November by 5.27%.
According to KNBS, the increase in local and international flight charges as well as bus and matatu fares saw the Transport Index increase by 1.34% in December.
The rising demand for domestic flights is an indicator of a growing middle class seeking convenience, style and faster means of travel especially on the Coast and Western Kenya routes.
"The upsurge in the transport, food, clothing and foot ware prices was attributed to increased demand that was associated to Christmas festivities," KNBS says.
Between November and December 2018, Food and Non-Alcoholic Drinks' Index increased by 1.05%. This was due to increase in prices of some foodstuffs outweighing decreases recorded in respect of others. Consequently, the year on year food inflation in December, 2018 stood at 2.54%.
Housing, Water, Electricity, Gas and Other Fuels' Index, increased by 0.07% in December 2018 compared to November 2018. However, the cost of household electricity consumption for 50 as well as for 200 KWh remained at the same level as in November 2017.
Here is the National Average Retail Prices of Selected Commodities:
The Consumer Price Index (CPI) increased by 0.65% from 192.25 in November 2018 to 193.51 in December 2018. The overall year on year inflation in December stood at 5.71%.