A high-profile virtual meeting led by Health Cabinet Secretary Mutahi Kagwe had to be stopped abruptly on Thursday, February 4 after a rude interruption by h*****s.
The World C****r Day event was the target of a 'Zoom-b*****g', a phenomenon in which individuals gain access to online calls only to post and share screens of insulting or explicit content.
Kagwe's meeting was attacked shortly after it started, with numerous n**e images, explicit messages, r****t N**i imagery and pornographic content shared before organizers hurriedly ended the event.
A Caucasian male alleged to be the h****r joined the call moments before the explicit images started being displayed.
Kenyan oncologist David Makumi, the first African to receive the Oncology Nursing Society International Award, was among dignitaries in attendance and had just delivered his speech before the interruption.
Others who were on the call included doctors from different countries and other stakeholders including development partners.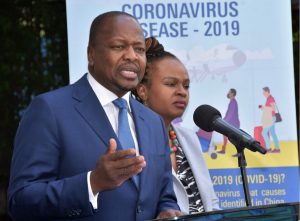 'Zoom B***s' have become a global menace since the onset of the Covid-19 p******c.
With more people learning and working from home, schools, governments and businesses have been among the v*****s of the a*****s.
In many cases, insiders with access to the meetings through shared links are responsible.
Sometimes, however, coordinated efforts are made by outsiders, sometimes working with insiders, to infiltrate the meetings for various reasons.
To stop Zoom B***s, meeting organizers are advised to take a number of steps. Importantly, they must be careful while sharing meeting access links, to ensure they don't end up in the wrong hands.
This is especially crucial for sensitive meetings.
You can also consider options such as requiring password access, enabling waiting rooms and generating a random ID for each meeting.
READ>>>>>Africa's First Zoom-Only Series Packs Laughs, Important Conversations [VIDEO]