UK-based Vanessa Awong Eya'a is the multi-talented film-maker behind Virtual Colleagues, Africa's first comedy web series recorded entirely on Zoom (watch Episode 1 above).
A fitting hit for the Covid-19 era, the 'Zoom Call comedy' uses innovative storytelling to deliver laughs while pushing important conversations on renewable energy in Africa.
The workplace sitcom is centered around June, the witty CEO of a Nigerian solar company who has to save her company from bankruptcy while also dealing with challenges  managing her dysfunctional Pan-African team using Zoom calls.
The cast includes members based in Nairobi, Accra in Ghana and Brighton and London in the United Kingdom (UK).
In an interview with Business Today on Monday, February 1 alongside Vanessa and fellow cast members, Winnie Ikediashi who plays June revealed just how different it was s******g a production on Zoom.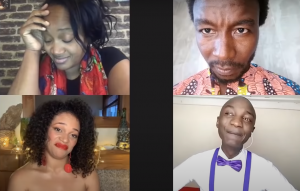 "It's definitely different from (traditional) TV or film because there is no physical contact. But we had a great cast and we really found a way to connect," she stated while hailing the 'special' show.
Vanessa revealed that one of the biggest challenges they faced while s******g was poor internet connections affecting the quality of the Zoom calls, something millions can relate to since working from home became 'the new normal'.
"Zoom is fantastic for this because we had actors in different places, but we still experienced challenges like poor connections. So for example if it affected a part we had to start recording again," she told Business Today.
Vanessa is also a co-founder of Renewables in Africa (RIA), a consulting firm involved in renewable energy projects on multiple countries on the continent. She explained that her vision for Virtual Colleagues was to create an emotional connection that would allow viewers to embrace the renewables agenda.
Vanessa noted that lack of knowledge and negative attitudes were some of the biggest factors slowing down the game-changing shift to renewable energy across the continent.
"What I'd observed in our energy consulting projects was that it's a hot topic, yes, but money is being thrown into it without considering the people on the ground and how we can get them to embrace it.
"You can even find for example some people are comfortable with diesel generators because they consider options such as solar or other renewables too complicated. I wanted to tell the story for people to really connect with the message," she noted.
Juliana Anwuli Sydenham, who plays Tamisa on Virtual Colleagues, revealed that she heard about the show as Vanessa was looking to replace an actor, and instantly fell in love with the script.
"I thought the script was amazing. I loved that it was an African story, with an African cast and I also appreciated that a woman had the lead role," she noted.
With her unmistakeable on-screen presence, Ikediashi who stars as June also noted that she loved the portrayal of female entrepreneurs in Africa. On the show, June is a sassy, shrewd CEO who finds herself in the middle of several funny moments.
Ikediashi, however, also noted that June's role was central to the renewable energy theme which is the production's main focus.
"When it comes to Africa exploiting the potential in renewable energy, it's a matter of when and not if.. June is smart and sassy, she's also a mother who is trying to give back to her community and combatting issues like climate change," she observed.
Nairobi-based Kevin Osore made his acting debut on the series. He described it as an incredible experience, citing valuable guidance he received from Vanessa and his fellow cast members.
Reacting to the rave reviews that the first episode of the show received, Osore noted that it was a pleasant surprise.
"I honestly didn't expect such a reaction, I even had friends online asking me for the rest of the episodes," he noted.
Vanessa revealed that the show would have at least 11 episodes, with the highly-anticipated second episode lined up for release in February.