Malik Lemuel, popularly known as Govi, has revealed what he considers as his biggest regret while acting on the Citizen TV show Machachari, which was removed from the screens in 2019.
Speaking during an interview with Jalang'o on Wednesday, February 3, he stated that one of the biggest mistakes he made was to turn down other opportunities from countries such as Belgium, South Africa, and the UK in favor of the Citizen TV show. 
Govi explained that he thought staying on the show longer would make him bigger.
He noted that he personally earned good money from the show, clearing up speculation that he that the child stars were not being adequately remunerated.
According to Malik, he wished to have made Ksh500,000 per month playing Govi but he was unable to, causing him to leave the show.
Govi together with his friend Baha (real name Tyler Kamau Mbaya), left the show in 2019 just before it was taken off air.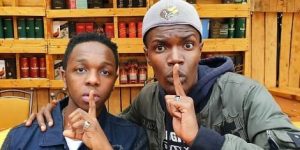 Govi said he was not aware of their exit causing the wrap of the show, noting that they did not leave the show with bad blood with the crew.
READ>>>>>Sarah Hassan, Alfred Munyua Set to Headline First Showmax,CANAL+ Original Drama 
He recalled how he suffered from anxiety after he left the show, with uncertainty enveloping his future as an actor. 
"The fame I enjoyed had altered my perception about my life. Whenever I went out of the house people on the streets would ask me what had happened to the show and it would bother me," he stated.
He added that his close friend Baha had at some point contemplated returning to the show.
The young actor stated that being a child star had made people stereotype them such that even at 21 years old, many of his fans still associate him with his child role. 
Govi, who received his first TV pay check at under five years in an advert, begun his return to the screens with his first appearance on the Kina show airing on Maisha Magic on Tuesday, February 2. 
READ>>>>>Jalango and Alex Mwakideu Reunite for New Show