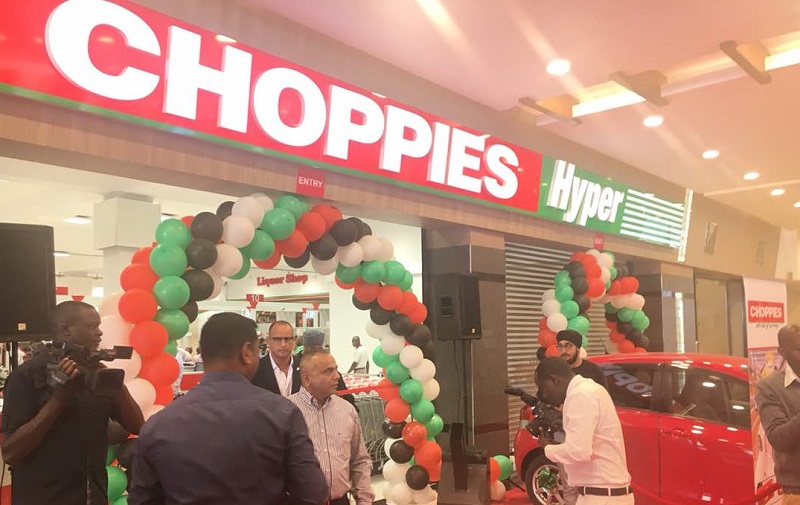 Choppies Supermarket Kenya is facing imminent closure after running into cash flow problems barely three years after launching into East Africa's biggest economy.
The retail chain with roots in Botswana in 2016 took over Ukwala Supermarkets brand, once a successful budget retailer, and rebranded it to Choppies, making the stores funkier, expanding its isles and giving it the ambience of a middle-class supermarket.
Within two years, dusty shelves had been replaced with s******g white shelves with enough room in between to allow two trolleys through and playful children to run around without knocking off items.
Shoppers who had seemingly been handcuffed to shopping baskets in Ukwala stores begun to excitedly push trolleys in most of Choppies branches.
Many Kenyans noticed the change, which attracted even the middle-class shoppers in glitzy malls like Signature on Mombasa Road and Kiambu Mall in Kiambu town.
But the bubble seems to be busting for Choppies Supermarket Kenya.
According to inside sources, the supermarket is choking on debt owed to both supplies and landlords after Choppies head offices, itself facing an accounting p***e, cut off cash supply. This in turn switched off a crucial lifeline that kept the Kenyan division buoyant as it marketed the new brand in a market with vicious competition.
Its main rivals are Tuskys and Naivas supermarkets, both very successful budget retailers, and an army of sidewalk retail stores in residential estates.
"Choppies workers have not been paid in full to date," Kenya Union of Commercial, Food and Allied Workers (KUCFAW) Secretary-General, Bonface Kavuvi said recently.
"They have also failed to pay suppliers for a while now and this explains the closure of some branches and empty shelves on others. The supermarket is now dealing with similar issues faced by Nakumatt and Uchumi."
It is understood that Choppies management fell out with Nairobi-based Export Trading Group (ETG), which bought out Ukwala, after it (ETG) was unable to finance the supermarket's operations as agreed under their partnership.
After acquiring Ukwala, ETG retained its top management for business continuity but internal squabbling soon took centre stage. The impact has spilt onto the shop floors with most shops hosting near-empty shelves.
Things falling apart
Suppliers have taken off and shoppers are finding home in its rivals.
Meanwhile, debtors are camping at their finance offices even as employees have gone for months without pay, with reports that key staff members have already started bolting out.
In Kericho, the supermarket is facing a l*****t by employees who were sacked for revealing that the retailer was selling products that were past their expiry dates.
With two branches – Bungoma and Kiambu – already closed, things are certainly headed south for Choppies.
What was to be its newest branch in Nanyuki, where it was to take over Nakumatt space, is still gathering dust.
The branch at Signature Mall opened in October last year with fanfare.
It took on the feel of an international look that retailers at such malls often don. Strategically placed in between the sprawling Mlolongo area and emerging middle-class estates of Sabaki, Delta Plains and Athi River – and on the homebound side of the busy road – Choppies had a v****n market and was seen as a saviour for many residents who drive for at least 3km to get a decent supermarket.
Local investors left in the ICU
It started well. Then, as with its other branches, crucial products started disappearing from the shelves, one at a time.
Today it would be milk and the next day soda until there were more white shelves than coloured brands.
The owners of the mall have reportedly given the supermarket a vacate notice after failing to stock up enough to attract footfall to the new mall.
Choppies headquarters is said to have given up on Kenya after unsuccessfully trying to influence local management and drive strategy.
Signs of bad things showed up in May when its parent company in Botswana suspended its Chief Executive Officer Ramachandran Ottapathu over the alleged non-disclosure of s*****t transactions.
Choppies also withdrew its Kenyan CEO, leaving ETG with the supermarket shell.
The retailer has six branches in Kisumu city and eight others spread across major towns including Nakuru, Kisii, and Kericho.
Read: Coca-Cola's Rival in Kenya Goes Out of Business After Failing to Find Investor
The development rekindles the painful experiences of South African businesses failing to h**k it in Kenya, in what is linked to a clash of corporate cultures.
A number of South African companies including Castle Brewing have had to bow out of the Kenyan market due to strategic misalignment.
Choppies' rivals will be angling to take up some of its strategic stores. Carrefour is likely to take up upmarket locations like Signature and Kiambu malls.
Analysts say Choppies may have expanded too fast, running its coffers dry – just like Uchumi and Nakumatt did to their disgrace – and found themselves chewing more debt than they could swallow.
There have been reports that local shareholders could inject funds into the retail chain to save it from collapsing.