Supermarket chain Carrefour on Wednesday, February 24 announced the opening of its new store at Westgate Mall in Westlands, Nairobi.
The store is intended to serve residents of Westlands, Parklands and the larger Thigiri area. It sticks to the Carrefour Market model – offering a selected assortment of essentials along with light household items and small electrical appliances relevant to customers' everyday lives.
The store notably incorporates various innovative digital services, among them the 'Valet Trolley' option. The feature allows customers to shop and have their goods ready for collection at the store.
It also includes the 'Click and Collect' service, allowing customers to shop online and drop by the mall to have their shopping delivered straight to their car trunks.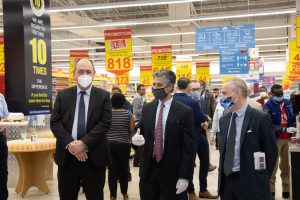 The store is expected to directly and indirectly create at least 200 employment opportunities for Nairobi residents.
Carrefour noted that the store would also create opportunities for local suppliers and manufacturers to directly supply goods and services.
Franck Moreau, Country Manager of Carrefour Kenya at Majid Al Futtaim Retail, promised that the new store would maintain the highest standards noting that a customer-centric approach had always been a key focus for the firm.
"As we continue to grow and expand our presence in Nairobi, we remain committed to addressing our customers' needs effectively by offering convenient and unbeatable shopping experiences.
"Our Carrefour Market model underscores our customer-centric approach,  allowing us to serve our communities by providing them with a store that caters to their everyday shopping needs closer to their place of residence," he stated at an opening ceremony for the new store.
In recent years, Carrefour's expansion plan in the country has seen it snap up space left by struggling competitors such as Tuskys and now-collapsed Nakumatt.
Carrefour recently opened new stores in Kwale County at Diani Centre Point Plaza and at the Nextgen mall, along Mombasa road in Nairobi.