As we entered the shop at Moi's Bridge centre we find workers busy sewing games kits for several schools. Another man is making football balls manually. He was putting together pieces of the already cut leather materials.
We first spotted Daniel Tambasi's during an expo exhibition in Kitale town. Like other local traders, he had come to showcase his goods which he exports to different countries worldwide.
Tambasi says he grew up with his mother after they separated with the father at an early age. The mother later abandoned him and he was left in the care of his grandmother who he said has since gone to be with the Lord. "Life was very tough at my grandmother's house, sometimes my granny could not put food on the table," he said. This pushed him on the streets of Kitale. "I stayed on the street for close to one year," he said.
While on the street, Tambasi later met a Germany missionary by name Geoffrey Deufskok who would offer food stuffs to the street children in Kitale town. Deufskok later pulled him out of the streets and went with him to Turkana. "We were taken to Alale mission where we were trained to make football balls. I acquired the skill at the church. These balls were mainly donated to children's homes," he said.
He stayed with the Germany missionary for close to five years and then moved with him to Malawi. In 1994, he says he moved to Nairobi after his host left the country. Life in Nairobi was not easy so he came back home in Moi's Bridge where he started repairing football balls for schools and local clubs.
He started making balls in a small way. He made the first balls and sold them to local schools. The balls were durable and he got more orders. The work then got immense and now he runs a Ksh15 million per year business.
RELATED: FORMER SOCCER STAR SCORES BIG IN BUSINESS
It was at this point that he realized that he needed to get a few people to help him out. "I trained a few people free of charge because I needed them to assist me do the work," he said.
After some time, Tambasi started making school games kits. He took a  loan and bought sewing machines for making games kits. Today, he has over 10 sewing machines doing the work.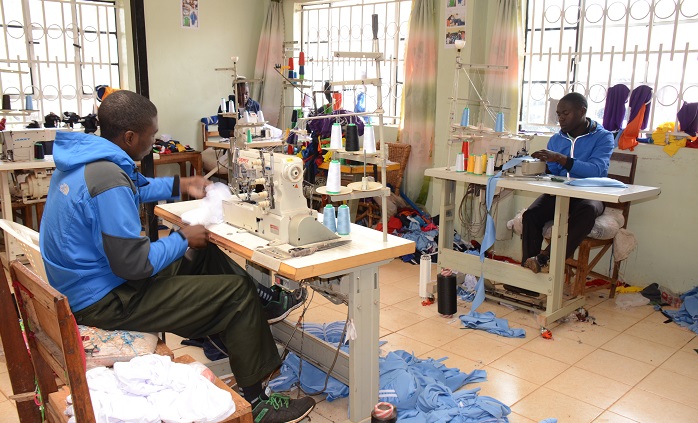 For the footballs, he has a manual machine that shapes and cuts the pieces of leather he purchase from Bata on wholesale. The balls are then sewed manually using a needle and thread. According to the 48-year-old businessman, he makes just 15 balls in a day but he has many orders.
"I export the balls to Malawi, Botswana and china," he said. "Locally I supply the balls and games kits to almost 500 schools country wide."
He attributes his export opportunity to Kenya Investment Authority which helped link his business to the International Trade Centre. "Through Kenya Investment Authority, I have been able to get training in China where I greatly improved my skills."
According to him more opportunities are under way as he expects to attend training in Germany sometime this year.
SEE ALSO: SIX YEAR OLD DEVELOPS HI-TECH COMPUTER GAME
He says that his balls meet international standards and that is the reason he has been able to export. "My work has also passed the Kenya Bureau of Standards tests and generally people like them because they can take over a year while in use unlike my competitors whose balls take a few months," he adds.
He says that the Export Promotion Council has been helpful in modeling him. Mr Tambasi has trained over 120 youths in ball making and sewing games kits. He, however, says youths are a hard group to deal with as sometimes they don't endure long stay at work.
He runs the business with his wife, Everlyne. He is looking for a financial partner to take the business to the next level. (PAULINE IKANDA / KNA)