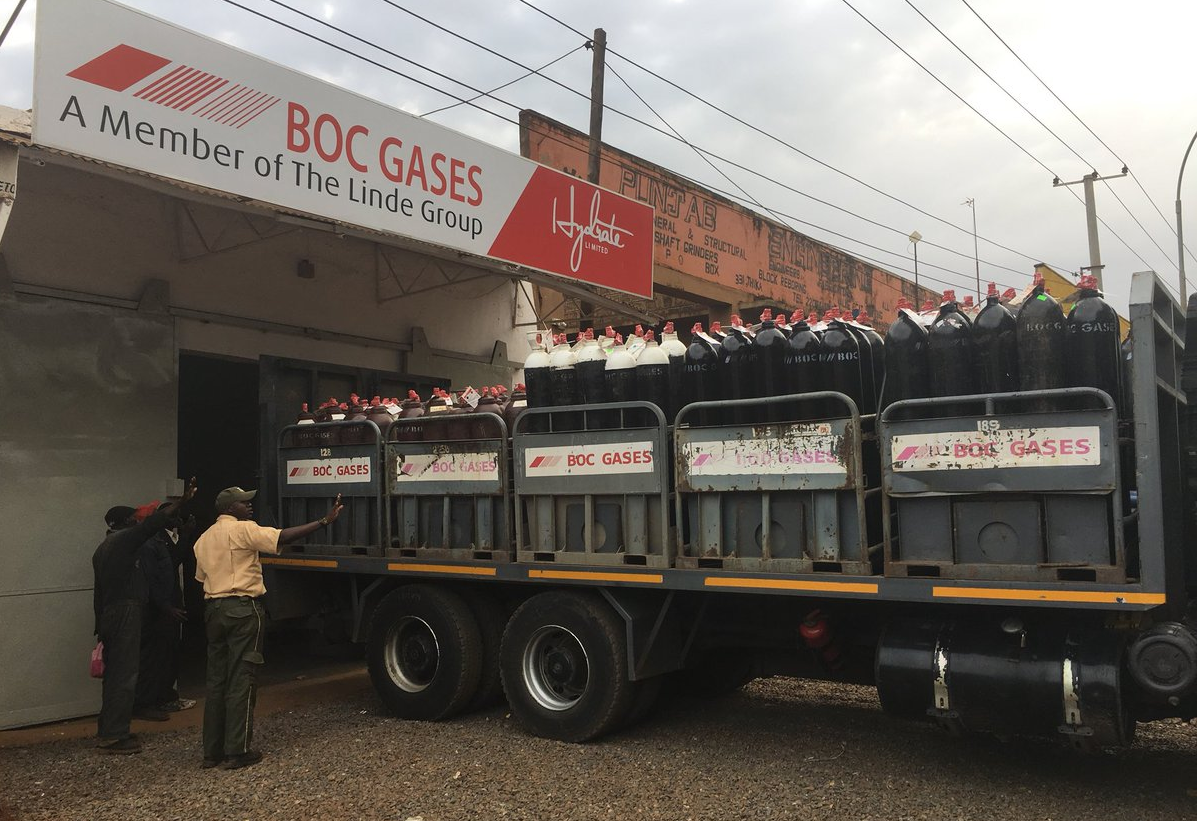 The share price of BOC Kenya Ltd, a leading supplier of medical gases, edged up 6.19% or Ksh3.50 to close trading at Ksh60 today Wednesday, 11th November, 2020.
The counter moved 100 shares resulting in a turnover of Ksh6,000, on a day that the Nairobi Securities Exchange (NSE) turnover rose 42% to Ksh 587.9 million..
BOC Kenya clients include public and private hospitals, food processors, civil and mechanical engineering contractors, motor vehicle body builders, hotels and restaurants, the informal business sector as well as small and medium enterprises.
Its product range includes bulk gases such as Oxygen, Nitrogen and liquefied petroleum gas (LPG), packaged (cylinder) gases and engineering services (medical equipment, construction of medical and other gas pipelines as well as gas storage tanks).
At the end of this Wednesday, Kenya recorded 1,216 more Covid-19 positive cases, bringing the country's total caseload to 65,804, creating more demand for oxygen.
Other top price gainers included Britam, East African Breweries Limited, Nation Media Group and Eveready E.A Limited.
Turnover at the NSE increased to Ksh587.9 Million from Ksh413.19 Million this Tuesday, an increase of 42%. Some 16.38 million shares changed hands in 844 deals at the close of trading on Wednesday, 11th November, 2020.
Safaricom was the most active counter with a volume of 8.44 Million with its share price rising 2.75% from KSh 30.95 to KSh 31.80. Safaricom counter saw 183 deals resulting in a turnover of KSh 268.67 million, with activity driven 61.6% by foreign investors.
Other top movers were KCB (1.99 million), KenGen (1.82 million), KPLC (1.03 million) and Bamburi Cement with a volume of 484,100.
The worst performers were led by Total, which declined 7.49% to Ksh 22.85. Uchumi slid 6.67% to Ksh0.28, Car & General fell 4% to Ksh7.20 while Sanlam lost 3.66% of its share price to trade at Ksh13.15.
The benchmark NSE All Share index was up 3.19 points to end the day at 144.10 from 140.91. The NSE 20 Share Index rose by 71.01 points to 3,282, an increase of 71.01 points. The NSE 20 Share Index was up 22.36 points to settle at 1791.38.
The derivatives market saw 11 contracts valued at Ksh375,720 dealt compared to one contract valued at Ksh 34,570 transacted on Tuesday.