Wealthy businessman Chris Kirubi has hinted at buying a private jet, which would see him join a tiny clique of Kenyan billionaires who own planes or helicopters.
The businessman-cum-industrialist has been flirting with French jet maker, Dassault Aviation, in the past week in what has been seen as a test-run for the 'bird'. The company, which manufacturers the Dassault Falcon 2000 LXS is currently in Kenya on a promotional tour where it hopes to make a sale to Kenya's growing elite class.
First to get a free ride
Its main target is the wealthy businesspeople and politicians and it is not surprising that Mr Kirubi, flamboyant and often a spendthrift, is among the first to get a ride on the jet across the country.
Dassault Aviation has sold over 550 Falcon LX worldwide, 70 of them in Africa. However, none is owned by a Kenyan, which would make Mt Kirubi possibly the first Kenyan client for Dassault Aviation.
For most Kenyans, it won't come as a shock. Last year in April, Mr Kirubi paid more than Ksh40 million, including taxes, to become the first Kenyan to drive Mercedes-Maybach Benz, a vehicle mostly used by heads of state in Europe.
See Also: Ordinary Kenyans to afford flights under new Govt plan
No wonder he's a hot target for an aircraft. "We have taken Brand Kenya's Chairman Dr Chris Kirubi on a flight tour as he is among our target market," said Mr Oliver Zuber, the company's international Sales Manager for Africa. "We hope to close a couple of deals with the country's business class as they stand to benefit the most."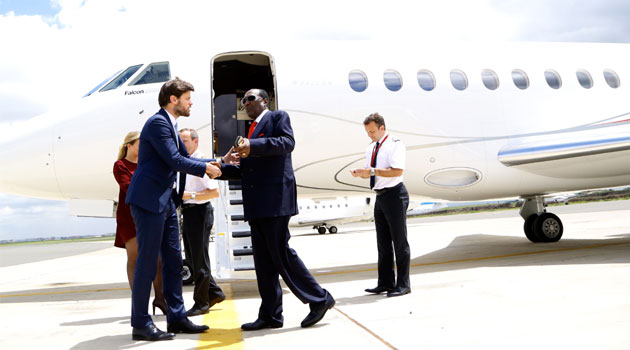 The French aircraft is 66.33 ft long and measures 23.17 ft in height externally. Internally, the aircraft allows maximum headroom of 74 inches and a maximum width of 92 inches. As far as weight is concerned, its maximum takeoff is 19,413kgs while its maximum landing weight is 17,826kgs.
In terms of mileage, according to Zuber, the aircraft can fly from Nairobi to Singapore, Nairobi to India and Nairobi to China directly. It, however, cannot make a direct flight to New York as it has to make a stop in Dakar, Senegal.
NEXT: Kirubi buys back his company from South Africans
Falcon LX has been hailed for being highly efficient in terms of fuel consumption compared to its peers. It has also received praise for its ability to access short and challenging runways other jets run away from.
"With this kind of features, individuals are able to travel quietly, with grace, while also being very productive," said Mr Zuber.
The current average price for Falcon LX on the market is $22,950,000 (estimated Ksh2.3 billion).
[crp]