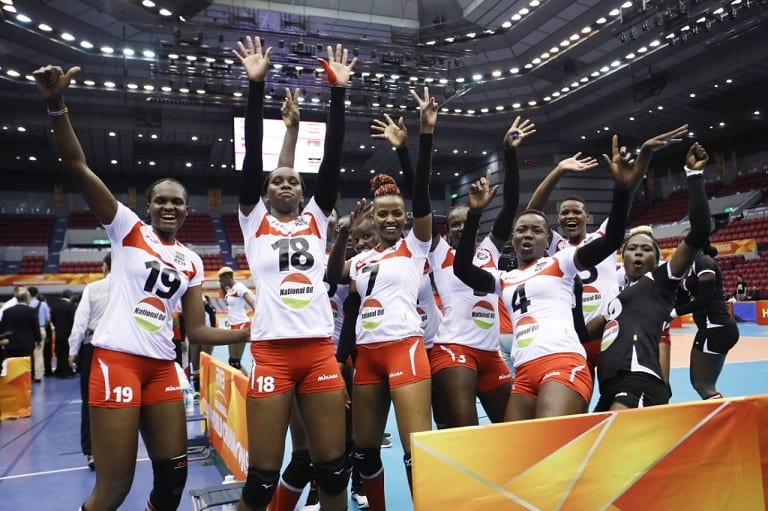 Kenya Women's volleyball team, Malkia Strikers, has overcome uncertainty over looming financial woes to qualify for the 2019 All Africa Games set for Rabat, in Morocco.
A few hours before their last match, the team faced the risk of having their passports confiscated over unpaid hotel bills amounting to well over KSh1 million. Supposedly, the government delayed in remitting the funds the team needed for the tournament.
However, despite the financial struggles the team went ahead to thrash hosts Uganda 3-0 ( 25-20, 25-17, 25-16) at the MTN Lugogo Indoor arena in Kampala. The team showcased how much they have improved since the adittion of Italian coach Shaileen Ramdoo to the technical bench.
Kenya, the defending champions of the All Africa Games, set their standards high among East African teams as they eased past all the participants in the four team tournament.
Before meeting up with Uganda, the strikers had thrashed Ethiopia and Rwanda in straight sets and never looking in threat of conceding a set.
Now with the team assured of playing at the All Africa Games, their struggle continues as they are yet to overcome clearing of their hotel bills.
Malkia's plight is identical to what the Kenya Prisons Women team went through in Egypt during the Africa volleyball club championships about a month ago.
In the case of the Prisons team, they were held hostage in Cairo before the Government ordered for their repatriation.
[Read: China scoffs at Uhuru SGR loan disclosure promise]
The Kenya Volleyball Federation (KVF) first vice-president Charles Nyaberi said, "The ministry officials told us they will meet today (Tuesday) and we're just waiting to see if they will clear the bills because the hotel's management has warned us that they will not allow us to leave the hotel without paying our bills."
Nyaberi also claimed that the team left the country without any funds as top ministry officials were unavailable to approve the money needed for the players' upkeep in Kampala.
Sports Cabinet Secretary Amina Mohammed and her Principal Secretary Peter Kaberia were out of the country last week, with the latter in Japan while Amina had travelled to Canada for the ongoing anti-doping conference.
Only the air tickets of Kenya's volleyball queens had been paid, but their unpaid hotel bill poses a hurdle.
The team's qualification means Kenya has another opportunity to defend their All Africa Games title following the triumph over Algeria, Senegal and Egypt during the finals of the last edition of this tournament held in Libreville four years ago.
[See Also: Somali delegates blocked at JKIA; 5 Hawala companies closed]