The board of WPP-Scangroup on Friday, February 19 announced the suspension of CEO and founding shareholder Bharat Thakrar as well as CFO Satyabrata Das "to allow for an investigation into allegations of gross misconduct and possible offences in their capacity as senior employees of  the company".
In a cautionary statement, the NSE-listed marketing giant noted that it had delegated authority to an interim Chief Operating Officer (COO) Alec Graham to ensure the firm continues running smoothly with the assistance of the board and senior executives.
Graham has a wealth of experience, spanning over 25 years in various senior finance roles for marketing, media and advertising firms around the world.
The statement seen by Business Today indicated that the firm would consider the appointment of a interim Chief Financial Officer in due course.
Details of what led to the drastic decision to suspend Thakrar, an iconic figure not only at the firm but the marketing world in general, remained scanty.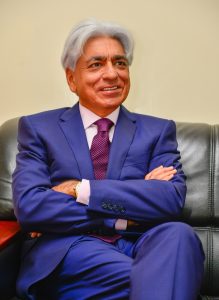 "Further announcements concerning this matter will be made when appropriate. For the time being, therefore, shareholders and investors are advised to exercise caution when dealing in the company's securities," the firm noted.
Thakrar has over thirty six years in advertising and communication. He is considered a pioneering figure for the country's lucrative marketing industry.
He founded Scanad, now Scangroup, in 1982 and built it up into a marketing behemoth.
He is a former chairman of the Advertising Practitioners Association (APA) and is a member of the Advertising Standards Board.
In 2013, Thakrar alongside other stakeholders ceded a controlling stake to British multinational firm WPP.
Scangroup subsequently rebranded to WPP Scangroup. Thakrar was retained as CEO and also remained as the largest individual shareholder.