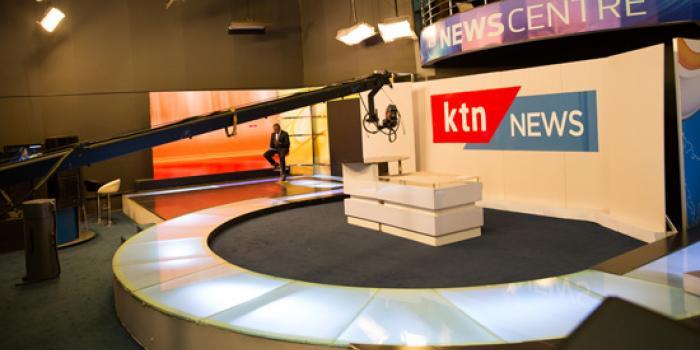 All is not well at the KTN investigative desk. Fresh reports have emerged that well-researched exposés are often blocked to protect Standard's corporate interests, even in cases where they have already been promoted and raised expectations among the audience.
Sources indicate that Faking The Read, an investigative piece by Brian Obuya exposing cartels counterfeiting school course books, set to air on July 25th, was shelved despite being promoted on KTN.
The investigative team built by former Managing Editor Joe Ageyo, who later joined Citizen TV, has slowly been dismantled mostly due to frustration. Investigative editor Hussein Mohammed has been left without a team to manage.
Francis Ontomwa left for BBC earlier this year, while Nicholas Wambua has opted to concentrate on anchoring daytime Swahili news in the Leo Mashinani news segment due to frustration. Brian Obuya has been moved to the assignments desk to do normal stories.
When Business Today contacted Obuya for comment on being benched and whether the investigative piece on piracy will air he said. "We have a stories calendar which contains numerous projects assigned to each reporter. The newsroom is a beehive of activity. I can neither confirm nor deny whether that is true,"
Siraju Rahman, a promising intern who had jelled with the investigations team appears to be headed out.
[ See also: Former Royal Media sports editor ditches Sportpesa for CCTV Africa ]
Attempts to revive Case Files, a court cases investigative news series synonymous with Dennis Onsarigo and The Lead, a crime investigations series, were also rebuffed. Multiple sources indicate KTN's mooted the idea of bringing in K24's Franklin Wallah but went cold after interviewing him.
New York Times assistant managing editor Rebecca Corbett who led a team of investigative journalists in exposing veteran film producer Harvey Weinstein's years of sexual misconduct defines investigative journalism as discovering things that are not known and that have real impact and are questionable in some way — legally, ethically — in terms of whether people are violating the public trust.
Investigative reports garner the public's attention instantaneously since they expose something of great interest to the public. That is what KTN was known for in its heyday before its first crop of brilliant investigative journalists was frustrated and forced to look elsewhere, the trend has continued since then.
All major broadcasters in the country except KTN have in the recent past been strengthening their investigative/special projects desks. NTV has run Quack Doctor, CotToCourt, Death In The Dorm and more recently, Red Alert on meat poisoning – very powerful investigative reports.
Citizen TV's investigative reporter Purity Mwambia has in the past one year exposed a man who killed his kin over a Ksh9 million insurance cover and the rot in the Kenyan matatu industry through her exposes Murder For Profit and Gangster Sacco respectively.
Namu said that the team was forced out by failure to fund investigative projects. Their replacements are now facing the same challenges years later.
K24 run Terror Gangs of Kisauni late last year. The broadcaster, owned by Mediamax, is said to be interested in Brian Obuya.
At the peak, KTN's investigations desk had Namu (Africa Uncensored), Mohammed Ali (Nyali MP), Dennis Onsarigo (Taita Taveta County communications boss). All of them except Ali left after the investigations desk was disbanded.
Namu said that the team was forced out by failure to fund investigative projects. Their replacements are now facing the same challenges years later.
Recently, The Profiteers, an investigative report on the plunder of South Sudan by John Allan Namu and Hussein Mohammed's Hadubini, which was set to expose corruption at Kenya Power, never saw the light of day after being heavily promoted.
Before he left Standard, Daily Nation business editor and investigative journalist Paul Wafula blasted Standard Group CEO Orlando Lyomu in a staff meeting over what he described as interference with the investigations desk.
This was after constant bugging over Behind the SGR Walls, an investigative report he wrote for The Standard newspaper which elicited public outcry. The report documented how the Chinese constructing the Standard Gauge Railway (SGR) line were racially discriminating against Kenyans.
[Read: Standard Group turns to Nation again in hunt for top editors ]
Managing Editor Ellen Wanjiru's leadership has been questioned even by top editors at the Mombasa Road based media house. A Whatsapp message (below) seen by Business Today posted by a senior editor in a group comprising senior Standard journalists suggests that most of the editors have little faith in her leadership.
Faced with what is turning out to be stiff competition in television journalism, NMG reached out to Joseph Warungu, one of Africa's finest broadcast journalists.
A few weeks ago they hired him as Consulting Editor. I heard him last week on NTV on the Bob Collymore story. There was a time he and Ghanian Ben Mallo were rated the finest broadcast journalists on the continent.
Mallo was grabbed by UN in 2004 to run its radio. So now Warungu at NMG broadcast, Linus Kaikai at Citizen, what is Standard Group thinking? I will laugh out loud if anyone at SG thinks that KTN has competent heads at the top. Despite having some measure of talent among the lower cadres, the top is quite depressing.
It is time to recall Katua Nzile to come back and reorganise SG's television journalism.
He is the man behind the once powerful investigative journalism and majority of the reigning TV queens in Kenya today. With that guy, KTN will ably run the race alongside NTV (Warungu and Juma) and Citizen (Linus and Wachira Waruru).