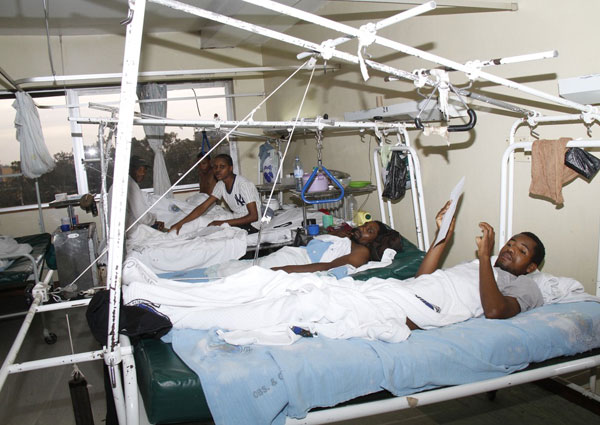 Nairobi County has issued an alert over a cholera outbreak in the city. So far, five cases have been clinically confirmed and the patients admitted at Nairobi Hospital for treatment. Three unconfirmed deaths in Kayole have also been reported to the city authorities and are under investigation.
"There is a cholera outbreak in Nairobi and the victims are receiving care at Nairobi Hospital. They are in stable condition and should recover soon," said Mr Bernard Muia, Nairobi County health Executive.
Mr Muia said that three other deaths had been reported in parts of Komarock but the health officials were yet to confirm whether the deaths were caused by cholera.
The health chief noted that the disease may have been spread to the city by travellers  from Vihiga County who attended a wedding in Karen on Saturday. 
"The index case according to our disease surveillance team is the Karen wedding where the patients and a number of other people had travelled for a wedding. It is presumed that they spread the disease to city residents but we are putting measures in place to avoid the disease from spreading any further," Mr Muia said.
See Also: Deputy President William Ruto buys 680 Hotel 
Symptoms of the disease include diarrhea, nausea and vomiting which may persist for hours at times and general weakness of the body. Dehydration is also a symptom of the disease. These symptoms develop within a few days of infection, although they can sometimes occur after just a few hours.
Additionally, the health executive said that sensitization programmes had been rolled out to the city estates and hospitals stocked with adequate drugs to address the same. In 2015, statistics show that the city recorded a total of 200 cases and 11 deaths affiliated to Cholera.
What's your take on this? Scroll down and share your views in the comments section
[crp]