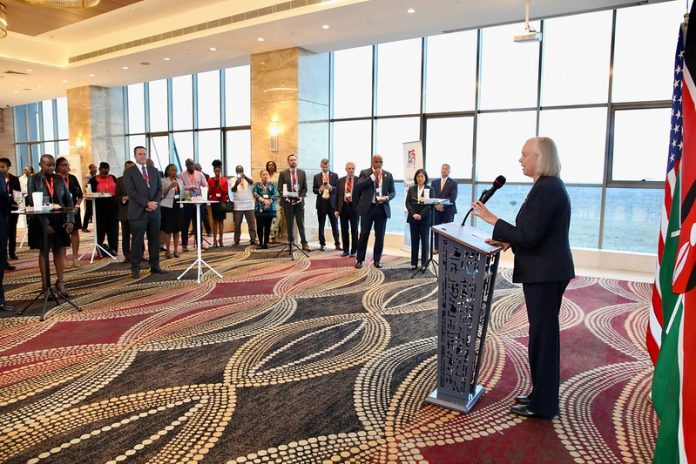 The United States Embassy in Kenya has waived visa interviews for specific categories of travellers. This comes as part of an effort by the embassy to deal with the backlog that has seen Kenyans struggle to get visas, with interviews scheduled for as far as 2024.
Ambassador Meg Whitman on Friday, September 16 announced the expansion of the Interview Waiver Program for non-immigrant visas. The expansion will benefit Kenyans seeking renewed Visas to travel to the US for education, business and tourism. Crew members for various airlines will also be eligible.
It set out conditions for applicants looking to have their interviews waived. It increased to four years the period during which eligible applicants' visas could have been expired up from one year previously.
"Effective immediately, those applying for tourist/business (B1/B2), student (F, J, M) or crew visas (C1/D) categories may be eligible for a visa renewal without an interview," a statement from the embassy noted.
"To qualify for this program, you must be applying for the same visa category, and your visa cannot have expired more than four years ago. Formerly, the limit was one year."
Whitman, who checked into Nairobi in August to begin her stint as Ambassador, expressed her commitment to tackling the long visa wait times. The challenges in getting a visa have been a major source of discontent for Kenyans intending to travel to the US for various reasons – including education and business.
"Reducing visa wait times is my number one priority. We are all working hard to do this!" Whitman shared.
Besides visa wait times, Whitman has also identified technology and the digital economy as an important area for collaboration between Kenya and USA.
"Kenya is well-positioned to be an African leader in information technology, telecommunications, and mobile banking and is open to partnering with the United States," Whitman told the US Foreign Relations Subcommittee on Africa and Global Health Policy in June.
"Working with Kenya to assemble the infrastructure, connectivity, and expertise needed to help build the country's 'Silicon Savannah' will be a big part of my mission, and an opportunity I hope numerous US companies will eagerly embrace," she continued.