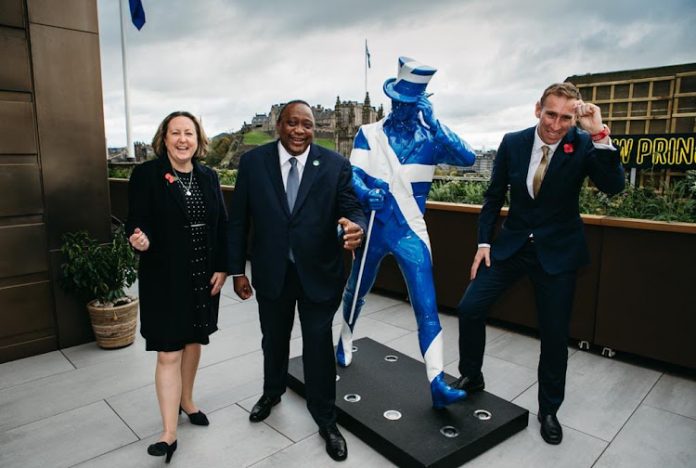 President Uhuru Kenyatta inspired memes, jokes and conversations on Wednesday, October 3 after he went viral posing with a life-size Johnnie Walker statue in Edinburgh, Scotland complete with the hat and stick.
The photo was taken at the 1820 Rooftop Bar overlooking Edinburgh Castle. He was also gifted a limited edition Johnny Walker Blue Label bottle of whisky. Uhuru had taken time off from the ongoing COP26 summit for the engagement which included a tour of Johnnie Walker Princes Street.
The President was participated in a forum organised by Diageo and the Scottish Africa Business Association. Diageo's interests in Kenya include a controlling stake in East African Breweries Limited (EABL) – the region's largest alcohol manufacturer.
The tour of Johnnie Walker Princes Street followed the meeting in which Uhuru told participants in a light-hearted moment that he was especially happy to be at the Johnnie Walker premises.
Among other officials and business leaders, he engaged UK State Secretary for International Trade Anne-Marie Trevelyan and Diageo's Global Supply Chain & Procurement and Chief Sustainability Officer Ewan Andrew at the event.
At the COP26 summit, Uhuru had sought to make Africa's case on climate finance  highlighting concerns that not enough was being done to back the continent most affected by climate change.
"Throughout Africa as the most vulnerable continent to the impacts of climate change, countries are already experiencing loss and damage of an increasing magnitude and frequency."
"We are therefore deeply concerned to hear that yesterday during the adoption of the agenda of this conference, the item on the special needs and circumstances of Africa was yet again not adopted," he noted.
Uhuru also noted the comparatively high contribution of renewables to Kenya's energy mix stating that the country aimed to fully transition to renewable energy by 2030.
The President also expressed confidence that the summit would unlock funds promised to African countries to mitigate climate change as part of the Paris agreement.
"Two times in a row, developing countries have been promised US$100 billion per year but it has not yet been delivered," said Kenyatta, speaking at the World Leaders Summit…Finally, we expect that detailed rules and procedures for implementing the Paris Agreement will be finalized, and a clear way forward for a climate resilient pathway set," he stated.